The quiet period expiration for MRD is July 7; on July 8, MRD's lengthy, impressive list of underwriters will likely attempt to push the stock higher with positive reports. MRD has had a solid market performance post-IPO in a current environment favorable to energy IPOs. We see MRD's quiet period expiration as another buying opportunity for an already strong stock.
Memorial Resource Development Corp (NASDAQ:MRD) - BUY RECOMMENDATION - $27.00
July 7 will mark the end of the SEC-enforced 25-day quiet period on underwriter research following the June 12 IPO of Memorial Resource Development Corp. With the conclusion of the quiet period, the IPO underwriters will be permitted to publish research reports on the oil and gas E&P firm operating primarily in North Louisiana.
The underwriters' releases on July 8 will likely lead to at least a temporary increase in the price of MRD shares.
Upward Trend Since IPO
MRD's upsized IPO priced at $19 per share, beating its expected range of $16-$18 per share, and followed up the promising pricing with a 16.6% first-day return. Share prices have since continued to trend upwards; MRD closed at $25.08 per share on June 25.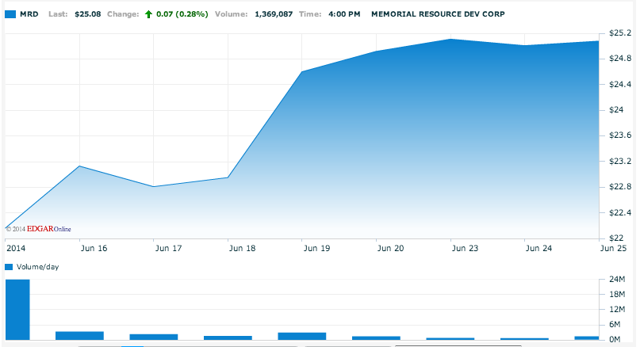 Click to enlarge
(Nasdaq.com)
Impressive Underwriters Will Likely Attempt To Push Share Price Higher
MRD's impressive roster of IPO underwriters, including Barclays Capital Inc.; Citigroup Global Markets Inc.; BofA Merrill Lynch; BMO Capital Markets Corp.; Comerica Securities, Inc.; Credit Suisse Securities LLC; Mitsubishi UFJ Securities, Inc.; Goldman, Sachs & Co.; Morgan Stanley & Co. LLC; Simmons and Co. International; Scotia Capital Markets; Stephens Inc.; UBS Investment Bank; Wells Fargo Securities, LLC; Stifel Nicolaus & Company, Incorporated; and Wunderlich Securities, Inc., will attempt to take advantage of the firm's strong start on the market with the publication of positive reports on MRD beginning on July 8.
Background On Quiet Period Expirations
The Journal of Finance (Vol. LVIII, No. 1; 2003) describes how rising share prices usually emerge several days ahead of the quiet period expiration as investors buy shares in anticipation of positive analyst publishings.
Lead author Dan Bradley, PhD, CFA, affiliated with the University of South Florida, and his colleagues state that analyst coverage is immediately initiated for 76% of firms with the expiration of the quiet period, almost always with "Buy" or "Strong Buy" ratings. Firms with coverage initiated enjoy abnormal positive returns of 4.1% for the two days prior to and the two days following the date of initiation. Returns have also been found to rise significantly when more than one analyst initiates coverage - to 6.4%.
Dr. Bradley's conclusion is supported by the conclusions of Carter, Piwowar, and Strader (2001), who find that the mean analyst rating at the end of the quiet period is a "Buy"; higher returns correlate with higher ratings.
Early buys create a perception of increasing demand, leading to rising share prices before the quiet period has expired, and generating a short-term buying opportunity.
Bradley et al also find a significant correlation between the number and visibility of IPO underwriters and a rise in share prices at the conclusion of the quiet period. MRD's lengthy and powerful list of underwriters could have a strong impact in this regard.
Data generated through our past three years of research align with the data of the academic publications.
Overview of MRD
For a detailed overview of MRD's business, see our IPO preview here.
MRD is an independent oil, gas and natural gas liquids (NGL) E&P firm that operates primarily in the North Louisiana Terryville Complex; the firm has smaller additional operations based in East Texas and Colorado. The company is currently attempting to exploit overpressured, liquids-rich natural gas in the Cotton Valley Formation.
MRD's leasehold totals 347,458 gross acres, including 60,041 acres that the firm believes to be in the core of the Terryville Complex. The firm estimates that its current acreage includes a horizontal inventory equal to more than 32 years, based on MRD's expected 2014 drilling program, with 1,582 gross (1,091 net) identified horizontal drilling locations.
MRD's average net daily production was 168 Mmcfe/d for the three months ended March 31, 2014, consisting of some 70% natural gas, 21% NGLs, and 9% oil. As of December 31, 2013, MRD had estimated proved reserves of some 1,125 Bcfe, estimated probable reserves of some 800 Bcfe, and estimated possible reserves of 1,711 Bcfe. As of the same date, MRD operated 98% of its proved reserves, 71% of which were natural gas.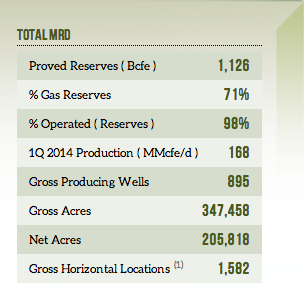 (Source)
Competitors In The Same Geographical Range
MRD faces competition from other E&P companies operating in similar geographies for leaseholds, equipment, and personnel. Some of MRD's larger competitors are much better capitalized than MRD, and could be able to outbid MRD for acreage and other resources.
Management Overview
John A. Weinzierl has served as MRD's CEO since its formation, and also served as president and CEO of the firm's predecessor.
Mr. Weinzierl previously worked for Natural Gas Partners (NGP) in roles including managing director and operating partner, and was appointed a venture partner of NGP from February 2012 to February 2013.
Mr. Weinzierl is a registered professional engineer in Texas. He holds a B.S. in petroleum engineering and an MBA from the University of Texas at Austin.
Conclusion: Another Hot Opportunity
Energy IPOs have been hot in 2014, and MRD is no exception.
The E&P has seen success since its appearance on the market, and given its intent to pour over $300 million into its Terryville Complex operation in 2014 - more than it spent in the past three years combined - we expect to see significant growth.
The firm's massive drilling inventory should give it plenty of room to expand in coming years.
The upcoming quiet expiration presents an opportune moment for investors to get a piece of MRD.
We invite readers interested in IPOs to click the +FOLLOW button above the title of this article - and those wishing to receive the latest developments on IPOs to click the +Get real time alerts.
Disclosure: The author is long MRD. The author wrote this article themselves, and it expresses their own opinions. The author is not receiving compensation for it (other than from Seeking Alpha). The author has no business relationship with any company whose stock is mentioned in this article.