Lennar (NYSE:LEN) beat consensus on revenue and earnings this morning, when it reported its quarterly results. Analysts were expecting $0.51 per share in profit from $1.68 billion in revenue. Lennar reported $0.61 per share in earnings from $1.82 billion in revenue.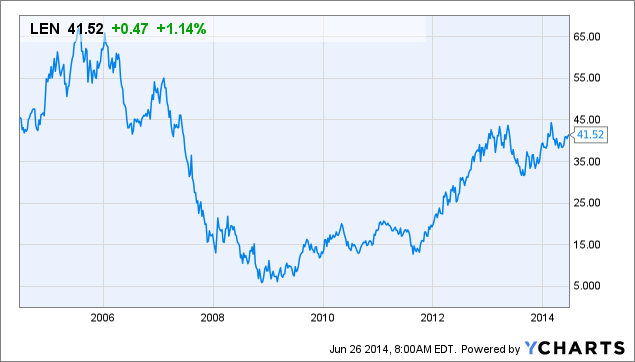 In the homebuilding segment, revenue increased 28% from $1.30 billion in the same quarter a year prior. The increase was driven by a 12% increase in the number of home deliveries, and a 14% increase in the average sales price of homes delivered. It is certainly positive that Lennar was able to raise its prices and sell more homes at the same time.
On the earnings front, Lennar recorded $137.7 million or $0.61 in earnings, up from $137.4 million or $0.61 in earnings. However, the period in 2013 was buoyed by a partial reversal of state deferred tax asset valuation allowance of $41.3 million or $0.18 per share. By removing that one-time benefit, this quarter shows a clear, positive direction for this homebuilder.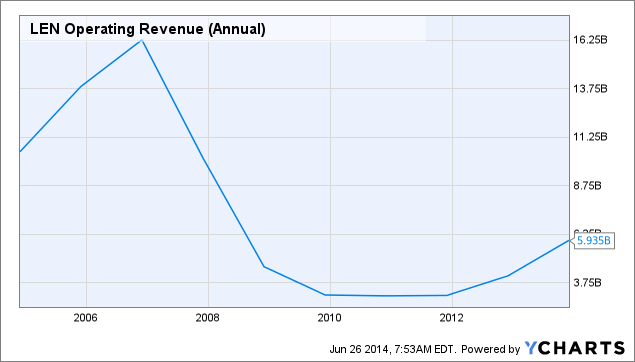 Management's Take on Earnings
Stuart Miller, chief executive officer of Lennar Corporation, said,
"We are extremely pleased with our operating results in the second quarter. Our core homebuilding business is hitting on all cylinders. Fueled by a 14% increase in our average sales price and continued momentum from our land acquisition strategy, our gross and operating margins increased to 25.5% and 14.7%, respectively, the highest second quarter margins in the Company's history."
Improving Business
The fact that Lennar was able to sell many more houses (12% increase) and sell them at higher prices (average selling price increased to $322,000 from $283,000) is a positive indication. Demand for homes is returning, which is removing the oversupply and bringing pricing power back to homebuilders. A pricing power resurgence is evident when reviewing the margins. Gross margins were 25.5% in the quarter, compared to 24.1% in the same period a year ago. The decline was a function of a decrease in sales incentives offered to homebuyers as a percentage of revenue from home sales, an increase in the average sale price, and a greater percentage of deliveries from the company's new higher-margin communities.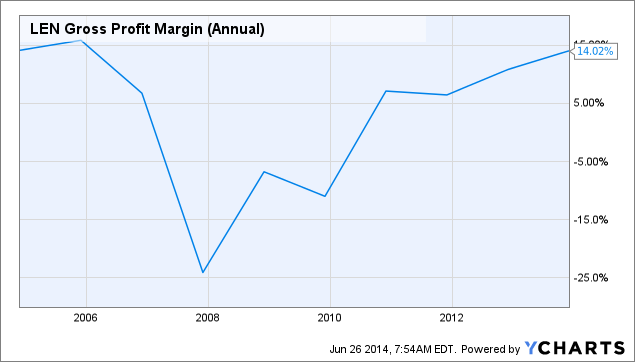 SG&A expenses as a percentage of revenue from home sales also improved slightly in the quarter. In Q2 of 2014, they dropped to 10.8% from 10.9% in Q2 of 2013. The company is also improving profitability by decreasing its interest expenses. During the quarter, its interest expense was $49.2 million, which is down from $54.9 million in the second quarter of 2013.
On June 25th, Lennar announced a quarterly dividend of $0.04 per share, with an ex-dividend date of July 10th. While this dividend yield is just .39%, shareholders should recognize that a dividend increase always lags improving business results. It is evident that the business fundamentals are improving, so the company should be able to pay out a higher dividend in the future. With that being said, management will likely first pay down the debt it incurred during the Great Recession, before looking to pay back shareholders. This debt reduction will be a positive, as the company decreases its riskiness and interest expenses.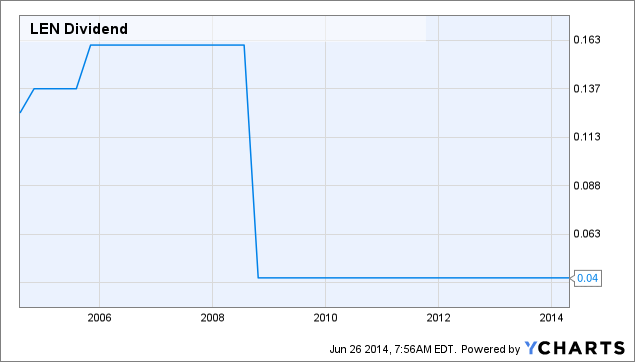 Future Outlook
The biggest boon to earnings in the future will come from the new multi-family rental segment, which is continuing to mature. With a geographically diversified pipeline exceeding $4 billion and 17,000 apartments, this segment is positioned to become a positive contributor to earnings. The first sale in the apartment community will happen next quarter, and will steadily increase throughout the rest of the year and into 2015. As the multi-family segment ramps up, it is a negative on earnings. In the quarter, the company recorded a loss of $7.2 million for this burgeoning segment. Once this begins to become accretive, earnings will increase greatly. While the homebuilding business will remain the primary driver of the company, this supplemental revenue stream will prove to be beneficial.
Homebuilders need to put up a significant amount of capital before they can experience returns, so the risk of secondary offerings to finance working capital is prevalent. However, the company mitigated the release of a secondary offering by signing a new revolving credit facility earlier this week. The company increased its aggregate principal amount from $950 million to $1.5 billion. Management is being prudent by financing future projects with cheap debt in this lower interest rate environment, as opposed to diluting its shareholders.
Closing Remarks
The housing market has yet to fully recover from the doldrums of a few years ago. However, Lennar clearly has been improving over the past few quarters; its sales are up substantially, and margins are close to record highs. With the multi-family segment set to become accretive shortly and a surge in its capital from the revolving credit facility, Lennar is positioned to continue to perform and create shareholder wealth.
Disclosure: The author has no positions in any stocks mentioned, and no plans to initiate any positions within the next 72 hours. The author wrote this article themselves, and it expresses their own opinions. The author is not receiving compensation for it (other than from Seeking Alpha). The author has no business relationship with any company whose stock is mentioned in this article.