The US Department of Commerce approved the export of slightly treated condensates (ultra light oil) on June 25, 2014 by Pioneer Natural Resources (NYSE:PXD) and Enterprise Products Partners LP (NYSE:EPD). These condensates will have been processed slightly to remove volatile lighter hydrocarbons, which make the condensates more likely to explode. The Commerce Department ruled that this processing is enough to make these condensates no longer "crude." However, these condensates will have to be processed further to make them into usable fuels. The more stable condensates can be turned into such products as liquid petroleum gas, naphtha, jet fuel, diesel fuel, and gasoil (a refinery feedstock) by "splitters," which are essentially simpler and cheaper than refineries.
The US oil production in March 2014 was approximately 8.1 million bpd. This included about 800,000 bpd of condensates (OilandGasInvestor.com). RBN Energy says condensates production reached 1.05 million bpd in 2013; and it expects them to grow to 1.62 million bpd by 2018. Some estimate that condensate exports could reach 100,000 to 300,000 bpd by the end of 2014.
Some of the US condensates are from the Bakken, the Utica, and elsewhere. They will not be as easily exported. Plus a portion of the condensates produced in the northern US are currently going to Canada to be used to dilute the thick oil sands oils, so that those oils are subsequently thin enough to travel by pipeline. To clarify, it was already permissible to export crude to Canada; and the US is by far a bigger importer of Canadian crude than Canada is of US crude. Canada is a net crude exporter.
PXD produces more than 43,000 boepd of condensates. It would not say how much of this it plans to export. EPD is a midstream company. It does not itself produce many condensates. Instead, it provides transportation, fractionation, splitting, etc. services to E & P companies. This ruling should give it more of a lift than it will give PXD. It should be able to glean that much more from its processing and transportation businesses. The slightly treated condensates should garner close to or above Brent prices on the Gulf Coast. PXD has plans to build splitters, so it may actually export even more refined products than simple "treated condensates." EPD already has 6 splitters at Mont Belvieu. The ability to export condensates directly will just add to the amount of condensates that EPD can export and/or process. This should increase profits.
This new ruling by the US Department of Commerce will likely have a negative effect on refiners that already have splitters (or are planning them). There is a limited amount of condensates available currently in Texas. The chart below from the Railroad Commission is one approximation of the current condensates production in Texas.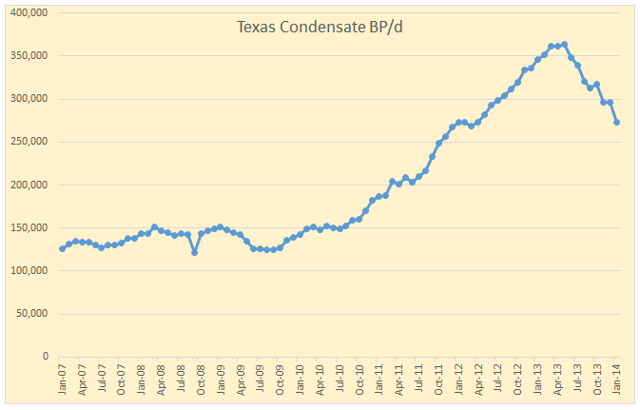 Kinder Morgan Energy Partners (NYSE:KMP) is one of the companies than may be adversely affected. It is building a $370 million 100,000 bpd, two unit splitter near its Galena Park terminal on the Houston Ship Channel. The first 50,000 bpd were to go online in Q1 2014. Magellan Midstream Partners LP (NYSE:MMP) is a 50/50 partner with Kinder Morgan Energy Partners in the 100,000 bpd Double Eagle pipeline that started moving condensate to Magellan's marine and storage terminal in Corpus Christi in May 2014. MMP intends to build a splitter in Corpus Christi, Texas. BASF and Total (NYSE:TOT) have a 75,000 bpd condensate splitter in Port Arthur, Texas. Targa Resources (NYSE:NGLS) has said it is looking at condensate splitters. Both Valero (NYSE:VLO) and Phillips 66 (NYSE:PSX) are considering new splitters. The ability of some companies to export condensates unaltered (and probably more companies will have this ability in the future) is thought by some to put many of the splitter plans in jeopardy. It is uncertain how economical they will now be, if condensates by themselves can be exported.
On top of all of the above, this action by the US Department of Commerce brings uncertainty to the refining and splitter markets. There are currently about 470,000 bpd of new splitter capacity in the US being built or being planned. Condensates will become more expensive if some are exported with little or no refining actions performed on them before hand. The increased demand from external sources will see to that. This will lower crack spreads for companies with splitters. It will lessen the profitability for the owners/operators of the splitters.
Since condensates are counted as part of the crude oil total for the US, exporting condensates (and more condensate refined products) will decrease the overall amount of "cheap" WTI oil that is available for US refineries. This will cause the crack spread to fall. Further, the spread between WTI and Brent oil will narrow as ultra light oil (condensates) are allowed to be sold onto the international market. In other words, the condensates sold will increase the supply of Brent crude and decrease the supply of WTI crude. This should lead to a narrower spread between WTI and Brent oils. This will mean US refined products will face prices closer to the US cost of manufacture. US refiners currently have an edge on the international market due to the lower price of WTI versus Brent oil. The decrease in spread between Brent and WTI will decrease crack spreads for virtually all US refiners. Other major refiners include: Marathon Petroleum Corp. (NYSE:MPC), Tesoro Corp. (NYSE:TSO), HollyFrontier Corp. (NYSE:HFC), Western Refining Inc. (NYSE:WNR), and Alon USA Energy Inc. (NYSE:ALJ). Any other US refiners I have failed to mention will likely also be adversely affected.
In addition to the realities of more condensates exports, this new ruling from the US Department of Commerce brings into question whether or not the federal government will soon permit crude oil export itself. If this happens, it might help US oil producers; but it will again hurt US refiners. The spread between Brent and WTI, which has been giving US refiners an edge on their exported refined oil products would be hurt by both the higher WTI prices (input costs) and the lower Brent prices (lower input costs for international competitors). The psychological effect of this speculation alone could lead to a more significant down move in US refinery equities.
PXD and other significant condensate producing E & P companies should be the ones to benefit. Those in the Gulf Coast area will likely be the first to profit from this situation. EPD should also benefit as a midstream leader in exporting condensates.
The US trade deficit should benefit. The US in December 2013 exported 4.3 million bpd in oil by products. Even this small approval of condensates exports should add 0.1 to 0.3 million bpd to that total by the end of 2014. The additions are only likely to go up from there. They could be a big benefit to the trade deficit ($100/barrel * 200,000 bpd * 365 days is $7.3B using the midpoint of the current 2014 guesstimates). The benefits are sure to be much bigger in subsequent years.
Both PXD and EPD popped a bit on the news. Investors should do their own due diligence on any stocks they wish to buy or sell based on this news. This article is only meant to be an informative overview article. It should get investors started; and it is meant to do little more.
The two-year chart of PXD provides a glance at the strength of that company.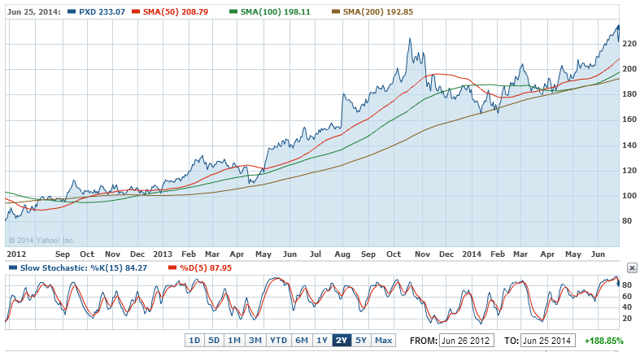 The two-year chart of EPD provides a glance at the strength of that company.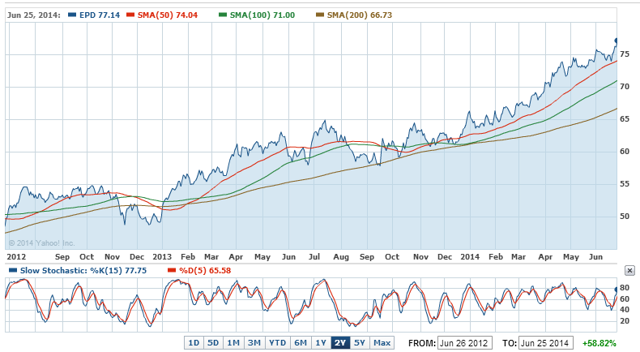 Both of these companies merit a much stronger look based on their charts and on the fundamentals of this situation. Further EPD is known to be a leading midstream company. It has performed well historically; and it should continue to do so for some time. Long term it is a buy. PXD has been a leading E & P company in recent years. Investors will want to take a closer look at it. It is currently unprofitable, but it has huge upside. Only an in depth evaluation of it will be able to tell you whether to buy or not at this time.
NOTE: Some of the fundamental fiscal data above is from Yahoo Finance.
Good Luck Trading.
Disclosure: The author has no positions in any stocks mentioned, but may initiate a long position in EPD over the next 72 hours. The author wrote this article themselves, and it expresses their own opinions. The author is not receiving compensation for it (other than from Seeking Alpha). The author has no business relationship with any company whose stock is mentioned in this article.