On June 15, Medtronic (NYSE:MDT) announced its intention to acquire Covidien (COV) for $43 billion, which represents a 30% premium to Covidien's stock price before the announcement. Medtronic was already the largest medical devices maker, with a market cap of $64 billion and a global manufacturing and distribution infrastructure. So, why is Medtronic pursuing Covidien, a relatively smaller player in the medical devices sector with a $32-billion market cap?
"Synergies" In Expertise And Taxation
The word synergies was popularized during the disastrous Time Warner and AOL merger in 2000 to rationalize why two large companies with different business interests could combine in Gestaltian fashion, where the whole is greater than the sum of its parts. Likewise, Medtronic claims that combining with Covidien will result in synergies worth $850 million pre-tax. The most obvious synergy is with a different product line that nicely complements its own offerings. Medtronic's expertise lies with cardiovascular devices like defribillators and pacemakers, diabetes treatments, including insulin pumps, and minimally invasive spinal surgery. In contrast, Covidien's expertise lies with respiratory therapy like oximetry monitoring and airway ventilation, tissue repair products like sutures and biosurgery products, and medical supplies. Covidien currently has a lower profit margin than Medtronic (15.6% vs. 18.1%), but the lack of overlap between product lines means that the combined company will have a broader range of product offerings without fear of any cannibalizing.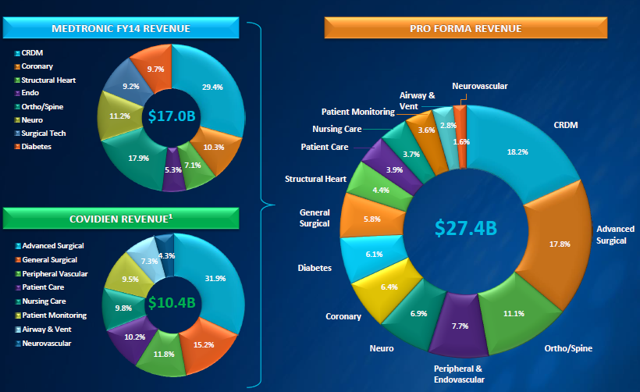 (Source: Investor Presentation on Medtronic-Covidien deal)
There is also a financial impetus for this deal in that it will allow Medtronic to be domiciled in Ireland, where Covidien is currently based, but retain its operational headquarters in Minneapolis. This makes sense when considering that Ireland's corporate tax rate is 12.5%, while in the U.S., the corporate tax rate is 35%. However, in reality, Covidien's effective tax rate for 2012 was 14.7%, and rose to 21.1% in 2013 due to outstanding tax issues related to its parent company, Tyco, while Medtronic's effective tax rate was 17.3%. Why the difference in theoretical and practical tax rates? Covidien's tax rate is higher than Ireland's statutory tax rate, because U.S. sales are still taxed in the U.S., while Medtronic's tax rate is lower than the statutory tax rate due to the complicated deferral system that the U.S. has in place for corporations. Hence, if Medtronic is able to decrease its effective tax rate by 300 bps, then that would result in approximately $150 million in savings, or 0.6% of the combined company's annual revenue for last year.
Beyond benefits in the tax rate, this deal allows Medtronic to use its cash hoard of ~$20 billion from sales outside the U.S. (45% of its revenues are from outside the U.S.) towards dividend payments. Medtronic has an impressive record of steadily increasing its dividends over the last 36 years. Using foreign income in this manner will reduce its need to further increase its $11.9 billion debt in order to fund dividend payments. Decreasing its debt in half would result in an annual savings of as much as $75 million in interest expense.
Adding up the $850 million of savings projected by Medtronic with tax savings calculated above results in about $1 billion in expected annual synergies. Covidien also generates $2.8 billion EBITDA, and has $1.2 billion in cash that need to be taken into account. For all this, Medtronic is paying $43 billion. At Covidien's projected growth rate of 9.4%, this investment on these terms will take nearly 7 years to recover for Medtronic.
Other Parts That May Add To The Whole
By acquiring Covidien, Medtronic will not only offer best-in-class medical devices in many different areas of medicine, but will also offer medical supplies that make up ~15% of Covidien's sales. Having a broader product selection may help Medtronic negotiate more favorable pricing deals with hospitals and insurance companies. However, it is hard to peg down how much this potential pricing control may be worth. Also, medical supplies and instruments have lower profit margins than medical devices, which may balance any pricing advantages.
Medtronic has a 5-yr. operating margin average of 35%, compared to Covidien's 5-yr. operating margin average of 22%. If Medtronic could streamline Covidien's business operations and improve its operating margins by 800 bps to 30%, then that would increase operating income by as much as 16% and would allow Medtronic to recuperate its investment in only 6 years.
An issue that should be of concern to long-term shareholders of Medtronic is that domiciling to Ireland will result in a capital gains tax for Medtronic's shareholders. This could be substantial for those who have held the stock for a long period of time. For instance, if you purchased 1000 shares in Medtronic 20 years ago (only a $4480 investment back then), you would owe $8883 in capital gains tax. That is a considerable amount, especially if you were not planning on owing that much.
Alternatives To Acquiring Covidien
Medtronic is a well-established company operating within a mature medical devices sector. Top line growth is slowing at Medtronic and at other medical devices companies. The growth rate for Medtronic over the past 5 years was only 5.5%, compared to 6% for the sector average. In spite of this, the sector has achieved gains in operating profitability by better managing costs and becoming more efficient. One specific area of improvement for the sector in general has been an 8% annual growth in revenue/employee. Medtronic's revenue/employee for the last year was $347,040.82, while Covidien's was 28% lower, at $269,480.52. Again, there is clear room for improvement in Covidien's management efficiency that Medtronic may be able to help with.
The bigger problem, though, is how do you infuse growth into a sector, and specifically to a well-established company like Medtronic, that is experiencing such a slow growth rate? One of the solutions for Big Pharma companies in the past has been to pursue large-scale acquisitions, as I describe in my previous article here. But, when a company is already large, expanding one's drug pipeline, or in this case, medical device portfolio, into more medical areas leads to more inefficiencies than economies of scale. In comparison, other companies within the healthcare industry like Johnson & Johnson (NYSE:JNJ) have made smaller-sized acquisitions to strategically improve upon their areas of expertise.
Innovation is the key to growth in healthcare, and this is even more relevant for medical device companies that face shorter product lifetimes of 12-18 months than for pharmaceutical companies. Due to this acquisition, Medtronic will have $18 billion in debt and a debt/equity ratio of 2.3X, which limits its options going forward.
Final Thoughts
Medtronic wants to acquire Covidien for $43 billion, a deal which will expand its current product offering and yield about $1 billion in annual savings. At Covidien's current EBITDA and growth rate, Medtronic is expected to recover its investment in ~6-7 years. While this will enable the company to domicile in Ireland and use its foreign cash hoard towards dividend payments, it is paying a heavy premium for this convenience. It is also doing a disservice to its shareholders by not clearly spelling out the tax implications for them in terms of a capital gains tax. Lastly, the deal does not infuse innovation into the company in any obvious manner, and strategic investments in innovation would be a better allocation of Medtronic's funds than continuing to make marginal improvements in operational efficiency of a much larger entity.
Given my findings on the numbers and implications of this deal, I am surprised at the lukewarm reaction from Wall Street to this deal. Time will tell whether this deal will materially benefit Medtronic in the long run. Also, keep in mind that Wall Street was dead wrong about the AOL and Time Warner merger.
Disclosure: The author has no positions in any stocks mentioned, and no plans to initiate any positions within the next 72 hours. The author wrote this article themselves, and it expresses their own opinions. The author is not receiving compensation for it (other than from Seeking Alpha). The author has no business relationship with any company whose stock is mentioned in this article.