By Chris McKhann
Traders are picking up puts in Hercules Offshore (NASDAQ:HERO) as the energy company's stock pushes back toward 52-week lows.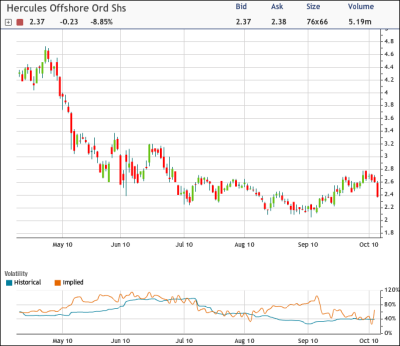 Shares of Hercules, which provides shallow-water drilling and marine services to the oil and natural gas industry, is down 5.8 percent to $2.45 in midday trading. This gives up gains of the last two weeks, sending HERO back toward its Sept. 2 low of $2.05.
More than 10,000 options have traded halfway through today's session, already 10 times the full-day average for the name. About 95 percent of that volume is in puts, including a block of 5,000, almost all of them going for $0.30.
This put buying appears to be tied to long stock trades as hedged long volatility trades. At roughly the same time as the options trades there were sizable purchases of stock.
Together these trades can make a profit as long as HERO moves far enough up or down and/or volatility picks up.
Disclosure: No position