WindStream Technologies, Inc. (OTCPK:WSTI) is a name that I believe is currently the target of a penny stock promotion scheme. It is my view that the stock's intrinsic value is somewhere near $0, and it is with conviction that I recommend that any investors currently in the name sell the entirety of their stakes immediately. I also believe that WindStream Technologies, Inc. is a stock definitely worth shorting. My track record of identifying and publicly exposing such highly overvalued equities is excellent:
Little Revenue. Debts. No Business. Bright Future?
As is usually the case with these types of hyped-up scams, it takes only one quick glance at the balance sheet to realize that the $160M market capitalization that this equity commands is beyond ludicrous. With $2,538,588 in total assets and $5,286,077 in total liabilities. It's my suspicion that the purpose of this company is not to succeed, but to sell stock. The recent volume is due to overly bullish promotional mailers. This has a very high risk of an SEC suspension.
Picture of $WSTI Chart
You can see that trading in WindStream Technologies, Inc. started seeing really increased volume on June 19, 2014. You can see it was around this time the hard mailer was being received by people. Coincidence with the time of the hard mailer and increased volume in WindStream Technologies, Inc? Absolutely not.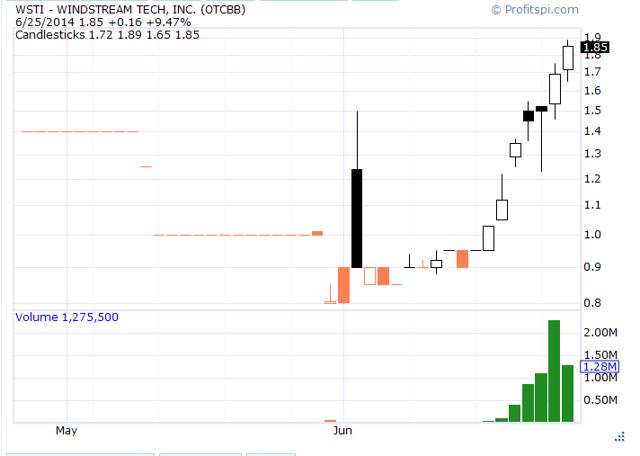 Hard Mailer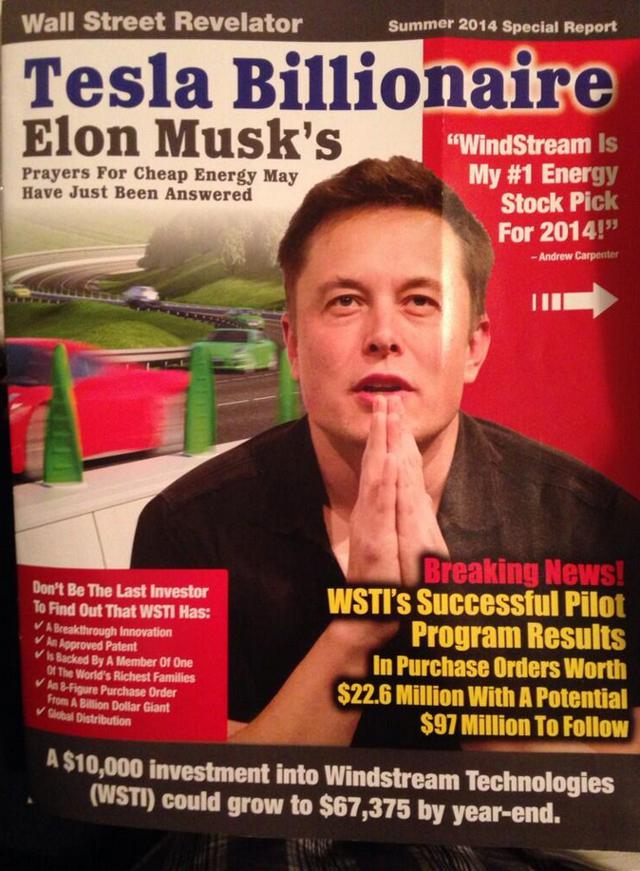 Disclaimer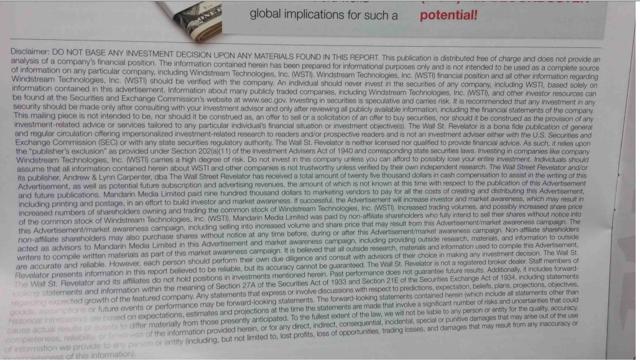 "Mandarin Media Limited paid nine hundred thousand dollars to marketing vendors to pay for all costs of creating and distributing this advertisement….."
You can see obviously someone is interested in increasing public awareness for WindStream Technologies, Inc. Most likely the insiders who own millions 15,400,000 free trading shares in WindStream Technologies, Inc. Why else would someone spend $900,000 to increase public awareness? At these levels, those are worth about 30 million! It is worth it to them, because if they can bring in buyers and liquidate their shares around these prices, that can mean millions in profits! Running pump and dump schemes is a lucrative business, and that is why we see it way too often. My job is to wake you up.
HardMailer History of SEC Halts
The WindStream Technologies, Inc. hard mailer being sent is from Wall Street Revelator.
Here are a couple of past hard mailer promotions by them that got halted by the SEC
Budget: 1,789,000
Halted November 25,2013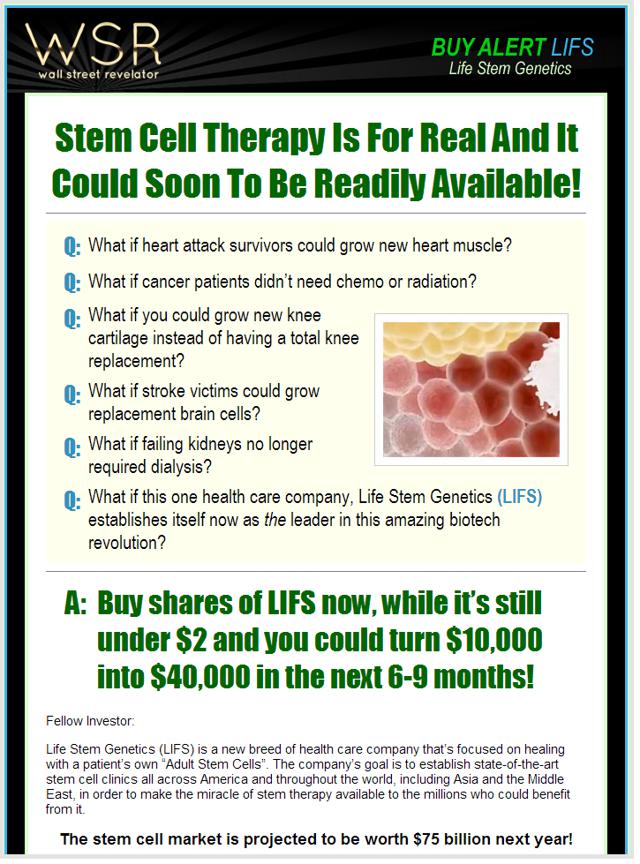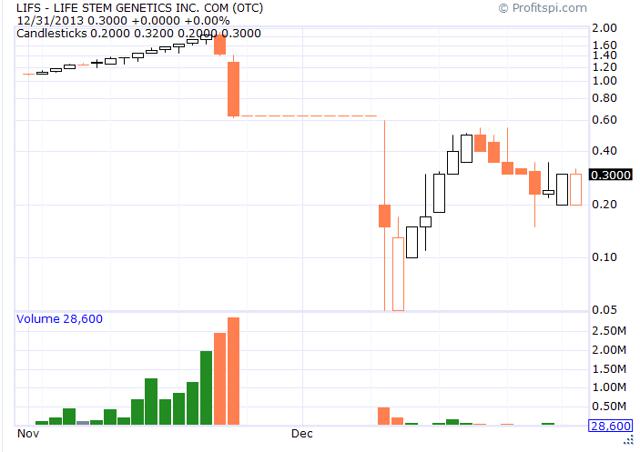 Imogo Mobile Technologies Corp.
Budget 3,000,000
Halted: February 19, 2014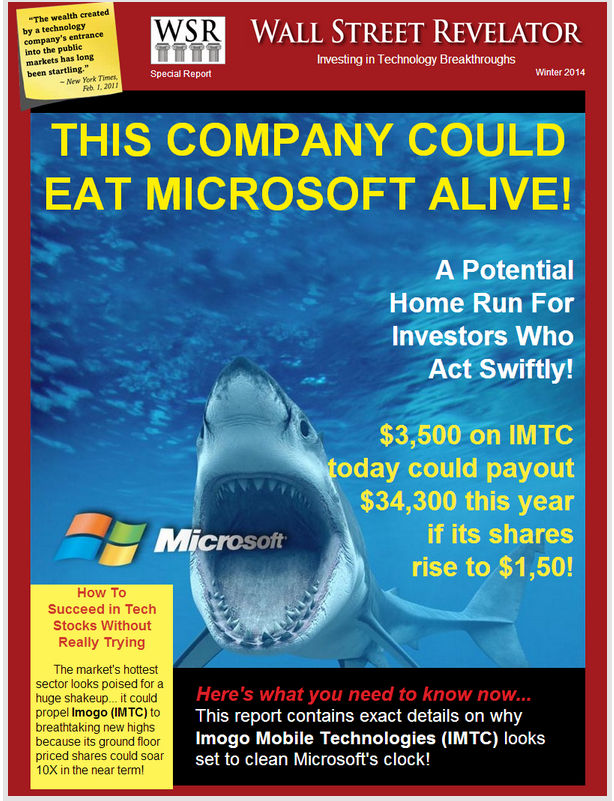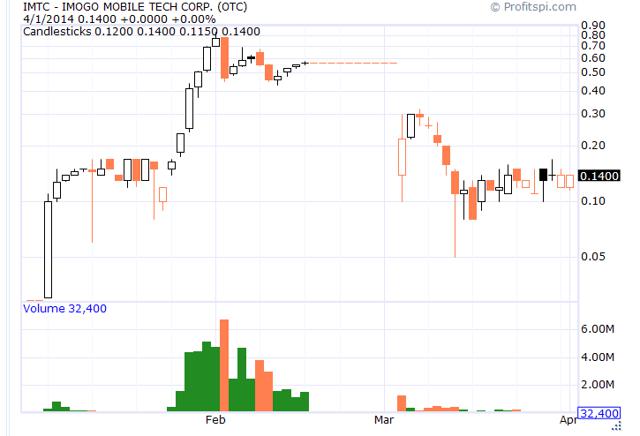 My Recommendation
If you own shares of this company, get out now. Do not hope that you can hang on to sell them to a greater fool. These shares are worthless. I have showed you that the reason for the promotional spam indicates that the individuals behind this stock scam are trying desperately to unload their worthless shares onto the unsuspecting public and book a huge profit before the inevitable collapse. If you are a more sophisticated investor and can get a borrow on these shares, then I believe that shorting this name will be highly lucrative for you. WindStream Technologies, Inc. hard mailer is being sent out by Wall Street Revelator. Two recent hard mailers by them have been halted by the SEC. It is my opinion that this is too risky to hold period with a very high risk of an SEC Halt. You have been warned.
Disclosure: The author is short WSTI. The author wrote this article themselves, and it expresses their own opinions. The author is not receiving compensation for it (other than from Seeking Alpha). The author has no business relationship with any company whose stock is mentioned in this article.
Editor's Note: This article discusses one or more securities that do not trade on a major U.S. exchange. Please be aware of the risks associated with these stocks.