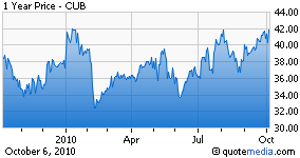 Click to enlargeCubic Corporation (NYSE:CUB) is well positioned to benefit from several general trends. The firm has two distinct lines of business. The first is providing military products and services, particularly in the areas of training and communications. The second is developing, installing, and in many cases operating the fare collection systems of local, municipal, and regional mass transit systems for 40 major markets on 5 continents. While defense offerings account for about 70% of revenue, operating profits are split almost 50/50 between defense and mass transit.
The firm's offerings fit well with some established general trends across the world. The US military has been undergoing a transformation from a Cold War-style, large scale fighting force to a more nimble, efficient force capable of effectively operating in a number of environments. Cubic offers both training services as well as virtual training simulators, both of which directly address important needs of this transformation. Additionally, communications and information systems has become ever more necessary for internal coordination and surveillance of enemy forces. In the most recent quarter, Cubic's training systems and communications division posted year-over-year revenue gains of 51% and 45%, respectively.
Mass transit fare systems are also an attractive business. Higher gas prices have contributed to increased ridership in the US Overseas, especially in Asia, rapid urbanization has been and will continue to be a trend. Mounting pollution problems combined with the low income nature of many new urbanites (i.e. unable to afford a car), makes mass transit a necessity. Finally, many existing mass transit systems have old, outdated fare systems that are ill-suited for intermodal (rail, bus, ferry, etc.) regional transportation systems, and provide authorities no way to track the patterns of ridership.
Cubic's smart-card based systems make paying fares fast, accurate, and secure. They also track valuable data relating to ridership patterns, helping mass transit divisions plan efficiently. In the most recent quarter, Cubic's transportation division increased revenues by 49%, and won a large new contract for Sydney, Australia.
Cubic has attractive competitive advantages in both of its businesses. The firm started as a defense contractor and has had a working relationship with the DoD for 60 years. Contracting favors incumbents with established relationships and good track records. While the volume of business will always ebb and flow with government spending priorities, it is a pretty good bet that Cubic will win their share of contracts.
In mass transit, Cubic is the big fish in a small pond. There are a limited number of contracts, and Cubic is the largest provider. This gives the firm a huge advantage in winning large new deals - competitors just don't have the proven success at scale that Cubic boasts. Cubic has operated London's Underground, the world's largest subway system, for 22 years, in addition to providing fare systems to large US municipalities such as New York and Washington D.C.
Additionally, the transportation business has high switching costs. Most initial contracts are at least 7 years long. Successful systems that provide tangible benefits are difficult, expensive, and time-consuming for a provider to switch away from. Outsourced operations, where Cubic essentially runs the system for a fee, provide predictable recurring revenues. Expect these deals to become more common for the company going forward, due to the increasing complexities of regional systems.
Cubic is in the good hands of its CEO of 60 years, Walter Zable, who also essentially controls the firm by owning 40% of the shares. The bench looks solid, too. Most of the principal officers have been with Cubic for a decade or longer. The company does not offer restricted stock or options as compensation, meaning there is exactly 0% share dilution. Cubic's balance sheet is in excellent shape with cash exceeding debt 15 times over, and free cash flow coming in consistently higher than reported operating earnings - a sure sign of high quality earnings. There is also a small 0.5% dividend yield.
There are a few risks to be aware of. Virtually 100% of sales come from the federal and state governments, meaning budget cuts could have an effect on sales. State governments, many legally required to balance budgets, have experienced massive shortfalls due to the "great recession". Over 70% of sales are from fixed-price contracts, where Cubic must eat the costs if projects exceed budget.
Also, Zable is 93 years old. It is conceivable that any day he will decide to (or naturally) retire, and possibly start liquidating his considerable stake in the company. These kind of insider sales can put significant pressure on the stock price. Zable has also been CEO forever... a transition to new leadership could be painful, particularly if important contracts are in the balance.
In all though, these risks are manageable. They are also more than priced in. Cubic's forward earnings yield is about 14.7%, well below its 3 and 5-year average of 9.3% and 7.1%, respectively. Both a discounted free cash flow and a historical multiple-based analysis say a good fair value for Cubic is about $59.
With some really strong recent momentum and a good long-term story, now is an excellent time to get on the bus with Cubic.
Disclosure: No position