Biogen Idec Inc. (NASDAQ:BIIB) is a global biotechnology company which discovers, develops, manufactures and markets therapies for the treatment of neurodegenerative diseases, hemophilia, and autoimmune disorders. On 23 Apr'14, the company reported first-quarter earnings of $2.47 per share, which missed the consensus of analysts' estimates by $0.09. In the past year, the company's stock is up 58.11% and is beating the S&P 500 (NYSEARCA:SPY), which has gained 23.05% in the same time frame. Since initiating my position back on 17 Mar'14, I'm down 7.26%. With all this in mind, I'd like to take a moment to evaluate the stock on a fundamental, financial, and technical basis to see if right now is a good time to purchase more of the stock for my growth portfolio.
Fundamentals
The company currently trades at a trailing 12-month P/E ratio of 39.15, which is expensively priced, but I mainly like to purchase a stock based on where the company is going in the future as opposed to what it has done in the past. On that note, the 1-year forward-looking P/E ratio of 21.99 is currently fairly priced for the future in terms of the right here, right now. The 1-year PEG ratio (1.61), which measures the ratio of the price you're currently paying for the trailing 12-month earnings on the stock while dividing it by the earnings growth of the company for a specified amount of time (I like looking at a 1-year horizon), tells me that the company is fairly priced based on a 1-year EPS growth rate of 24.32%. The company has great near-term future earnings growth potential with a projected EPS growth rate of 24.32%. In addition, the company has great long-term future earnings growth potential with a projected EPS growth rate of 19%.
Financials
On a financial basis, the things I look for in general are the dividend payouts, return on assets, equity and investment. The company does not sport a dividend to speak of, but is sporting return on assets, equity, and investment values of 16.6%, 22.7% and 20.7%, respectively, which are great values. In this particular instance, I will forego the dividend aspect of the financials because the stock is in my growth portfolio; and in the growth portfolio, a stock does not have to have a dividend.
The really high return on assets value (16.6%) is important because it is a measure of how profitable the company is relative to its assets, telling us how efficient a management team is at using its assets to generate earnings (for comparison purposes, Biogen has the third highest ROA in the large cap biotechnology sector behind Questcor Pharmaceuticals, Inc. (QCOR), which sports an ROA of 46.9%, and Gilead Sciences Inc. (NASDAQ:GILD), which sports an ROA of 19.1%.
Technicals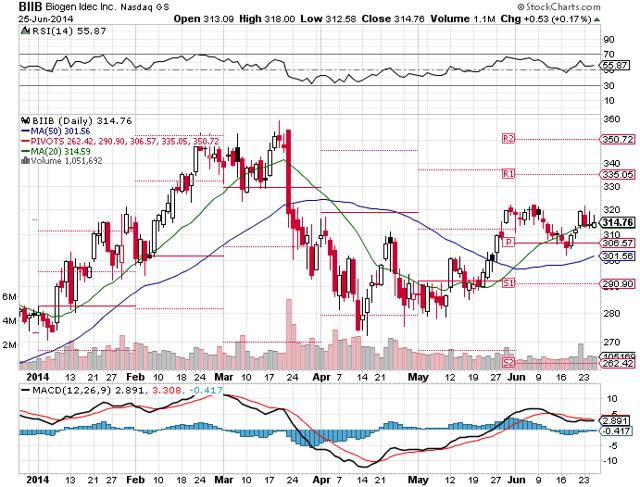 Looking first at the relative strength index chart [RSI] at the top, I see the stock in middle-ground territory with a current value of 55.87. I will look at the moving average convergence-divergence [MACD] chart next. I see that the black line is below the red line with the divergence bars increasing in height, indicating bullish momentum may start to mount. As for the stock price itself ($314.76), I'm looking at $335.05 to act as resistance and $306.57 to act as support for a risk/reward ratio, which plays out to be -2.6% to 6.45%.
Pipeline or Pipe Dream?
Biogen paid out $10 million two weeks ago to Isis Pharmaceuticals (ISIS) as its first milestone payment for the neurological disorder collaboration between the two. The milestone was associated with the validation of an undisclosed target to treat a neurological disorder.
Also, just a couple of weeks ago, Biogen and AbbVie announced successful Phase III results for daclizumab. Daclizumab is a humanized monoclonal antibody used to prevent rejection in organ transplants, but in this instance is being used to study the treatment of relapsing-remitting multiple sclerosis. The target was to achieve a 45% reduction in annualized relapse rate. Multiple sclerosis is a disease where the myelin in the brain and spinal cord are damaged, causing damage which can disrupt the nervous system leading to symptoms of physical, mental, and psychiatric problems. Approximately 2.5 million people over the globe suffer from this disease.
Also in June, Biogen paid out another milestone ($14 million) to Isis for initiating a Phase I study for the treatment of Myotonic Dystrophy Type 1. The product is designed to reduce the production of toxic dystrophia myotonica-protein kinase RNA in cells which can lead to myotonic dystrophy type 1. Myotonic dystrophy is characterized by deteriorating muscles, cataracts, heart conduction defects, endocrine changes, and myotonia. The disease affects about one in eight thousand people worldwide, and with about seven billion people living in the world as of 2012 that amounts to about 875,000 people with the disease.
In other pipeline news during the month of June, the Food & Drug Administration approved the company's Elocate for the control and prevention of bleeding episodes, perioperative management and routine prophylaxis in adults, and children with hemophilia A. The product is expected to be available in the States in July. The product is a recombinant fusion protein used for the treatment of Hemophilia A, a genetic deficiency in clotting factor VIII causing increased bleeding. Hemophilia A occurs in about one in every five thousand males. Baxter International Inc (NYSE:BAX) is also a major player in the hemophilia arena but more on the plasma side of things, and recognized the global need for blood therapies that they plan to open a new facility near Atlanta, Georgia and begin production by 2018, after having opened a new facility in Los Angeles, California.
Conclusion
It's quite obvious that Biogen definitely has many shots on goal and is bound to score big with one of its products in the pipeline. The company has quite a few collaborations with Isis and it might be worthwhile to look at that one as well, but I'll save that story for later. However, the company has not been performing well in the past three months as it relates to its other biotech brethren, Gilead and Celgene Corporation (NASDAQ:CELG) as seen in the chart below.

Fundamentally, I believe the stock to be fairly valued on next year's earnings estimates and on growth potential with excellent near- and long-term earnings growth potential. Financially, there isn't a dividend to speak of, but the company sports an excellent return on assets. On a technical basis, the stock appears to have some upward momentum and the reward/risk ratio is favorable to me. With bountiful pipeline, excellent earnings growth expectations, and great return on assets, I'm going to take a shot on this horse to see if it can catch up to its peers.
Disclaimer: This article is meant to serve as a journal for myself as to the rationale of why I bought/sold this stock when I look back on it in the future. These are only my personal opinions and you should do your own homework. Only you are responsible for what you trade and happy investing!
Disclosure: The author is long BIIB, GILD, CELG, SPY, BAX. The author wrote this article themselves, and it expresses their own opinions. The author is not receiving compensation for it (other than from Seeking Alpha). The author has no business relationship with any company whose stock is mentioned in this article.