The biotechnology sector of the stock market is unlike any other. It's resistant to standard methods of valuation. Those with backgrounds in science, statistics, psychology and politics are advantaged over those with traditional skill sets founded upon business and economics. It's more a wasteland of investor dreams than a harbinger of them. And investors here run the gamut, from risk-averse to adrenalin-dependent, but all of us are gamblers to one degree or another. If anyone has the key to success, they're hiding it extremely well. And those that speak with authoritative voices are likely concealing a dubious history of performance that begs to be questioned.
In biotechnology, everything is worthy of our examination, including the roles we play as investors. Understanding where one falls within the spectrum of risk is standard fare, but ridding oneself of misconceptions is more advantageous still. And to that end, on October 18th of 2012, I offered investors an alternative vision that suggested we were less hunters of market treasure, than hunted for our investment dollars. Here is an excerpt from that article:
In a Figure-4 Dead Fall Trap, bait dangles precariously near the base of a large rock held in place by a construct of flimsy sticks designed to topple when the target tugs and to crush it unaware. In this metaphor, the bait is tantalizing profits. The rock is bad news. And the sticks are constructs we use to justify owning the stock. If the metaphor seems a bit perverse, think of the bruised and battered shareholders of Questcor Pharmaceuticals (QCOR), when their holdings were buried beneath a mountain of bad news plunging from $51 to an earth shattering $17 in a matter of a few short weeks.

In this allegory, we're not the hunter, we're the hunted. The hunters are groups of individuals gathered as corporations that want our money to make their wealth grow. So when the CEO of a pharmaceutical company gives a presentation at a healthcare conference it may sound like an exercise in academia, but it is in fact, a sales pitch for our investment dollars. As a result, these companies prefer that we don't see the flimsy nature of the sticks propping up the large rock of bad news hanging over our heads. They are indifferent to our success or failure. They just want us to take the bait, because if we take the bait, win and get away, - they make money. And if we take the bait, lose and get crushed - they make money on that too. They always make money, because they own the trap.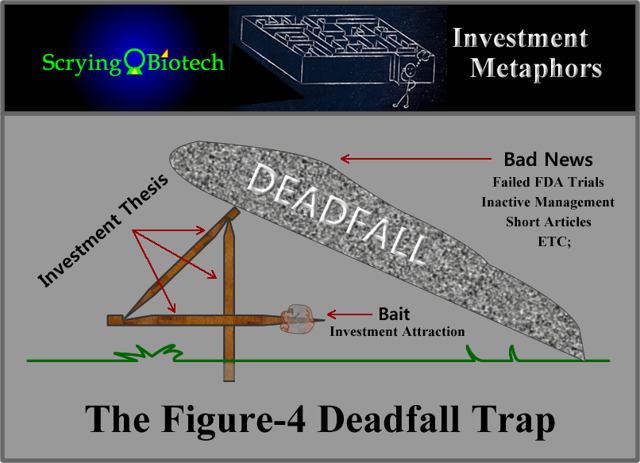 Investors today would be wise to understand the implications of this model. To bring its meaning to life, I'm going to apply it from time to time to controversial stocks of the moment. And today's most disputed investment is Northwest Biotherapeutics (NASDAQ:NWBO).
The Bait of Attraction
DCVax is a cancer immunotherapy designed to mobilize the body's immune system to attack tumor cells from within. It comes in two variations. DCVax-L employs a biopsied sample of a patient's resected tumor to formulate a vaccine, while DCVax-Direct culls, educates and arms dendritic cells from a blood draw. The former is presently in a quasi-pivotal Phase III trial in glioblastoma multiforme. Data from prior studies were promising, and anecdotal testimonies of patients - moving.
Where other cell-based cancer immunotherapies have failed, Northwest Biotherapeutics has promised a universally applicable vaccine based upon a cost-efficient method of production. According to the company, many cancers will be treated utilizing the same therapeutic process.
Even more tantalizing, of late, has been a series of press releases trumpeting the success of DCVax-Direct in early clinical trials demonstrating cancer cell death, shrinking tumors and stabilizing disease.
The Rock of Bad News
Fear of the unknown presents itself in several unresolved issues surrounding the DCVax-L registration trial.
Is progression-free survival, or PFS, an adequate primary endpoint for FDA approval?
How many patients have been enrolled to-date?
And when will the oft-postponed trial completion date ever arrive?
Bad news comes in the form of an illustrious biotech pundit who has developed a relentless fixation on the activities of the company relative to promoting its business. That blogger is the renowned Adam Feuerstein. Contributing to this calamitous connection, perhaps because of the publicity it generates for her company, is NW Bio chief executive officer Linda Powers, who refers to Feuerstein by name in the titles of company press releases and indirectly in the content of company presentations.
Recently, Dr. Aman Buzdar of MD Anderson took it upon himself in an interview with Mr. Feuerstein to criticize NW Bio for issuing those early press releases glorifying DCVax-Direct success, characterizing them as "extremely unusual and inappropriate". Should Dr. Buzdar have been speaking without the encouragement of those in authority above him, he would no doubt have been censured. However, in the absence of this, we are left with the stark reality of a critique delivered not from a disgruntled pundit, but from perhaps the most prestigious institute of cancer research worldwide:
MD Anderson was not involved in the decision to disclose the study information prior to the completion of the research. Therefore, we felt it was important to state that fact. We also felt it was important to state our belief that releasing incomplete research data is not accepted practice in our field.
And finally, there is the issue of a possible expansion of the DCVax-L glioblastoma multiforme trial. In this video presentation, CEO Powers talks about possible trial expansion as a "wonderful feature" that allows for "further de-risking", even though such an eventuality would likely be responded to with a sell-off of company stock.
The Sticks of Tenuous Support
It's perhaps my unpopular contention that every hypothesis we construct to support our investment thesis in any biotechnology company is more flimsy than solid, and always worthy of reexamination. In the case of Northwest Biotherapeutics, we start with the fact that cell-based immunotherapy is in its infancy, with limited commercial success. Although Dendreon's (NASDAQ:DNDN) Provenge received regulatory approval in April of 2010, high productions costs have tempered the commercial aspirations of previously fanatical shareholders.
And in December of last year, another cell-based cancer company, ImmunoCellular (NYSEMKT:IMUC), with a similar approach to the exact same treatment population, experienced a sudden and unexpected failure of its compound ICT-107 after indistinguishably promising Phase I trial results. And while this wasn't necessarily cause for alarm, on that day and for six trading days thereafter, Northwest Biotherapeutics lost 20.3% of its value, which was certainly confirmation of investor concern.
Those days, however, have long since been forgotten, and Northwest Biotherapeutics has risen 126% to today's price of $7.44 per share. Alternatively, rather than erosion of memory, this could be construed as confirmation that investors view DCVax-L as uniquely different from ICT-107 and far more promising.
The Feuerstein-Powers Kerfuffle
One line of thought, frequently repeated by NW Bio shareholders, is that were it not for Adam Feuerstein, NW Bio would be worth so much more. The theory has it that Feuerstein has lost his journalistic objectivity and developed a grudge, or perhaps is acting on a hidden agenda whose goal it is to hinder the company's growth.
I'm glad this is one of the flimsy sticks investors are using to justify their positions, because it gives me a chance to address the topic directly. Adam Feuerstein is not a journalist! He's a pundit. And a very good one. His goal is not to appraise a stock with sterile objectivity. That's your job! Rather, he aspires to express an opinion that provokes a response. In fact, I would argue that were it not for Adam Feuerstein, this little-known biotech might yet be - little known.
The frailty of this position is laid bare when we embrace one certain and irrefutable fact: Feuerstein is losing this war of words not because his contentions are wrong, but because he's more than met his match in perhaps the consummate operator of modern-day media tools - the masterful Linda Powers.
The Hidden Message Within The Deluge of DCVax-Direct Press Releases
I looked upon a series of press releases proclaiming the efficacy of DCVax-Direct as indirect confirmation of DCVax-L. I reasoned that if DCVax-Direct was formulated from a remote blood draw, then how much more potent must DCVax-L be when it's derived from a sample of targeted antigens present at the tumor site?
Recently, however, I'm being asked to reexamine this hypothesis, based upon the presumption that this is precisely what I was being compelled to think. Take a look at that press release from ImmunoCellular one more time, noting that it's an announcement of the failure of the ICT-107 trial to meet its primary endpoint and the title is: "ImmunoCellular Therapeutics Phase II Study Demonstrates That Glioblastoma Patients Live Longer Without Disease Progression When Treated With ICT-107".
This demonstrates to me that my Figure-4 Deadfall Trap model is an accurate depiction insofar as understanding the role that these companies play in the investment equation. They want our money, and often will say anything in a manner so as to achieve that end. I'm not saying that the title is inaccurate. I'm saying that the title is misleading. And the fact that the stock lost 50% of its value that day is confirmation of this.
Consequently, I now believe that all DCVax-Direct press releases had little, if anything, to do with DCVax-Direct. Their hidden purpose was to reinforce confidence in the slowly evolving, loosely structured, and increasingly controversial DCVax-L study. And, it worked!
It might indeed be the case, as another blogger pointed out recently, that other companies report early Phase I trial results in advance of study completion, but the percussive regularity of Northwest Biotherapeutics is notably without equal. Here are the dates and titles of those announcements.
May 15th - NW Bio Announces First Data From Ongoing DCVax-Direct Trial
May 27th - Early Positive Responses Seen In Over 50% Of DCVax-Direct Patients To-Date
June 11th - DCVax-Direct Trial Update Indicates Further Positive Responses; 3 Case Studies Show No Live Tumor Cells In Injected Tumors
June 20th - NW Bio Reaffirms DCVax-Direct Clinical Trial Interim Data Announcements
This list fails to include an April 22nd announcement of an ASCO presentation of DCVax-Direct data, and a second press release on May 27th announcing a conference call to discuss the early trial results of DCVax-Direct. One look at the chart below reveals a 56.5% rise in the stock price over only 5 trading days.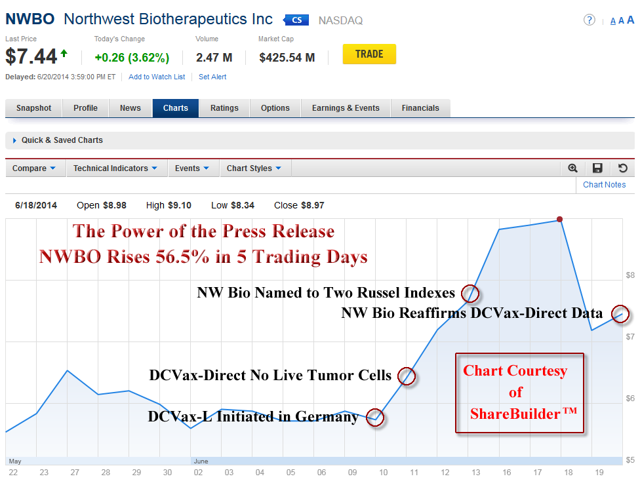 Notably, on May 27th, the stock price jumped $0.70 or 12%, and on June 11th, $0.68 or 11.8%. And these are no small bumps up the ladder of shareholder value. Furthermore, when the stock fell 20% on the day of Feuerstein's MD Anderson interview, NW Bio was quick with another DCVax-Direct reaffirmation of interim clinical data. We have yet to see how that announcement plays out with respect to share price value.
The Phase II/III May Be Quite Possibly DCVax-L Registration Study
The foundational support of any biotechnology company is its lead compound, but the greatest catalyst is a pivotal Phase III oncology trial. And for NW Bio, DCVax-L is that study, but it didn't start out that way. It was initially conceived of as a Phase II, 90-patient, non-randomized, open-label study, enrolling patients up to 65 years old.
Since that time, it's undergone two major revisions and several minor ones, including suspensions, resumptions, enlargements and contractions of "expected" and then "anticipated" enrollment numbers. You can see some of the highlights in the lower half of the graphic I've constructed, which is based upon a history of trial changes that you can find here.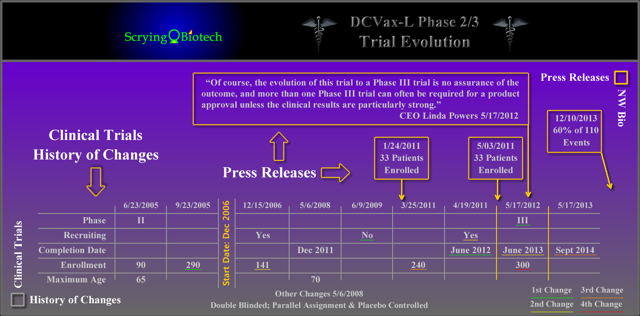 If the fluctuations in trial parameters found within the history of changes weren't enough cause for concern, some of the statements found within press releases located on the company website only add to the problem. I've highlighted a few of those in the upper portion of the slide.
Though the constant pushback of the trial completion date and lack of transparency regarding enrollment are issues one and two of investor concern, the central snafu of this trial may be its saving grace, and that's the selection of progression-free survival, or PFS, as the primary endpoint.
It's controversial. And, it's got Adam Feuerstein twisted in a knot. But it's just one more example of Linda Powers deftly managing her company's destiny, because PFS is likely achievable where overall survival is likely not. And therefore, the press release announcing topline DCVax-L data will one day read: DCVax-L Successfully Reaches Its Primary Endpoint. And on that day, the stock will likely catapult in value.
Regardless, DCVax-L probably won't surmount the hurdle of regulatory approval. The FDA doesn't like slowly evolving trials, and older patients with less robust immune systems will wreak havoc upon those dreamy Phase I and II rates of success. While I agree with those who suggest that overall survival in glioblastoma multiforme patients isn't the end-all measure of benefit, the FDA, unfortunately, disagrees with me, as evidenced in this quotation from an ImmunoCellular press release justifying the selection of overall survival as the primary endpoint in its trial:
We selected OS as the primary endpoint for clear, pragmatic reasons: to follow the guidance of the FDA relative to what constitutes a registration endpoint, and to inform the design of a phase III registration study. In 2011 written correspondence with our Company regarding our phase II protocol, the FDA indicated "… progression free survival (PFS) as an endpoint is acceptable for hypothesis testing, but not as a primary endpoint for a phase 3 trial to support a BLA." Based on FDA's guidance, we focused the trial on generating detailed survival data, and retained PFS as an important secondary clinical endpoint.
Additionally, if the secondary endpoint of overall survival isn't statistically significant, or worse, fails control, then the agency will launch the despair-inducing, regulatory-killing argument embodied in the following question - "Why should we approve a drug that would result in patients dying sooner?" Investors in Aveo's (NASDAQ:AVEO) Tivozanib know exactly what I'm talking about. And NW Bio hasn't aided in achieving clarity in this regard by proudly allowing patients to cross-over from the control arm for treatment with DCVax. Here's an excerpt from this August 4, 2011 press release:
Another key reason for the growing interest in NWBT's clinical trial relates to the trial design. NWBT's trial is designed so that it satisfies the regulatory requirements to have a "treated" group and a "placebo control" group, with patients assigned on a randomized basis, and the results in the two groups compared. But NWBT's trial is also carefully designed so that it goes beyond that, and provides an opportunity for all of the placebo control group patients to "cross over" and receive the DCVax® immune therapy, too, after a certain clinical point has been reached. Other clinical trials of other immune therapies currently under way are not offering this opportunity. In those trials, the patients assigned to the "placebo control" group are required to stay in that group, and are not allowed to receive the immune therapy at all.
The reason for this, Linda, is that in a registration trial, clear and convincing data, unmuddled by humanitarian gesture, is preferred for an accurate appraisal of clinical benefit.
When it's all said and done, however, none of this will really matter. NW Bio will regroup and soldier on with Linda Powers at the helm of command. The as-yet unpartnered Phase III pivotal study in prostate cancer will commence with a whole new set of treatment-naive investors to welcome in. And Adam Feuerstein will continue with his disenchanted missives.
Two Past Applications of the Figure-4 Deadfall Model
I wanted to give two examples of stocks that were besieged by pundit short attacks with contrasting outcomes. If these examples have one notable drawback, it's that both deal with companies that have income-producing treatments which allowed for a post-calamity rebound in share price.
The first comparable to NW Bio's situation is that of Questcor Pharmaceuticals, which was rocked by constant short attacks from various entities, but most especially from Citron Research. Questcor's bait was rising Acthar Gel sales, used in a wide array of treatment applications, including multiple sclerosis and infantile spasms. Its rock of bad news was controversy surrounding alleged marketing violations, attendant investigations, and possible loss of insurance coverage related to Acthar treatment applications.
On September 19, 2012 Questcor shares plunged 34.5%, based upon Aetna's drop of almost all coverage related to Acthar Gel. After closing on September 27th at $17.83, shares have rallied to a closing price this past Friday of $93.02, up over 421%.
What this indicates is that investors will trade for value, despite all manner of threats, both real and imagined, if the reward is tangible. It should be noted that rarely, if ever, did Questcor management respond to Citron or any other blogger directly by name.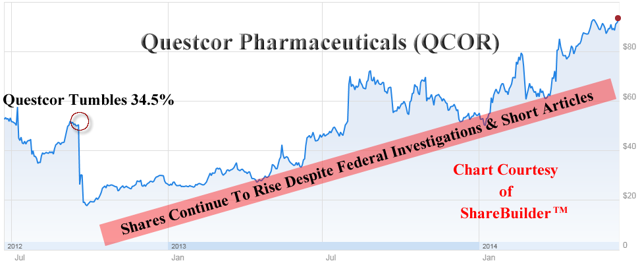 And then, there was the curious case of Spectrum Pharmaceuticals (NASDAQ:SPPI). Its bait was rising Fusilev sales, a purified version of generic leucovorin used to treat colon cancer. And its rock of bad news was repeated allegations of impending loss of revenue, due to a return of generic leucovorin supplies by none other than Adam Feuerstein of The Street.
On March 12, 2013, after repeatedly and publicly denying Feuerstein's allegations, Spectrum CEO, Rajesh Shrotriya finally admitted to falling Fusilev sales revenues. The stock dropped a whopping 37%, and has never fully recovered.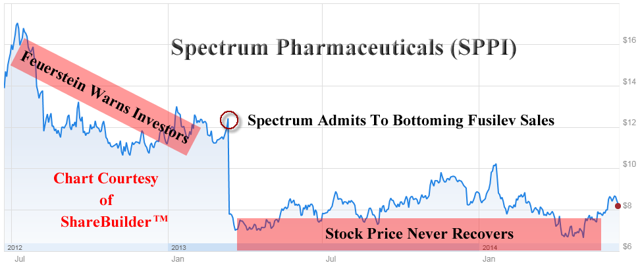 Which of These Paths Will NW Bio Take?
Probably, a little of both. I do think NW Bio will execute a large secondary offering soon enough, ostensibly to capitalize on that "wonderful feature" of trial expansion. CEO Powers, however, is completely comfortable with extending out the trial completion date from time to time, and might never admit to sluggish enrollment. And why should she?
Shareholders are fanatically supportive of her every move. Look at the stock price performance. This is a happy crew. Changing course on a successful strategy is hardly an advantageous maneuver.
Quibbling with Adam Feuerstein hasn't hurt either. Do you realize that the NW Bio market cap has gone up 361% since the Powers/Feuerstein debates began? Instead of jeering these, maybe NW Bio investors should start cheering them instead.
Also, just as in the case of Questcor Pharmaceuticals, there came a time when after so many repetitions, Citron lost the power to persuade. Adam Feuerstein is quickly becoming to NW Bio what Citron became to Questcor - ineffectual.
That said, the problem I'm having with NW Bio is that Linda Powers is sounding an awful lot like the defensive Rajesh Shrotriya just before the Spectrum bubble burst. And why shouldn't she be? It's tough being the face of a public company always open to the scrutiny and barbs of opinionated people.
In Conclusion
I'll wait for a bit to initiate a position in NW Bio, hoping that the anticipated equity raise and any changes to the DCVax-L trial pass before doing so. This would be a good medium-term, 6-9 month play, based upon what I've already told you.
Once the euphoria sure to accompany the DCVax-L press release noting successful attainment of the primary endpoint has passed, I'll cash in my position and likely buy puts leading up to an advisory committee meeting.
Always be well...
Disclosure: The author has no positions in any stocks mentioned, but may initiate a long position in NWBO over the next 72 hours. The author wrote this article themselves, and it expresses their own opinions. The author is not receiving compensation for it (other than from Seeking Alpha). The author has no business relationship with any company whose stock is mentioned in this article.
Additional disclosure: Any information or opinion expressed herein may not be true, accurate or correct and it does not constitute any suggestion to buy, sell, hold or adopt any investment strategy for this stock or any stock that may be mentioned. Reliance upon information in this article is at the sole discretion of the reader. The sole purpose of my article is to entertain by providing information, the accuracy of which is as good as the public sources it was derived from. Do not act on anything I have written. Rather, do your own due diligence and consult an investment professional before making any investment decision. Acting on what any one writer, including me has imparted to you is foolish at best. I have no better access to resources or gift of opinion formulation than you do. I sometimes make mistakes. There are a myriad of things, which can happen in lieu of any forward-looking statement I have made. Any stock featured or mentioned in an article I compose is subject to all manner of influences, which can change its value in dramatic fashion upwards or downwards. These events can be of a wide variety not limited to news-related occurrences, managerial decisions, trial failures, stock manipulations and so on. I make every effort to declare positions I have in stocks I cover or mention in an article but reserve the right to move in and out of said investments at my own discretion based upon the wisdom of doing so. I implore you to do your own due diligence, invest at your own considerable risk attaining the just reward your efforts have wrought.