By Roger Nusbaum, AdvisorShares ETF Strategist
Jeff Gundlach from DoubleLine Funds gave an interesting presentation (you'll need to register through the DoubleLine home page) a couple of weeks ago about currency debasement of the US dollar which should, by Gundlach's reckoning, be bullish for gold.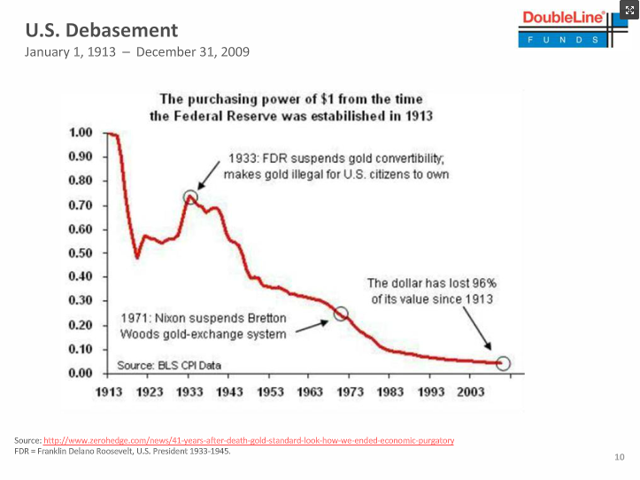 The first slide captures the last 100 years but Gundlach goes into detail on the call about this pattern repeating many times through the course of history.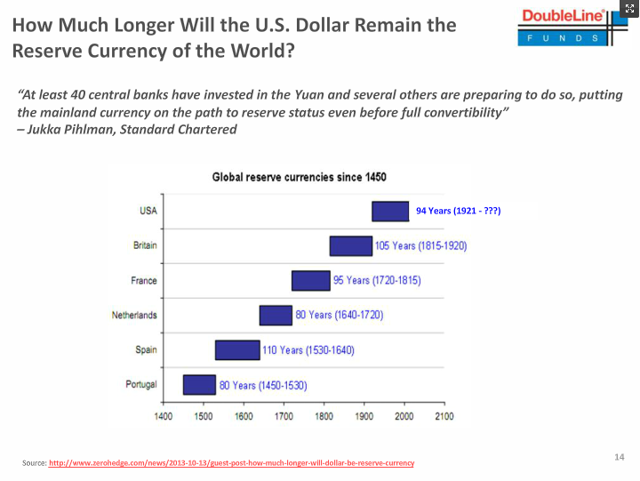 Also relevant to Gundlach is the history of global reserve currencies; currencies don't keep that status very long and the US dollar is well within the time frame where something could change.
The scope here is not to try to predict a monumental change in the global currency market (the Chinese renminbi is a controlled currency and the euro concept has proven to be very flawed and there aren't any other currencies anywhere near big enough to be the global reserve) so much as to isolate the point that Gundlach is making which is that currency debasement should be favorable for the price of gold.
Disclosure: The author has no positions in any stocks mentioned, and no plans to initiate any positions within the next 72 hours. The author wrote this article themselves, and it expresses their own opinions. The author is not receiving compensation for it. The author has no business relationship with any company whose stock is mentioned in this article.
Additional disclosure: To the extent that this content includes references to securities, those references do not constitute an offer or solicitation to buy, sell or hold such security. AdvisorShares is a sponsor of actively managed exchange-traded funds (ETFs) and holds positions in all of its ETFs. This document should not be considered investment advice and the information contain within should not be relied upon in assessing whether or not to invest in any products mentioned. Investment in securities carries a high degree of risk which may result in investors losing all of their invested capital. Please keep in mind that a company's past financial performance, including the performance of its share price, does not guarantee future results. To learn more about the risks with actively managed ETFs visit our website AdvisorShares.com. AdvisorShares is an SEC registered RIA, which advises to actively managed exchange traded funds (Active ETFs). The article has been written by Roger Nusbaum, AdvisorShares ETF Strategist. We are not receiving compensation for this article, and have no business relationship with any company whose stock is mentioned in this article.