In this article, I use both Financial Ratio Analysis techniques along with a price target estimation using the Dividend Discount Model to illustrate the reasons I believe Microsoft (NASDAQ:MSFT) is undervalued and has a solid business model going forward, despite competition from big players such as Apple (NASDAQ:AAPL) and Google (NASDAQ:GOOG) (NASDAQ:GOOGL).
Financial Ratio Analysis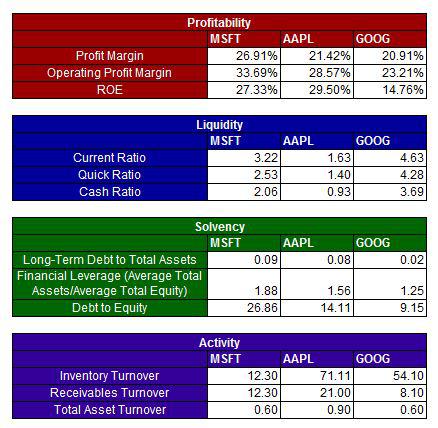 Sources: Yahoo Finance, Marketwatch, Bloomberg Businessweek
- On a P/E ratio basis, we can see that Microsoft currently trades at a significant discount to the maximum P/E ratio achieved in the last five years. Google is currently trading at its maximum P/E ratio, and on this basis there does not seem to be much further upside for the stock in terms of valuation. While Apple is trading at the largest discount to its maximum P/E ratio, it is my opinion that the firm is overexposed to the hardware sector and Microsoft retains a better business model going forward.
- It is evident that Microsoft has shown significantly higher profit margins than Google or Apple for the year 2013, and I forecast that Microsoft will increase profit margins substantially going forward. While the latter two companies have higher inventory turnover ratios, it is clear that Microsoft is producing higher margins on the inventory that it is selling. In fact, I believe that Microsoft's entry into the cloud computing and tablet markets will significantly bolster margins in the future. Microsoft's most significant source of revenue has not traditionally been individuals - it has been businesses. Such large organisations, for reasons of both efficiency and security, generally take longer to adapt to newer, more radical forms of technology and this is why Microsoft's revenues have been stagnant until recently.
- The advent of cloud computing and the fact that businesses will eventually need to upgrade their software means that Microsoft's cloud computing services such as Office 365 and Surface Pro Tablets best cater to businesses that like the idea of greater portability and "want a tablet, but need a laptop." In my opinion, the current dependency of businesses on older Microsoft products such as Office and in-house programs that depend on the Windows operating system will deter firms from switching to vendors such as Apple and Google - the switching costs are too high simply due to adaptability concerns and businesses cannot afford the risk.
- With a debt/equity ratio of 26.86, is Microsoft's relatively higher debt load a concern? It is notable that its long-term debt to total assets is low, as it is for all three companies. However, note that the company is still able to generate more cash than its rival Apple on a liquidity basis, despite Apple having a lower debt/equity ratio. Therefore, it is my opinion that as long as Microsoft can continue to increase profit margins and generate adequate cash, then a high debt/equity ratio would not be as great of a concern. Nevertheless, it is a risk factor and value-oriented investors may be somewhat put off by high debt levels.
Dividend Discount Model
Using a discount rate of 7% (as a traditionally accepted long-term rate of return on the S&P 500), I build a dividend discount model to forecast Microsoft's dividend growth and growth in earnings on a Terminal P/E basis to forecast a target price of $53.61 for the year 2018. I forecast a 10% year-on-year increase in both Dividends per Share and Earnings per Share.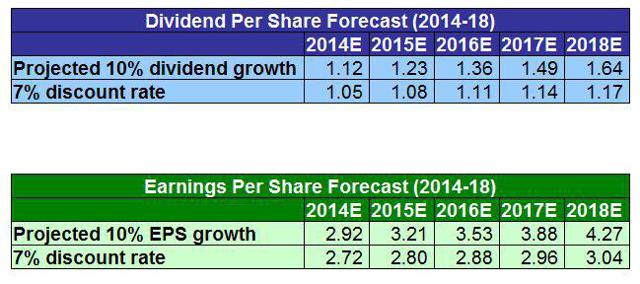 Click to enlarge

Click to enlarge
Conclusion
To conclude, I believe Microsoft's increasing profit margins and potential upside on a value basis makes it a good business going forward. The company admittedly has high debt levels, but I'm of the opinion that its cash generation will allow it to lower its overall debt levels over time. While Google's business model still remains solid, I do not see any upside in terms of value at this point in time. In addition, while Apple has excelled in terms of hardware sales, Microsoft does appear to have adequately positioned itself to capitalise on the cloud computing environment through innovations in both hardware and software, and on this basis Microsoft has my vote.
Disclosure: The author has no positions in any stocks mentioned, and no plans to initiate any positions within the next 72 hours. The author wrote this article themselves, and it expresses their own opinions. The author is not receiving compensation for it (other than from Seeking Alpha). The author has no business relationship with any company whose stock is mentioned in this article.