Nineteen companies are expected to IPO on US markets this week alone as the bull market for IPOs roars on. The highlight of the week will be the long-anticipated initial public offering of high definition mountable camera company GoPro (NASDAQ:GPRO) which is set to begin trading on Thursday. GoPro has become extremely popular within the action sports community for its products' ability to capture footage while attached to a helmet or user's chest moving at fast speeds, in the air, or even underwater.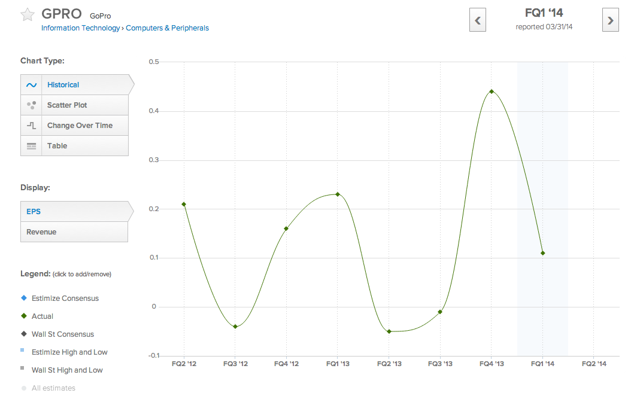 (Click here for chart data)
With GoPro's IPO upon us, today we take a look at the company's financial fundamentals and near term outlook. In 2013 GoPro reported revenue of $985 million, nearly doubling the level set one year prior. However, in the first quarter of 2014, GoPro's sales worryingly slipped 8% on a year-over-year basis and EPS declined from 23 cents to 11 cents. An 8% decline in year over year revenue certainly isn't great, but it is worth noting that in the previous FQ4 GoPro was coming off a 191% increase - the bar for that period was set disproportionately high compared to other quarters.
While the first quarter of 2014 should be a bit of a red flag, the company did post great results during the holiday quarter, selling $361.45M worth of product and reaching a company record earnings level of 44 cents in EPS. GoPro hasn't quite reached a point where the company is profitable in each quarter of the year, but strong holiday sales have tipped the company well above the breakeven point in the past two years.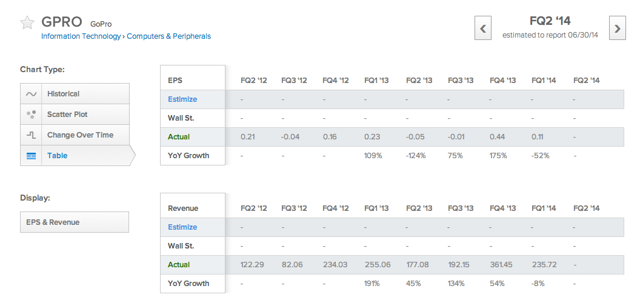 (Click here for chart data)
GoPro cameras have become synonymous with the content and marketing videos that they produce. Today GoPro is just as much a media brand as it is a hardware producer, although the company has yet to tap in on its content asset. The most well represented demographic of GoPro users are males between the ages of 18 and 34, and the GoPro community is uploading about 6,000 videos to YouTube per day. This demographic is an extremely attractive target for advertisers.
Analysts expect GoPro to improve the monetization of its content in the near term. GoPro has recently hired a team of production professionals to create content using the company's cameras. One possible avenue of monetization for the content would be for GoPro to create its own media network. Another possible solution includes licensing premium content to platforms like YouTube or Microsoft's Xbox One.
There is always the possibility that a company with an established content delivery network may be interested in acquiring GoPro to quickly integrate GoPro content to an existing media monetization strategy. But with GoPro choosing to go through with an IPO, an acquisition for its video content seems very unlikely in the near to mid term.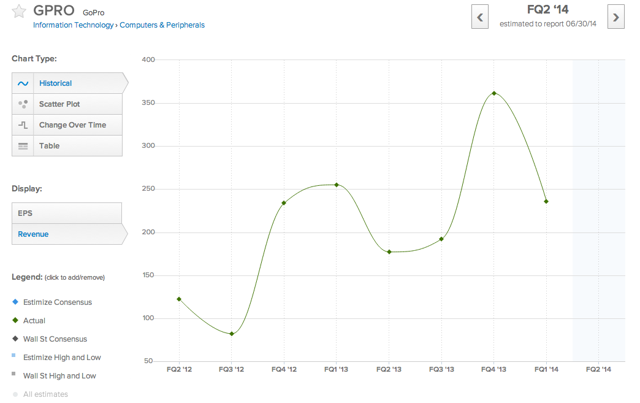 (Click here for chart data)
While making money off content may be a logical next step, thus far GoPro has been successful because it sells novel hardware. Much of what has made the company successful is the technology inside its cameras. GoPro makes light mountable cameras which feature high quality components from Sony (NYSE:SNE), Qualcomm (NASDAQ:QCOM) and Ambarella (NASDAQ:AMBA). Qualcomm and other semiconductor companies like Intel (NASDAQ:INTC) and Micron Technology (NASDAQ:MU) have been on fire lately.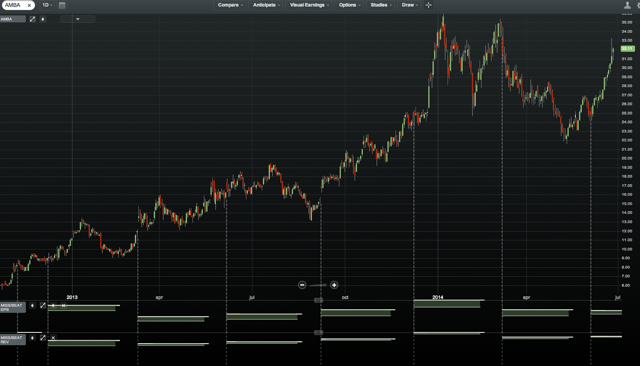 Ambarella has largely been flying under the financial media's radar, despite the company's meteoric rise. Ambarella makes the internal memory chip which allows GoPro to record HD video. Ambarella's chips can also be found in DropCamera products. DropCamera was acquired by Google's (NASDAQ:GOOG) (NASDAQ:GOOGL) Nest Labs a few days ago for $555 million. Shares of Ambarella have experienced heavy volatility since January, but the company has beaten every earnings consensus and the stock has climbed 169% since the start of 2013. In GoPro's S-1 filing the action camcorder company basically admitted that it had no alternative to using Ambarella's chips.
GoPro has an exciting brand that appeals to young people, but there are a few significant risks to the company which should be discussed. GoPro has warned that larger consumer electronics competitors may be better suited to compete on a larger scale. Another potential problem is that GoPro essentially relies on a single product - if demand slips for GoPro cameras the company could quickly find itself in hot water. At the end of the day GoPro is a profitable company with excellent branding and incredible content. Going forward new investors will be on GoPro's heels and there will be pressure right off the bat to start monetizing video content, but that's not to say that GoPro isn't up to the challenge. As the company slogan goes: GoPro, be a hero.
Disclosure: None.