ETF Spotlight on First Trust ISE Chindia (NYSEARCA:FNI), part of a weekly series.
Assets: $147.4 million
Objective: Tracks the ISE Chindia Index, a non-market cap weighted index of 50 ADRs or stocks of companies domiciled in either China or India.
Holdings: Top names include Infosys Technologies (INFY), PetroChina (PTR), Baidu, Inc. (BIDU) and Tata Motors (TTM).
What You Should Know
China is the bigger country in FNI, with 60.4% of the total weight; India accounts for 39%.
Information technology and financials are the biggest sectors in this ETF, with 29.4% and 22.7% of the weighting, respectively
Other sectors include telecommunications (10.9%), energy (11.8%) and industrials (9.8%)
Has an expense ratio of 0.60%, making it one of the cheaper ETFs to cover China or India
FNI is up 19.8% in the last three months, riding a wave of interest in emerging markets these days
The Latest News
The Economist points out that there are opportunities for greater cooperation between the two economies, given their economic strengths (manufacturing in China and services in India). Two-way trade is thriving – it will be more than $60 billion this year, up from $270 million just 20 years ago.
India's exports grew by 22.5% in August from a year ago, while imports rose 32.2%, widening the trade deficit. Although this poses a threat, it's expected that the economy will hold up.
India's economy is forecast to expand 8.5% this year, and some economists believe that India will grow faster than any other large country over the next 25 years.
A stronger Chinese currency could help China's citizens consume more, raise the country's standard of living and help the rest of the globe produce more.
China's economy expanded 11.1 % in the first half of 2010, from a year earlier, and is likely to grow more than 9% for the whole year. (Click to enlarge)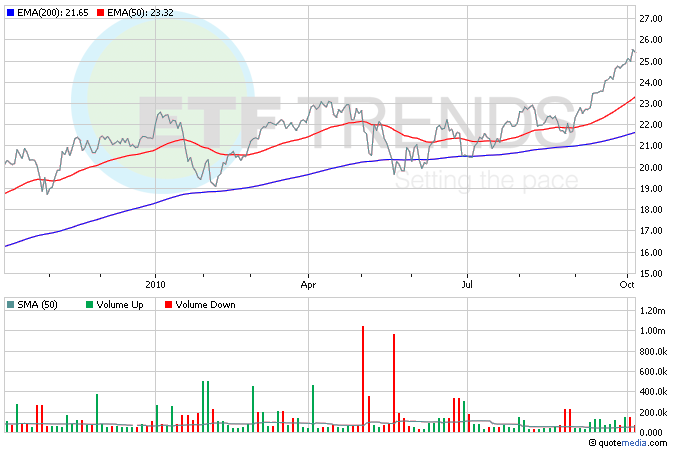 Disclosure: None