A Small-Cap in one of my favourite sectors: Oil & Gas
I remain unashamedly keen on the global Oil & Gas sector, with recent Middle Eastern geopolitical worries in Iraq, Syria and Libya keeping the Brent crude oil price at relatively elevated levels, despite the onrush of shale oil production Stateside.
Bowleven (OTCPK:BWLVF; UK code BLVN.L) is a UK-listed junior oil exploration company (market capitalisation £130m; traded OTC in the US) with development interests offshore Cameroon in Africa, as well as other oil field interests in Kenya and Zambia.
For those looking for a comprehensive description of this company, look at this investor presentation.
The Etinde permit, the subject of this latest stake sale to Lukoil and NewAge, comprise 3 blocks MLPH-5, 6 and 7 (Figure 1).
1. Etinde permit, offshore Cameroon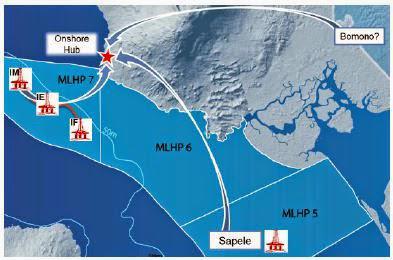 Source: company
While I admit that I am no oil & gas specialist, Bowleven piques my interest as an investor for a number of reasons, despite the rather large stumbling block of being loss-making at present (consensus EPS estimates are pegged at a loss of -$0.036 for this year and -$0.035 in 2015), which normally rules a company out of consideration for me.
Value: Lots of unexploited value in Cameroon assets
The stated balance sheet gives a trailing book value per share of $1.82 (Figure 2), which translates to 107p at the current $1.70 exchange rate.
2. Balance sheet shows lots of potential value hidden


Source: stockopedia.com
This gives a price/book value ratio of just 0.4x, including the $38m of cash already on the balance sheet, before the cash infusions from the stake sale to Lukoil and NewAge.
3. Price Book Valuation Attractive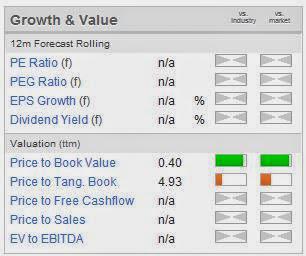 Source: stockopedia.com
The stake sale to Lukoil and NewAge is to bring in some $170m initially on completion (in September), plus assigns $80m further cash and carry thereafter dependent on completion of certain milestones (details can be found here).
Taking the $32m on the balance sheet already (as of February) plus the $170m the company is to receive initially amounts to $202m, or £118m which is virtually Bowleven's entire market cap today.
If you add the $80m contingent value from the deal, then we arrive at £166m. Of course, Bowleven is going to spend much of this cash in developing their share of these blocks to hopefully start to produce oil, but this is the situation today.
Value (2): Net Asset Value Estimates of 99p - 135p
Broker research from Barclays and BMO pegs the Net Asset Value (NAV) of Bowleven (prior to this latest deal) at somewhere between 99p (BMO's estimate; Figure 4) and 135p (Barclays' estimate), yielding a price/NAV ratio of 0.3-0.4x.
4. BMO's NAV estimate for BLVN.L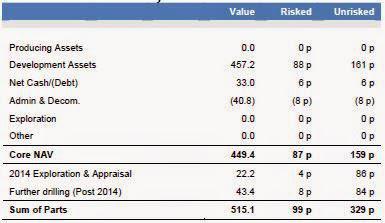 Source: BMO Capital Markets
Now a Takeover Candidate?
With this Lukoil/NewAge deal finally validating Bowleven's oil exploration efforts, could it now even become a takeover target for a larger oil & gas concern? There are plenty of large companies looking to add oil & gas reserves, and Bowleven is now both cash-rich and offers some interesting exploration assets.
Of course, we can ask why Lukoil didn't just buy the entire company, if it was so obvious a deal. This is of course a very good question. Nevertheless, with this deal due to complete in September, something may still happen in this regard... I am certainly not banking on this prospect, but it is a nice free option to have.
Why still so cheap then? Several Risks, Missteps
A. Private investors upset at last capital raise
While Bowleven is a retail investor favourite, it has had a very chequered history, culminating in the last rights issue in November 2013 when 29.47m shares were issued at 45p, 10% above the current share price. So current shareholders have certainly suffered over the last few years with this stock, judging by the long-term price chart (Figure 5):
5. Bowleven's Long-Term Price Chart: A Tale of Woe
Source: Bloomberg
It is hardly surprising that some major shareholders are unhappy with the current deal, e.g. Bowleven-rocked-by-row-after-asset-sale.
To add to this tale of woe surrounding this controversial last capital raising in November last year, we can add the suspicions that have been raised on certain investor websites (details here) that there was insider dealing in Bowleven UK-listed shares on the day before the November 13 rights issue announcement. On November 12, over 7.2 million shares were traded, nearly 3x the average daily volume before that date (Figure 6), driving the share price to a fresh 52-week low at the time.
6. Nearly 3x the average daily volume on November 12, 2013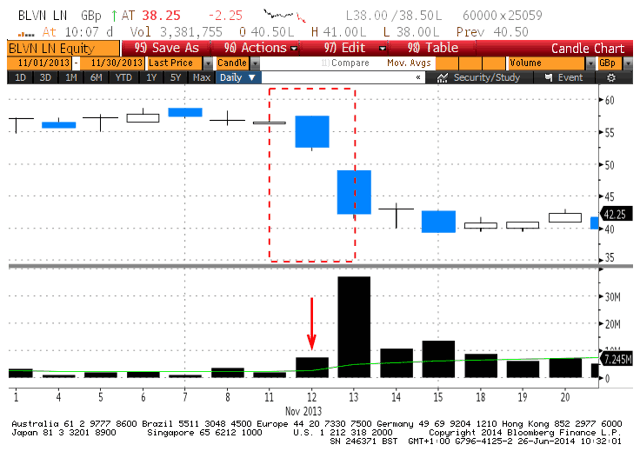 Source: Bloomberg
This event served only to disgust existing private investors (who hold the majority of the stock), and warn off potential institutional investors (as of the last company report, BlackRock own 9.5% of the shares and JPMorgan Asset Management 9.0%).
B. Key Operational Risk (Now Removed): Cameroon Authorisation finally granted
Aside from the last messy capital raising, the key reason that I believe that the company has traded at such a wide discount to its net asset value has been the uncertainty over the granting of its Etinde Exploitation Authorisation Application by the Cameroon government.
This authorisation was necessary for the development of this Etinde field - even the CEO himself, Kevin Hart, stated back in late March this year:
"The EA [Exploitation Authorisation] award gives development rights for an initial 20 year period, and provides access to sources of capital to fund the company through to FID [Final Investment Decision]"
Thus the granting of this authorisation was necessary for the conclusion of the stake sale to Lukoil and NewAge, and has removed the key operational risk overhanging the company in the process.
C. Financial Risk: Loss-making, Risk of Insufficient Capital (Now Removed)
The third risk was financial: the company is still loss-making, and even after 3 rounds of capital-raising from equity investors since 2011, only had under $25m left of cash and short-term investments on the balance sheet (out of $781m of accumulated share capital) to directly fund continued development of the Etinde field.
To attempt to overcome this problem, Bowleven had struck a strategic alliance back in 2012 with oil services company Petrofac, who agreed to provide up to $500m for the oil & gas field development.
This agreement is now being unwound as a result of the stake sale to Lukoil and NewAge, as Bowleven now has enough cash to finance its (now only 25%) share of Etinde field development through to the Final Investment Decision stage, so no longer has need of the financing coming from this agreement.
Technical View: Solid Uptrend Established, Gap to Fill at 52p
Three things to note on the short-term chart (Figure 7):
The previous downtrend has been broken;
A new uptrend has been established;
There is a gap to fill (from the time of the last share placing in November 2013) at 52p.
7. Bowleven's Short-Term Chart is Encouraging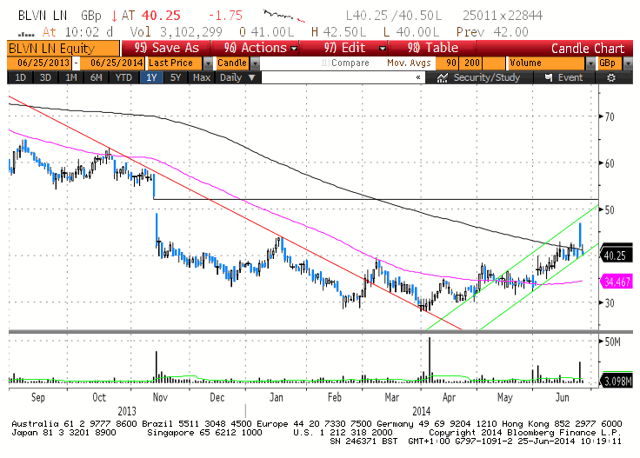 Source: Bloomberg
Summing it all up: A Speculative Value Opportunity in Oil
Bowleven is certainly speculative, but has an interesting combination of value opportunity, catalyst and positive technicals in a sector that I favour, trading at 39p (= $0.66).
This is a share that is primarily traded in the UK on the Alternative Investment Market section of the London Stock Exchange (UK code: BLVN.L), and is only an OTC stock in the US. So it is clearly a relatively risky proposition for the US-based investor, as is the case with the majority of junior oil exploration and mining companies.
And let's be clear: they are still not producing any oil as of today, so there are still a number of operational risks associated with the development and exploitation of the Etinde field, although this is now reduced as they have now only a 25% stake in the field rather than the prior 75%.
If however, like me, you are a relatively adventurous value-oriented contrarian investor, and like the combination of:
Game-changing event catalyst,
Rock-bottom valuation and
Positive technical analysis picture,
then Bowleven could well present a compelling risk-reward profile.
But as always, this is just my view, not an official recommendation by any means, so as always, please Do Your Own Research.
Disclaimer: I do not hold Bowleven shares at present, though may initiate a position in the UK-listed shares in the next 48 hours...
Disclosure: The author has no positions in any stocks mentioned, but may initiate a long position in BWLVF over the next 72 hours. The author wrote this article themselves, and it expresses their own opinions. The author is not receiving compensation for it (other than from Seeking Alpha). The author has no business relationship with any company whose stock is mentioned in this article.
Editor's Note: This article covers one or more stocks trading at less than $1 per share and/or with less than a $100 million market cap. Please be aware of the risks associated with these stocks.