$20 isn't as far off on the radar as it looks for Ford (NYSE:F).
Sure, the equity is pulling back a little today (-0.52%), amidst a broader market sell off on yesterday's GDP data. But, as I've pointed out in my last couple of articles on the automaker, Ford seems to be doing everything right to continue giving itself momentum. Notably, it's selling cars at a good clip domestically, and ramping its Chinese operations into high gear.
Here's how the stock has performed over the last six months. You can see that the stock is in a strong sustained uptrend since the beginning of February. This is one trend that I don't expect to end anytime relatively soon, as long as Ford continues to touch the bases that it needs to in order to keep business sound and the numbers good. As of today, it's looking like the company is doing exactly what it needs to.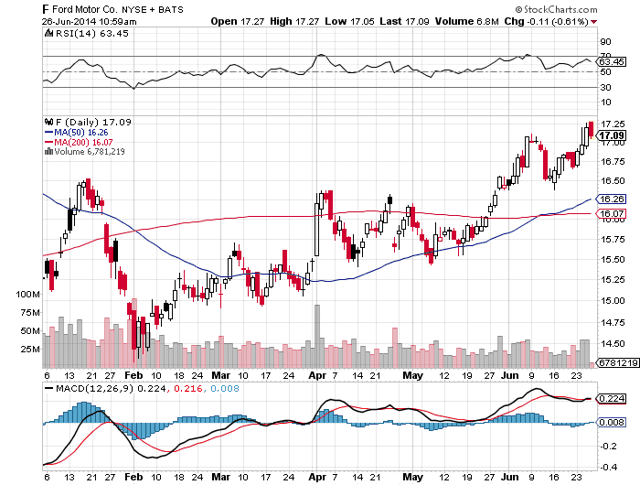 You can also take note of the recent "golden cross," where the 50DMA crossed upward through the 200DMA longer-term moving average. This is considered a bull flag in the jargon filled world of charting - all you need to know is that this is generally a good sign for equities and shows strength.
Since my last piece on Ford just days ago, two interesting catalysts have surfaced, all the while the stock continues to inch upward towards QTR's $20 price target.
The first of these pieces of news was when Ford's Joe Hinrichs came out and stated that the launch of the new, Alcoa (NYSE:AA) derived Ford F-150 was going to be on schedule. Previously, Morgan Stanley (NYSE:BAC) had cast some doubts as to whether or not the automaker was going to be able to roll out effectively and on time. This was reported by the Wall Street Journal, and can be read here.

The F-150 is widely being heralded as Ford's next big step in terms of innovation. Company reports show that initial reaction to the design and handling of the new vehicle are positive.
The second little nugget of excellent information we received came yesterday, when Cars.com said that they're seeing May's new car sales up 4.1% from a year prior. Seeking Alpha reported on why that's good news for Ford:
Cars.com sees May's seasonally adjusted annualized new car sales at 16.1M, up 4.1% from a year ago and the highest May SAAR since 2007.
Chrysler (FIATY -0.8%) had the best performance, says Car.com analyst Jesse Toprak, with a 15% Y/Y increase in sales, but GM (GM +1.4%) - amid big recalls - saw less impressive gains and lost 1.3% of its U.S. market share.
In other news, MKM's chief technician Jonathan Krinsky says Ford (+1.5%) may be the best of the bunch. He notes the stock has been above its 200-day moving average for about a month and the 200 DMA has just begun turning higher - a bullish development in the medium term. He's targeting the $23-$24 price range over the next 6-12 months, but would re-consider any bullish thesis if the stock can't hold $16.
So, the good news should seem to continue adding a fire under Ford's stock - inch by inch, day by day.
Of course, in the meanwhile, Ford had come out and made a statement that it was going to be looking to recall 5,675 older F-150s due to steering problems. This news was generally disregarded, as no accidents or injuries had been reported and the pool of vehicles that it affected was relatively low. This was the opposite of what General Motors just announced about their Chevy Cruze. More on that horrible mess in another article.
For those looking to dabble in Ford, my price target on the stock continues to be a reasonable $20/share. As I've pointed out in my last couple of articles, Ford continues to trade at a ridiculously low valuation.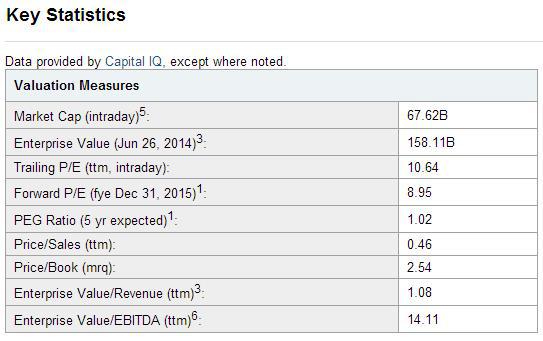 According to Yahoo Finance's updated data today, the company's forward P/E of 8.95 remains extremely attractive for a company with international growth prospects and continued positive catalysts like Ford has. As I said in my last piece:
That's the P/E you'd expect to see on a blue chip stock, or a well established oil and gas style company - not on a company that's posting aggressive double digit growth in a brand new market. The company has modest price/sales and price/book ratios and definitely has some breathing room to the upside for the company's stock price.
I like Ford as a "buy" here, and think investors can continue to ride the excellent company performance - combined with the technical momentum - to $20 before the end of this year.
Best of luck to all investors.
Disclosure: The author has no positions in any stocks mentioned, and no plans to initiate any positions within the next 72 hours. The author wrote this article themselves, and it expresses their own opinions. The author is not receiving compensation for it (other than from Seeking Alpha). The author has no business relationship with any company whose stock is mentioned in this article.
Editor's Note: This article discusses one or more securities that do not trade on a major U.S. exchange. Please be aware of the risks associated with these stocks.