Pump the brakes on Micron Technologies, Inc. (NASDAQ:MU). The stock has risen nearly 120% over the past year and shareholders are still complaining that the stock is undervalued. That said, the stock is actually worth from $18 - $20 per share - a 30% - 40% discount to its current value of $32. Stay with me while I explain my rationale.
On Monday Micron shot the lights out on its Q3 2014 earnings report. The shares closed at $31.26, but traded down after-hours, causing angst for investors. Longs questioned why the stock dropped after such a stellar quarter, and lamented over Micron's low price-to-earnings multiple. Below is the company's historical financial performance: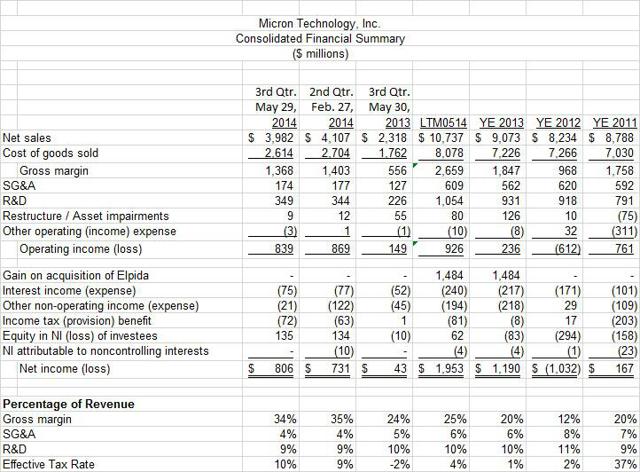 My previous article explained the reason for the sell-off after-hours and three issues for the stock going forward - [i] Q3 2014 and Q3 2013 results were not "apples-to-apples," [ii] Q3 2014 revenue and operating income were lower versus Q2 2014 and [iii] there is a cloud over Micron's true earnings:
All of the preceding math raises the following questions: [i] What is Micron's true earnings power? Some investors may focus on last 12 months' earnings or, combine Q3 2014 and Q2 2014 financial results and annualize them. [ii] What multiple do you apply to those earnings? [iii] What is the expected earnings growth of the company going forward?
The following table shows Micron's growth in revenue and operating income (amongst others) in comparison to Q3 2013 and Q2 2014: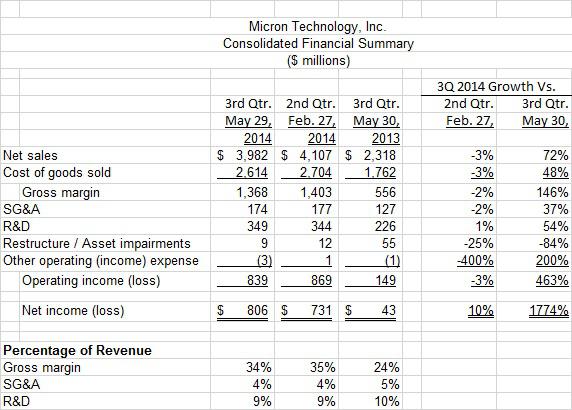 Micron's Q3 2014 growth in revenue and operating income in comparison to

Q3 2013 was 72% and 463%, respectively. This explains shareholders' euphoria over the stock.

However, in comparison to

Q2 2014, revenue and operating income both declined by 3%.

The Q2 2014 comparison is more "apples-to-apples" because both Q3 2014 and

Q2 2014 includes the acquisition of Elpida Memory Inc. ("Elpida").
Valuation Methodology
Below sets out my valuation methodology for the company:
Step 1: Determine Micron's "Run-Rate" Earnings
In my opinion, the results from Micron's last two fiscal quarters best represents it "run-rate" revenues and earnings.
Combined 6 Months Results - The two quarters combined equals the company's combined six months results. This equates to revenue of $8.1 billion, operating income of $1.7 billion and net income of $1.5 billion.
Full Year Run-Rate - The full year run-rate equates to revenue of $16.2 billion, operating income of $3.4 billion and net income of $3.1 billion.
Step 2: Determine Pro-forma Earnings
I determined Micron's earnings on a pro forma basis by backing out one-time or non-recurring items.
I removed "other non-operating income (expense)". For previous fiscal years these items have included things like [i] gain/(loss) from changes in currency exchange rates, [ii] loss on extinguishment of debt or [iii] gain/(loss) on investments.
Applied tax rate of 40% to pretax earnings. As you can see from the first chart, Micron's effective tax rate on pretax income in fiscal 2011 was about 37%. It declined precipitously after that and was around 9%-10% for the past two fiscal quarters.
That's a long-winded way of saying, "Micron barely pays taxes." Whether net operating losses are driving the low tax rate or something else, I would not assume it would last in perpetuity.
For clarity's sake, I prepared a schedule of pretax income and income taxes from Micron's most recent 10-k. The schedule demonstrates just how little in taxes the company pays.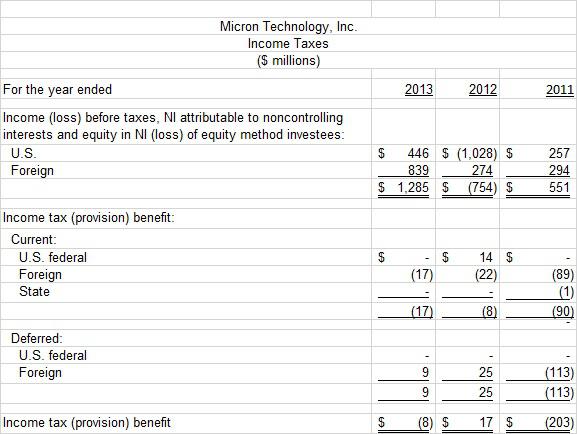 Applying a 40% tax rate to Micron's pretax income and adding in equity in income from investees, and net income attributable to non-controlling interests delivers run-rate earnings of about $2.4 billion.
Step 3: Determine Micron's Earnings Multiple
What earnings multiple do you use for a company whose revenues and earnings are flat to slightly declining? I applied a range of 8x - 10x. Coach Inc. (NYSE:COH) and Bed Bath & Beyond Inc. (NASDAQ:BBBY), which recently announced declining or no growth earnings, were trading at multiples of 10.4x and 11.6x earnings, respectively, in early morning trading today. Moreover, both companies engage in stock buybacks and Coach also pays a dividend, offering incentives to stockholders; Micron does not. That said, Coach and Bed Bath & Beyond have received negative sentiment from Wall Street due to less earnings growth than expected. Though Micron is not a retailer like Coach or Bed Bath & Beyond, the argument could be made that its clients (computer companies) are equally susceptible to the vagaries of a declining U.S. economy. Thus, Micron's business prospects are also susceptible to a U.S. economy in decline.
Step 4: Calculate The Company's Market Capitalization
Applying an 8x - 10x multiple on run-rate earnings of $2.4 billion gives Micron a market capitalization of approximately $19 billion - $24 billion. Assuming 1.07 billion shares outstanding (sourced from Yahoo! Finance), the stock is worth from $18 - $22 per share. The supporting analysis for my valuation is below: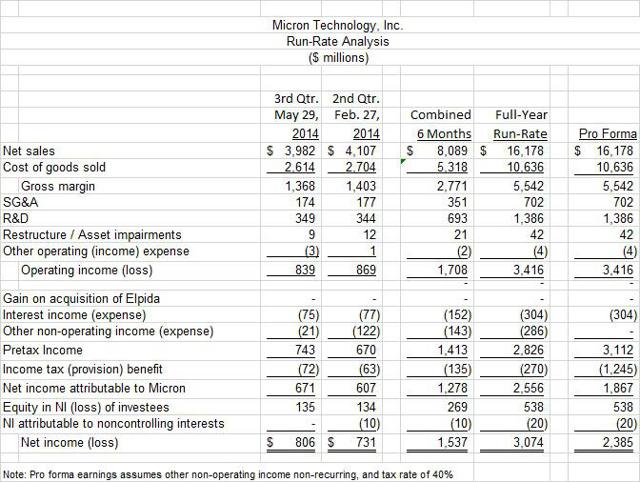 Below is the company's price per share, assuming earnings multiples applicable for Micron's earnings growth: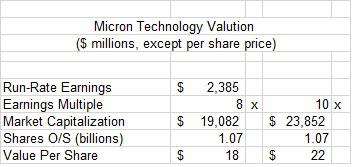 Conclusion
Micron's run-rate revenues and earnings are approximately $16.2 billion and $2.4 billion, respectively. Its current earnings growth rate justifies a valuation range of $18 - $22 per share. That said, I rate Micron a sell.
Disclosure: The author is long MU. The author wrote this article themselves, and it expresses their own opinions. The author is not receiving compensation for it (other than from Seeking Alpha). The author has no business relationship with any company whose stock is mentioned in this article. I have a straddle on Micron and puts on Coach