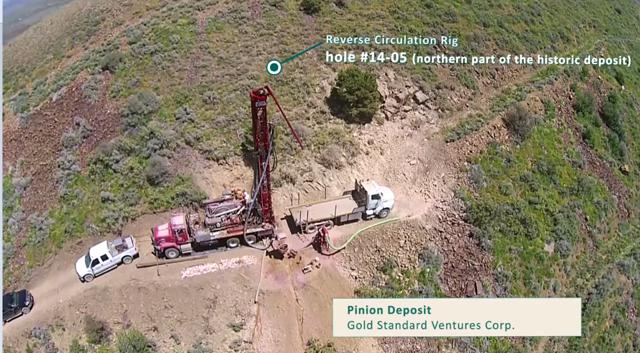 Source: Rockstone: On June 6 during our site visit, RC-hole PIN14-05 in the northern part of the historic Pinion Gold Oxide Deposit was drilled - yesterday, it turned out a full success and a new window of opportunity has opened up for a substantially higher resource base.
Yesterday (June 25), Gold Standard Ventures Corp. (NYSEMKT:GSV) released the assay results from the first five holes at the historic Pinion Gold Oxide Deposit on the Carlin Trend (Nevada, USA). The outstanding eight drill holes of the phase-1 drill program are expected shortly as the publication of a maiden NI43-101 resource estimate is scheduled for July.
While analyzing the drill results and statements from GSV management, we came to the conclusion in our latest research report (Update #2) that Pinion is now on the way to becoming a mineable gold oxide deposit right at surface. Thanks to yesterday's new discovery of probably an entire gold system in the lower breccia zone, the potential for a 50%-plus higher total resource has opened up.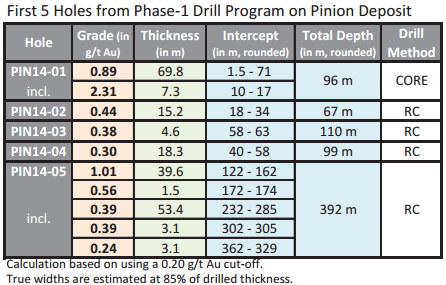 In our Initiating Coverage and Update #1 we calculated a potential resource size of around 2 million ounces gold that could be discovered with the phase-2 drill program (starting July/August).
After reviewing the latest drill results, we now anticipate a total resource of 3-4 million ounces on Pinion until the end of the year. Herewith, we are raising our price target by 50% (from C$2.80 to C$4.20/share).
Our 50% increase in price target is based on the following interpretations:
Neither we nor GSV management or Canadian investment firms like Macquarie and Cowen expected the lower breccia to be mineralized with gold as well. Hole PIN14-05 proved with 0.39 g/t over 53 m that this zone is significantly mineralized as well. As the other four published holes only drilled to depths of a maximum 69-110 m, the lower breccia zone could not be intersected because it was (wrongly) interpreted that the lower breccia does not host gold mineralization. Future drillings (phase-2) should be drilled deeper to completely test the lower breccia zone around the historic deposit limits and beyond.
As the overlying, upper breccia zone (1 g/t over 40 m in 122 m depth and 0.9 g/t over 70 m directly at surface) is stronger mineralized as the lower breccia (so far 0.39 g/t), the lower breccia zone would be considered mineable if the upper breccia zone was to be mined. The current cut-off grade at the neighboring Emigrant Mine from Newmont (NYSE:NEM) is around 0.02 g/t gold, thus 0.39 g/t is almost 20-times as much. If the grade continues being in the area of 0.4 g/t throughout the deposit, then it could be used as a blending ore alternatively.
Due to the new fact of the lower breccia being mineralized as well, the chances are also good that higher grade intervals can be discovered and typically exceed 1 g/t gold, like elsewhere on the Carlin Trend where grades of 3 g/t in such deeper zones are not rare. Hence, the new discovery of the lower breccia being mineralized opens up new potential to increase the global resource by millions of ounces.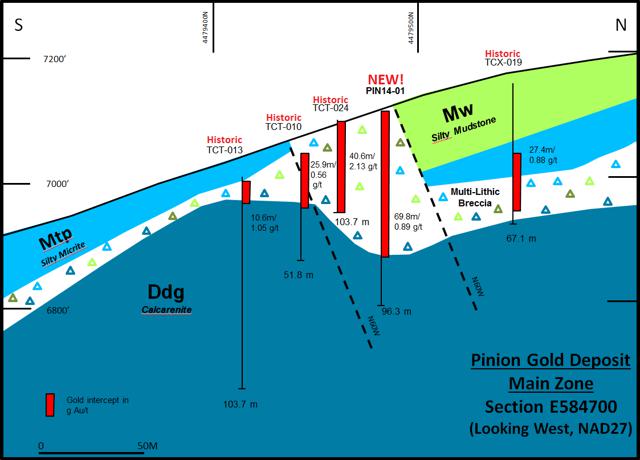 Source: From Gold Standard Ventures Corp. with annotations in red by Rockstone.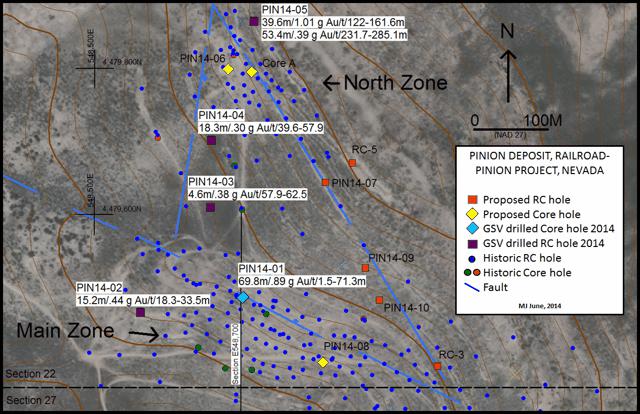 Source: From Gold Standard Ventures Corp.
Conclusion
GSV has proved with yesterday's press release that its stock belongs to our top candidates for substantially higher market valuations during the next weeks and months - irrespective of where the gold price may trend to. This is thanks to GSV being in the process of systematically drilling out the Pinion Gold Oxide Deposit. Our earlier speculation about Pinion hosting some positive surprises seem to be confirmed already.
The goal of the current drill program is to confirm the historic Pinion Deposit (around 840,000 oz @ 0.9 g/t Au @ surface; non-NI41-101-compliant) with modern standards:
1. GSV has now confirmed grades and lengths of historic drillings - and mostly exceeded those, thus the historic resource is likely to be expanded. Hole PIN14-05 showed nearly twice as much gold in the upper breccia as historic records indicated.
2. A new mineralized portion was discovered (Main Zone) between the northern and southern parts of the historic Pinion Deposit and which was not included in the historic resource estimate. This new zone could already supply a few hundred thousand ounces of gold to the initial NI43-101 resource estimate of July 2014.
3. GSV discovered a completely new breccia zone that is enriched with gold and is not included in the historic resource estimate because nobody ever drilled that deep before. We are confident that with the support of the phase-2 drill program, the lower breccia zone alone could add at least 1 million ounces as the (current) grade of around 0.4 g/t is half as much as in the upper breccia (0.9 g/t).
Until the end of July, we expect the publication of a resource estimate of around 1 million ounces gold compliant with NI43-101. Thanks to the promising grades of 0.4 g/t gold below 200 m depth, we now expect from phase-2 to expand the total resource to at least 3 million ounces gold.
Should drillings prove that the lower breccia also tends rather toward 0.9 g/t on average, we see the total resource expanding to up to 4 million ounces within the next 5 months.
Should drillings in the lower breccia start showing grades of more than 1 g/t (probable if the typical high-grade feeder zones are discovered), we expect the total resource to exceed 5 million ounces.
Accordingly, we start raising our 6 month price target of May 16, 2014 (C$2.80) by 50% to C$4.20.
Additionally, phase-2 will likely see large step-outs and distant scout-holes to test for discoveries outside the limits of the historic Pinion Deposit for the first time. The first round of assays has already indicated that new discoveries can be made outside the historic limits.
GSV's VP of Exploration, Mac Jackson, commented yesterday as follows:
"Our first drill holes at Pinion demonstrate the presence of a strong oxidized gold system that is very continuous and widespread in the collapse breccia host at the top of the Devil's Gate Formation. The new, deeper potential recognized in PIN14-05 is one of the types of targets we expect to identify as we integrate the geology through relogging, mapping and gravity work. We are very excited by our Phase 1 drill results to date and the exploration potential we see emerging at Pinion."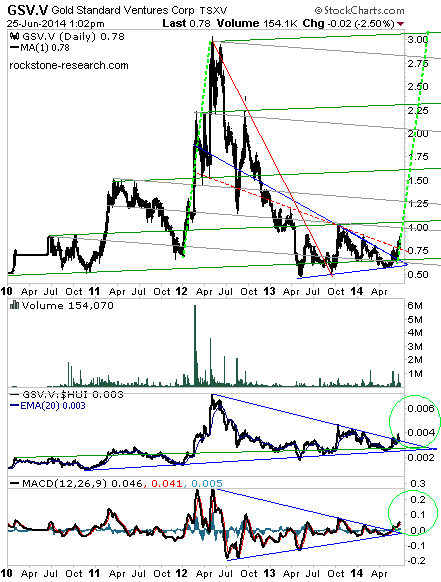 See live chart: here
Technically, GSV's stock consolidated sideways within a (blue) triangle since mid-2013, whereas recently a "breakout" above the upper triangle leg was accomplished. A short "pullback" followed to test and confirm the former strong resistance as new long-term support. Thereafter, a so-called "thrust" starts - as per definition the final impulse movement out of the triangle, which trends either up or down (typically, a strong boom or crash). As the price already started to rise, we are optimistic that the thrust will finish off to the upside attempting to catch up to old all-time highs.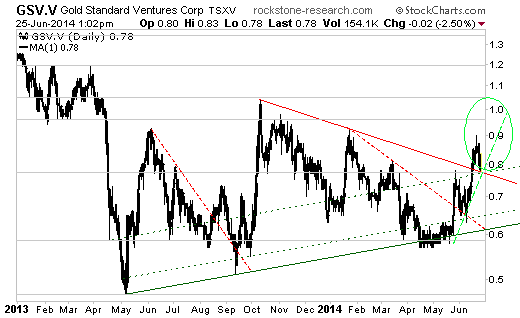 See live chart: here
The shorter time-framed perspective since 2013 (see chart at bottom) shows that also a red-green triangle can be observed in dominating price movements. Recently, the resistive upper triangle leg was broken at around C$0.79, whereafter the breakout let prices rise to the C$0.90 level. The subsequent (current) pullback has the goal to test and confirm the former resistive (red) leg as new support, in order for a new and sustainable upward-trend to start thereafter. As we anticipate the currently reached support at C$0.78 to hold, we await the start of a quick upward move to the high of the (red) triangle (C$1.05).
Risks:
Investors should be aware that there are material risks associated with Gold Standard Ventures Corp.
Share structure: On the one hand, a "strong" and overweighted institutional share structure (as being the case with GSV) may also be considered negative, as institutional investor behavior can be even more unpredictable when compared with private investors. Institutionals may be forced to sell relatively large positions within relatively short time.
Resources: The Pinion Deposit does not have a gold resource compliant to modern/today's standards of NI43-101 and therefore, cannot be relied upon, that is to say, the historic resource is not indicative of a resource that is to be drilled off. There are no known resources or reserves on the Pinion deposit, the North Bullion deposit or any other targets on the Railroad-Pinion project, and Gold Standard's exploration programs are exploratory searches for commercial bodies of ore. In addition, the close proximity of and presence of gold resources on adjacent or nearby properties within the Carlin Trend, including Newmont's Emigrant mine, is not necessarily indicative of the gold mineralization in the Pinion deposit, the North Bullion deposit or the Railroad-Pinion project. No preliminary economic assessment or other study has been carried out by Gold Standard on the Pinion deposit, the North Bullion deposit or any other target on the Railroad-Pinion project, and it is uncertain if further exploration will result in such deposits or targets being delineated as an economically viable mineral resource.
Drill Speculation: If the current drill program is not able to confirm the historic drill assays, the share price may lose heavily. Speculating on a drill success within the next weeks and months is to be considered as a high-risk speculation.
On June 6 during our site visit, some 150 m south of RC hole PIN14-05 a core rig drilled hole PIN14-06, which assay results are expected shortly and may add to the positive surprises: already made: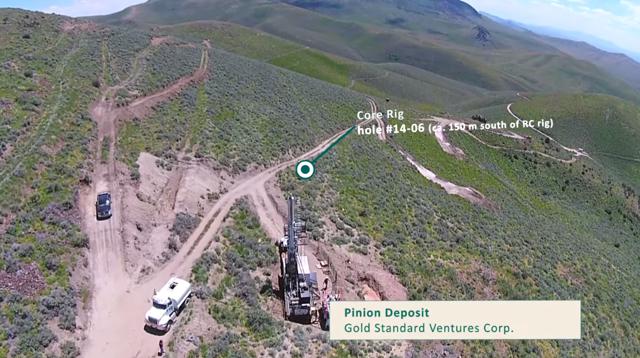 Disclaimer: The author holds shares Gold Standard Ventures Corp. and may sell those any time without notice, whereas neither Rockstone Research Ltd. nor the author was remunerated by any of the companies mentioned herein to produce or publish this content. Please read the full disclaimer atrockstone-research.com and within the full research report as none of this content is to be construed as an "investment advice." All statements in this report other than statements of historical fact should be considered forward-looking statements. Much of this report is comprised of statements of projection. Statements in this report that are forward looking include that gold prices are expected to rebound; that Gold Standard Ventures Corp. can and will start developing its projects into a mine; that exploration has or will discover a mineable deposit. These statements involve known and unknown risks, uncertainties and other factors that may cause actual results or events to differ materially from those anticipated in these forward-looking statements. Risks and uncertainties respecting mineral exploration companies are generally disclosed in the annual financial or other filing documents of Gold Standard Ventures Corp. and similar companies as filed with the relevant securities commissions, and should be reviewed by any reader of this report.
Disclosure: The author is long GSV. The author wrote this article themselves, and it expresses their own opinions. The author is not receiving compensation for it. The author has no business relationship with any company whose stock is mentioned in this article.
Editor's Note: This article covers one or more stocks trading at less than $1 per share and/or with less than a $100 million market cap. Please be aware of the risks associated with these stocks.