Everyone who drives a car or sits in an office tower or takes warm showers heated by natural gas should thank a special element on the periodic table called Niobium which is added to steel to make it stronger while at the same time making it lighter and more flexible. It is increasingly being used in the automobile, construction and energy sector specifically in the oil and gas pipelines to make steel lighter and stronger.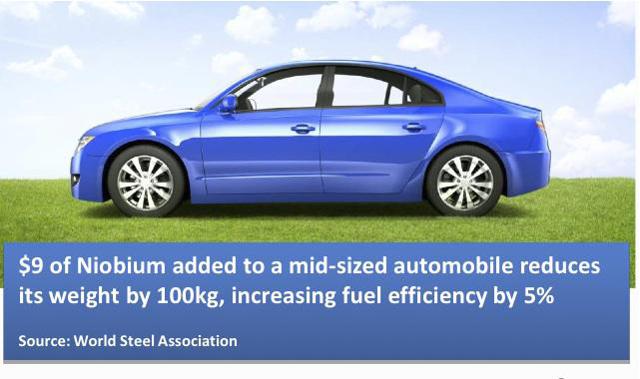 Unfortunately, niobium is a critical metal for the U.S., which is at risk of a supply shortfall. Niobium has not been produced in America or Europe for 30 years. The world currently is reliant on Brazil and a small fraction from Quebec produced at Iamgold's (NYSE:IAG) Niobec Mine.
The Brazilian economy is undergoing massive inflation and the large producer CBMM may want additional production streams to come online from abroad. China is the largest user of niobium as they need to boost their infrastructure. Look at the most recent earthquakes and the damage and loss of life caused there due to subpar building materials.
China needs to increase the use of niobium to protect lives from the damaging effects of earthquakes . Unlike rare earths (NYSEARCA:REMX) graphite, zinc and iron ore, China can't produce any niobium.
Knowing this the Chinese, Japanese and Koreans each paid $2 billion to secure supply from Brazil's CBMM, the largest global producer of niobium. This shocked the West as they were shut out from the deal. CBMM produces around 85% of the global niobium supply.
Although you may have not heard about niobium yet, you will. This mass ignorance is good news to my contrarian senses as niobium has a larger market than rare earths, cobalt and vanadium. Most people out there have no clue that there is a special metal in so many things we use that makes our modern life possible.
How can investors participate in the niobium rally? It is extremely limited as there is no way to trade niobium to my knowledge. One of the large gold producers, Iamgold is undergoing a major expansion at their Niobec niobium mine. However, that is not a pure play as Iamgold is a gold producer. One can also look in the junior mining sector where there are several companies developing potential deposits, however this requires a lot of due diligence and research as many junior niobium miners are quite risky and are operating at losses.
Disclosure: The author has no positions in any stocks mentioned, and no plans to initiate any positions within the next 72 hours. The author wrote this article themselves, and it expresses their own opinions. The author is not receiving compensation for it. The author has no business relationship with any company whose stock is mentioned in this article.