Philip Morris' (NYSE:PM) stock lagged the market severely at the start of the year due to currency headwinds and a fairly low EPS guidance by management.
This spring, the stock has had a real comeback, though, rising from $75 in early February to $91 lately. That's 21% for a tobacco stock in just a few months.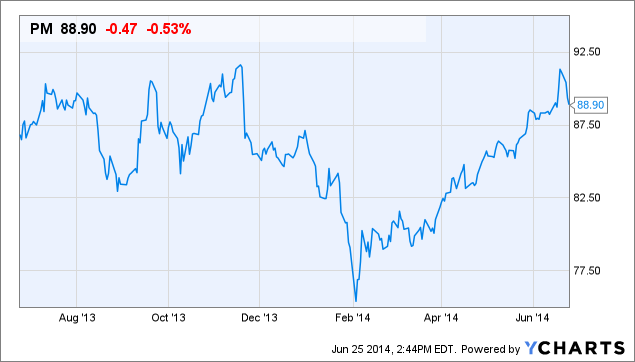 PM data by YCharts
There could be numerous reasons for this. One is that the general market has rallied. Another could be that merger rumors have lifted most stocks in the space. It is not clear to me, though, that a potential merger between Lorillard (NYSE:LO) and Reynolds American (NYSE:RAI) would benefit Philip Morris. A third reason could be that management has communicated pretty strongly that EPS guidance for 2014 has stopped trending down. This could be an indication that the worst is behind us.
Historical Dividend Growth
Philip Morris is the quintessential dividend growth stock. Though it has only been an independent company since 2008, as part of Altria (NYSE:MO) before that, it has increased dividends every year decade after decade.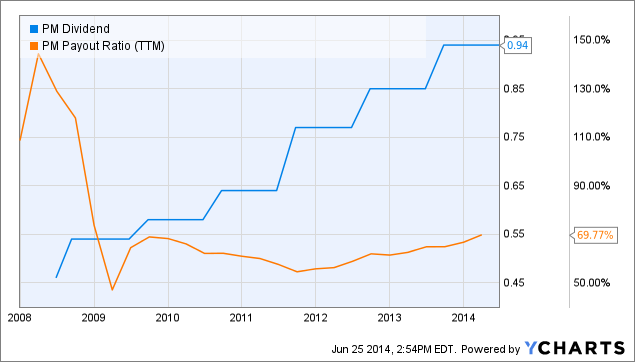 PM Dividend data by YCharts
Its quarterly dividend was $0.46 when it started trading as an independent company. It has since more than doubled to $0.94. As can be seen on the chart above the payout ratio has steadily increased since late 2011 but it was just as high as now back in 2009.
The company has a stated payout ratio target of 65% of EPS. This was reiterated to the investor community at the CAGNY conference in February. The payout ratio is discussed on page 63. Management made it clear in the presentation that cash outflows have grown faster than cash inflows and this relationship has to be balanced over time. But it also stated that it has a history of rewarding shareholders with dividend growth even in tough economic environments.
According to Morningstar the company clocked in an EPS of $5.26 in 2013. Based on a quarterly dividend of $0.94 the annual payout ratio is 71.5%. This shows that the company is not afraid of deviating somewhat to the upside of its payout ratio target.
September Dividend Hike
The company reported in April that on an adjusted basis it expects an EPS growth in 2014 of 6% to 8%. As demonstrated by its increase in September 2013, the Board clearly likes to look past short-term fluctuations and hike the dividend according to its estimated sustainable long-term growth rate. With that philosophy in mind I expect it will increase the dividend by a minimum of 6-8% this coming September.
Historically, its smallest dividend hike was in 2009 when it hiked the dividend from $0.54 to $0.58 or 7.4%. On all other occasions it has increased by more than 10% but often just by a hair, like the 10.3% in 2010 or 10.4% in 2012. In short, the trend has been one of the Board very predictably increasing the dividend by slightly more than 10% with only a few exceptions.
If the dividend is increased by 9.6% this September the quarterly payout will be $1.03 or an annual payout of $4.12. A 10.6% hike would increase the quarterly payout to $1.04. In either of these cases, if management delivers on its EPS guidance, the payout ratio will only increase by a couple of percentage points and not to a worrying degree. I therefore see it as quite likely that the dividend will be hiked between 8% and 10%.
Risk Factors
Even the most well-run companies have risks associated with them. For Philip Morris this includes litigation risk, though this risk is smaller outside the U.S. than within the U.S. Currency is a big risk for this company as it sells a lot of its products in volatile emerging market currencies. Political risk is also a factor as increased regulation and excise taxes could hurt sales and profits. Severe economic downturns might also impact sales and profits as people shift to cheaper alternatives.
Current Valuation
When I last wrote about Philip Morris I said it was a rare opportunity. It seems like it was. The P/E back then was 15.7x compared to today's level of 17.2x.
Its peers, British American Tobacco (NYSEMKT:BTI) and Japan Tobacco (OTCPK:JAPAF), have also expanded their multiples. I'm not sure I trust the dividend yield Morningstar has on Japan Tobacco as it now says just 1.1% versus 2.6% in January. I don't think it has drastically cut its dividend.
| | | | |
| --- | --- | --- | --- |
| | Philip Morris | British American | Japan Tobacco |
| Price/Sales | 4.7x | 4.4x | 2.9x |
| Price/Earnings | 17.2x | 17.4x | 15.4x |
| Yield | 4.2% | 3.9% | 1.1% |
Source: Morningstar
Japan Tobacco wins both the Price/Sales and the Price/Earnings categories but loses on the dividend yield. Philip Morris wins the latter, comes in second on the Price/Earnings and loses on Price/Sales. In all, moderately priced to peers, I would say.
The analyst community expects the company to grow EPS annually over the next five years at a rate of 7%. Assuming a constant earnings multiple five years from now and adding in the dividend, total annual expected shareholder return comes in at 11.2%. Not stellar, but better than the broad market and with lower risk.
Conclusion
Philip Morris has been experiencing some headwinds over the last couple of years and the stock sold off heavily at the beginning of this year. It has since rebounded and the worst seems to be behind it at this stage. The Board has a strong history of rewarding shareholders even in tough times and the company has the capacity to do so this year as well. Based on historical DPS growth rates and the company's EPS guidance I believe the dividend will grow by 8-10% this coming September. This, coupled with a decent valuation, should make it an interesting investment at this level for dividend growth investors.
Disclosure: The author is long PM, LO. The author wrote this article themselves, and it expresses their own opinions. The author is not receiving compensation for it (other than from Seeking Alpha). The author has no business relationship with any company whose stock is mentioned in this article.