I wrote an article on AutoZone (NYSE:AZO) a little over a month ago. In my research then, I took a highly skeptical approach and did find some meaningful concerns but was generally quite impressed. I got the strong impression that AutoZone was a high quality, industry leader. I've done some thinking and read some books since then, particularly Tilson's The Art of Value Investing and Whitman's Modern Security Analysis (have not finished yet). This leads me to add some thoughts that expand and complement my original article. Let me be clear that I do stand by all my points in the original article. In fact, I encourage readers to read both articles together for a more complete picture.
ROIC
To clarify, I am not looking for cigar butts, but high quality companies at very reasonable prices. Before reading Tilson's book, I was already familiar with ROIC, but a bit intimidated by it due to it being calculated in a variety of ways by different investors in different situations and not typically being reported as a supplement by companies. I was still trying to find quality, but was doing so in other ways by piecing together such metrics as earnings, margins, revenue, maintenance FCF, etc. The problem with this that I've come to realize is that many growth metrics in and of themselves are flawed because growth only creates value above the cost of capital. Many companies grow earnings but I would venture that far fewer than people assume actually create value through growth over long periods. I think AutoZone is one of those companies. The company does report ROIC on a LTM basis every quarter and reports a very strong and improving number at that. CEO/Chairman William Rhodes from the Q3 call:
Well as we've said for a long time, our two performance metrics are EBIT dollar growth and return on invested capital. That's been our incentive compensation program for 12 or 13 years now. It continues to be. So if you think about what we've decided are the most important metrics, those are it…..

We also reported another strong performance in return on invested capital as we finished Q3 at 32.4%, slightly ahead of last year. We are proud of this metric as it is one of the best, if not the best in all of hard lines retailing.
Here is AZO's 5 year ROIC: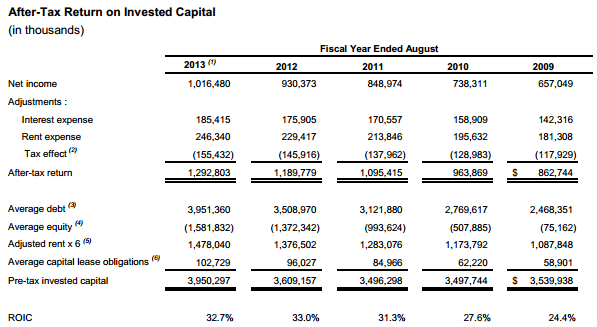 32.7% is extremely high and that is after-tax. That's far better than AZO's cost of capital which is probably 6-8%. The company calculates it a bit differently than I do. I prefer ((EBITDA - Capex - CIWC) * (1 - Effective Tax Rate)) / (Total Assets - Current Liabilities) for after-tax ROIC. For AZO's last twelve months of financials (ending Q3FY14) I get 38.6%, even better than the company number. Further, the number has improved quite a bit in the last few years.
Besides the number itself, I really like that management recognizes the limited opportunities for reinvestment in the business. They don't over-do it, instead opting to use excess capital to repurchase shares at what has generally been reasonable prices. Charlie Munger is a strong advocate of investing in these serial repurchasers or "cannibals."
Management
Many of the successful money managers whose wisdom is captured in Tilson's book put great emphasis on speaking with and assessing management. Many of these great investors seemed to believe, and I agree, that the role management plays in corporate performance is often underrated by the stock market at large. Obviously there are exceptions on both sides - such great businesses that they can be "run by a ham sandwich" as Buffett puts it, and talented managers who Wall Street seems well aware of like Elon Musk. I don't think AutoZone fits into either of these categories. The company is operated by an extremely talented, seasoned, reasonably paid, and relatively young team that has the right focus. The most important people in the company, CEO/Chairman William Rhodes and CFO William Giles, are both in their prime as far as executive age is concerned (48 and 54 respectively). Rhodes has been with the company for 20 years and Giles, 8. Rhodes started his career at Ernst & Young and Giles at PwC. This is not surprising to me as the Big Four accounting firms seem to be excellent breeding grounds for talented, financially-savvy execs. Their talent is evidenced by AZO's ROIC and long term stock performance: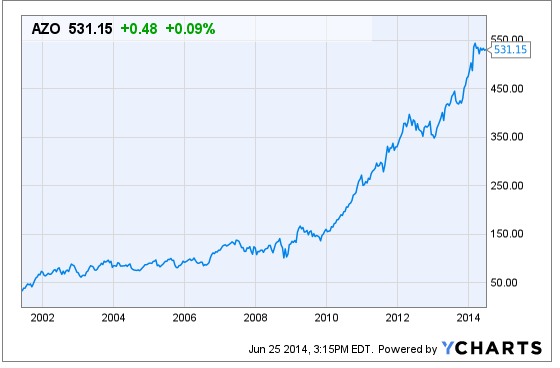 They made $5.3 and $2.6 million respectively in 2013, which seems very reasonable relative to their talent and the size of the company ($17.3B market cap).
Their young age is particularly important because I don't think AZO is such a great business that it would do well regardless of who manages it. I don't see them retiring very soon.
The one thing I can't do is speak to management, but I'm impressed from what I've read in conference call transcripts.
Creditworthiness
In his book, Whitman puts great emphasis on the advantages of creditworthiness and the benefits of looking across a company's capital structure to get a sense of the 'safeness' and 'quality' of the equity. Despite being notably leveraged, AutoZone has a good credit rating and low cost of debt. The company has a Baa1 rating from Moody's (NYSE:MCO). The rating was upgraded in January and Baa1 represents medium investment grade on Moody's rating scale. The company has a variety of issues outstanding, but its cost of debt is quite low at 4.27%. Again, this is despite the company sporting a high debt/assets of 58%.
Whitman mentions that attractive access to capital markets and strong financial positions allow management to be opportunistic and that has been the case at AZO with the aforementioned share repurchases: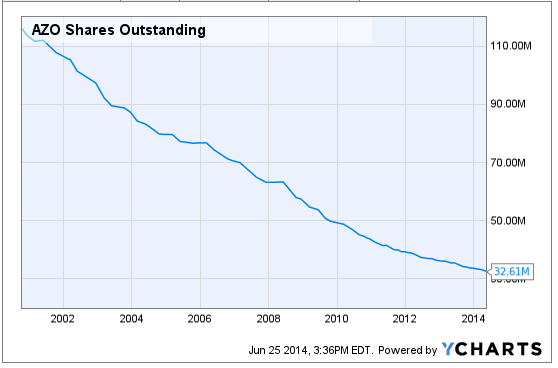 Share count has been reduced by almost ¾ since ~2001.
Conclusion
After some more thought I am a bit more enthusiastic about AZO's investment prospects. The company boasts outstanding and improving ROIC that is among the best in hard lines retail. The management team is talented, seasoned, reasonably paid, and relatively young. The company has maintained strong credit ratings and low cost of debt despite being considerably financially-levered. In the time since I wrote my first article, I have become more aware of the importance of these characteristics and find that they improve the AutoZone story a great deal. I would very much like to own AZO but want to see some sort of pullback before initiating a position. Pending a major change in the story or consistent run-up in the stock price, the chances of my owning AZO stock 3-6 months from now are pretty good.
Disclosure: The author has no positions in any stocks mentioned, but may initiate a long position in AZO over the next 72 hours. The author wrote this article themselves, and it expresses their own opinions. The author is not receiving compensation for it (other than from Seeking Alpha). The author has no business relationship with any company whose stock is mentioned in this article.