Demographic changes alter demand for a wide range of products and services. Broadly, a young population makes different demands from their banks, health care, telephony, social and other services. Consequently, changing or emerging demographic trends are important to review. Fortunately, demographics evolve in a straightforward manner – each year, each person gets one year older.
A review of major developed vs leading emerging markets has been previously discussed here. However, there are a number of countries whose strong demographic profiles make them promising candidates for the next frontier in emerging market investing. Successful progression towards reliable economic development and advancement will be dependent on concurrent progress in government stability, education, rule of law, property rights and reduction in internal strife. In many cases, this progression will also be dependent on foreign direct investment.
Two countries which already have an improving mix of the above are Turkey and Russia. However, their demographic profiles vary dramatically. Turkey's demographics are attractive with 53% of the population currently under the age of 30 and less than 10% at retirement age. With declining inflation and interest rates, more stable currency, well developing manufacturing sector and restructured banking sector, Turkey offers compelling investment opportunities. Specifically in banking, Turkey's development of its credit card sector is notable and lending margins have remained high despite rapid growth, in comparison to other developing market peers.
click to enlarge images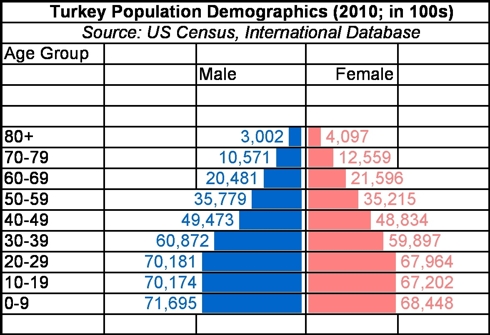 In contrast, 19% of the Russian population is at retirement and 37% below the age of 30. However, within the next two decades, 48% of the population will be at retirement. Russia's economy and political system continue to evolve, affecting its investment risk profile. While lending penetration is low, the banking sector is skewed, with Sberbank, a 60.3% state-owned bank, controlling 48% of deposits and more than 30% of loans. Margins remain attractive, but government directed lending mandates are common, impacting profitability.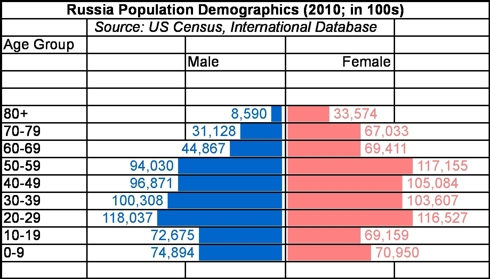 A number of lesser focused-on emerging markets have attractive demographics supportive of underlying growth. These include Egypt, Nigeria, Ethiopia, Bangladesh and Pakistan. While risk of political turmoil still remains, the opportunity for sustained growth supported by demographic trends and improving country infrastructure is substantial. In each of these countries, the population is not only large (>80 million), but also young.
The shift of historical north-south trade to east-west links has become clearly evident. With progress made in Latin America, the African continent has increasingly become the focus, particularly given its rich natural resources. Notable interest in the region has come from China. To satisfy its continuing demand for commodities, China has made direct industrial investments, entered into long-term supply contracts, lent directly into the region and even made an investment in one of its banks (Standard Bank, a South African bank active in 16 countries). More recently, HSBC has been in talks to buy Nedbank (a South African based bank operating in 5 countries with further coverage of 33 countries). Numerous other foreign banks already have a presence including Barclays, Citigroup, Société Générale and Standard Chartered, though their respective exposures vs total bank activities is small.
From a demographic perspective, Egypt, Nigeria and Ethiopia offer strong potential. Telecom and financial sector development offer some of the largest opportunities, and in some cases are complementary. Retail banking penetration in these countries is very low, with parts of the urban population still remaining outside the banking system. However, in many of these countries, the implementation of mobile phone payment services is rapidly expanding the number of individuals who will require supporting banking services, driving demand for retail banking services. As with most early development economies, it is not uncommon for these developing banking systems to experience significant distress as a result of domestic issues. A review of the track record of the central bank and bank regulatory agency is an essential starting point.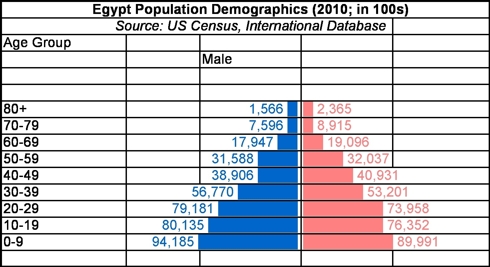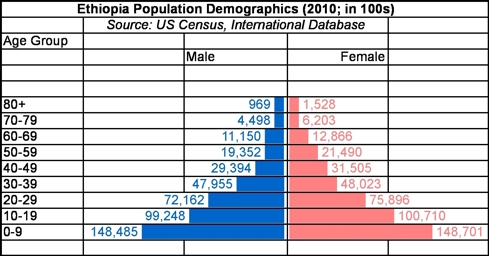 On the Indian sub-continent, Bangladesh and Pakistan offer strong potential. Currently, both their respective charts suggest that external forces (e.g. natural catastrophes and religious based insurgencies) are shaping demographic trends in the adult population. Consequently, more than 60% of their populations are below the age of 30. The initial gender imbalance also rapidly equilibrates. While this has impeded growth, modest developments in certain sectors continue to emerge.
Bangladesh's financial sector is notable for its origination of microfinance lending (Grameen Bank). Microfinance, which focuses on (very) small value lending to rural-based cooperative-organized, (women) borrower groups, is characterized by ultra high margins (>75%). These margins are the result of not only the lack of credit information for, but also the logistical difficulties in tracking, collection and communication with the borrower. Consequently, this industry has been forced to innovate for survival with the mobile phone quickly becoming the tool of choice. Experience so far has revealed a mutually beneficial experience for all three participants – microfinance lender, borrower and mobile phone provider. This trio is expanding further as a broader range of providers can use the platform in place to offer ancillary services to the businesses that borrowers have successfully started.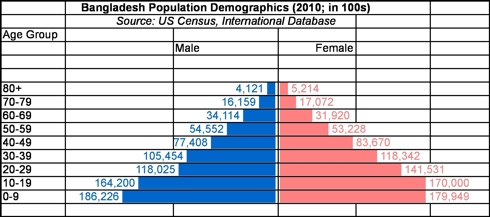 While Turkey and Russia are fully in the emerging market space, the remaining countries discussed present the next frontier in emerging market investing. Historically, risk in emerging markets has been higher than developed markets. In frontier markets, it is commensurately higher given the nascent economic development and stability, frequency of political and civil unrest, and evolving legal system and property rights. These markets will also be testing grounds for the convergence of mobile and traditional banking – the opportunity to leapfrog developed, and even some developing, markets in the provision of basic financial services is compelling. Credit expansion and the development of a sound banking system are fundamental to economic growth. From an investment perspective, this will require careful understanding of customer ownership, sources of profit and opportunities to monetize the value chain. While the commercialization of microfinance is at odds with the historical purpose of the segment's development, it is nevertheless accelerating the shift of large proportions of the un-bankable population into a bankable one. This, in turn, will have a direct positive impact on the speed of banking penetration in these countries.
Disclosure: No positions