Earnings estimates have plunged for Quidel Corporation (QDEL) since the company delivered disappointing Q1 results in April.
It is a Zacks Rank #5 (Strong Sell).
Although shares have sold off so far this year, the stock still doesn't like a bargain at more than 50x next year's earnings and 40x cash flow.
Quidel Corporation develops products that aid in the detection and diagnosis of many critical diseases and conditions, including, among others, influenza, respiratory syncytial virus, Strep A, herpes, pregnancy, thyroid disease and fecal occult blood.
First Quarter Results
Quidel reported its first quarter results on April 23. Adjusted earnings per share (which includes stock-based compensation) came in at 4 cents, missing the Zacks Consensus Estimate of 29 cents by a wide margin. It was also down significantly from adjusted EPS of 45 cents reported in the same quarter last year.
Total revenues plunged 25% year-over-year to $46.7 million. This was also well below the consensus of $63.0 million. Infectious disease net product sales, which accounted for 77% of total revenue in the quarter, fell 27%, driven by a decline in QuickVue Influenza product sales. This was partially offset by growth in Sofia Influenza revenue.
Estimates Plunging
Following the big Q1 miss, analysts revised their estimates significantly lower for both 2014 and 2015. This sent the stock to a Zacks Rank #5 (Strong Sell).
You can see the dramatic drop in estimates in the company's "Price & Consensus" chart: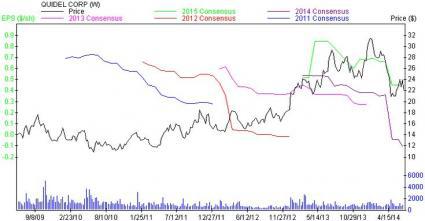 The 2014 Zacks Consensus Estimate is now -$0.11, down from +$0.36 before the Q1 report. The 2015 consensus has fallen from +$0.67 to +$0.42 over the same period.
Lofty Valuation
Shares of Quidel have fallen considerably in 2014 but still doesn't look cheap. The stock trades at 148x 12-month forward earnings and 53x the current 2015 consensus estimate.
Its price to cash flow ratio is a bit more reasonable at 41x but still not anywhere near value territory.
The Bottom Line
With falling estimates and premium valuation, investors should consider avoiding this stock for now.