With the S&P 500 and Dow Jones Industrial reaching record highs, the search for reasonably priced stocks becomes more and more difficult.
The world's largest consumer goods companies by turnover are Nestle (OTCPK:NSRGY), Procter & Gamble (NYSE:PG), and Unilever (UL, UN). All three shares have underperformed the broader market in the last year which makes these defensive shares with appealing dividend yields an attractive investment opportunity for investors with a long-term perspective.
The three stocks have rewarded shareholders in the past and are by many investors considered as key and long-term holdings in their portfolios. Evidently, shares of large consumer goods companies have never been cheap, but in the current bull market the stocks have only partly participated in the upswing. One reason is that these companies are largely dependent on the rising demand for their products in emerging markets, since the growth in the developed regions Europe and North America is approaching zero. Despite the fact that the underlying sales growth in emerging countries is still intact, the economical uncertainties and currency devaluations have slowed down growth in hard currencies and had a negative impact on top and bottom line of P&G and the likes. On the other side, the long-term potential in these countries remains unchanged, as the emerging middle classes will continuously drive demand for branded consumer goods.
A short Comparison of P&G, Nestle, and Unilever
Nestle is the largest of the three global players by turnover with sales, totaling almost $100B in 2013, followed by P&G and then Unilever. In 2013, Nestle had grown sales by 2.7%, P&G by 1.0%, whereas Unilever's turnover was down by 3.0%. The reduced to negative sales growth compared to earlier years is only attributed to currency effects. P&G is the most profitable company with a net margin of 13.4%, on the other side Unilever offers the highest dividend yield.
2013 Key Figures for P&G, Nestle, and Unilever
FY2013

Procter & Gamble*

US$

Nestle

CHF

Nestle

US$

Unilever

EUR

Unilever

US$

Sales [M]

84,167

92,158

99,415

49,797

65,732

Operating Profit [M]

14,481

13,068

14,097

7,517

9,922

Net Earnings [M]

11,312

10,015

10,804

5,263

6,947

Operating Profit Margin

17.2%

14.2%

15.1%

Net Earnings Margin

13.4%

10.9%

10.6%

Basic EPS

4.05

3.14

3.39

1.71

2.26

Diluted EPS

3.86

3.13

3.38

1.66

2.19

Dividend

2.29

2.05

1.05

Payout ratio (basic)

57%

69%

61%

Dividend

2.53

2.15

2.32

1.124

1.547

Yield

3.16%

3.09%

3.46%

PE (ttm)

21.2

23.0

20.6

Share Price

79.52

69.95

78.10

32.55

45.71

Market Capitalization [B]

215.2

225.6

252.2

99.9

136.0
Source: Company websites, *P&G FY July, 1st - June, 30th.
P&G has the highest share of sales in developed markets, whereas Unilever is the only company which generates more than half of its turnover in emerging markets. Nestle's portfolio is dominated by food & beverages, amended by the relatively small, but very profitable pet care business (an area which P&G has recently decided to abandon). Besides, Nestle plans to expand into the medical skin care sector in the near future. Since the sales of its Pringles business to Kellogg in 2012, P&G is not active in the food & beverages sector any more, so that there is no real overlap between P&G and Nestle. Unilever has a more diversified portfolio with the largest segment being food & beverage, followed by personal care and is competing with P&G and Nestle in many markets.
Regional Split and Portfolio
| | | | |
| --- | --- | --- | --- |
| FY2013 | Procter & Gamble | Nestle | Unilever |
| Sales Developed Markets | 61% | 56% | 43% |
| Sales Emerging Markets | 39% | 44% | 57% |
| | | | |
| Personal Care | 68% | 0% | 36% |
| Home Care | 32% | 0% | 18% |
| Food & Beverages | 0% | 88% | 46% |
| Pet Care | 0% | 12% | 0% |
Source: Annual reports, company websites.
Stock Performance
I have compared the stock performance of the last 14 years; firstly since many investors consider an investment in one of the consumer goods blue chips as a long-term holding, and secondly 14 years ago, in June 2000 A.G. Lafley took over as the CEO of P&G, adding a new chapter to the company's long history.
As it turns out, the winner in this long-term comparison is Nestle which has clearly outperformed the other two stocks during this period.
Stock Performance July 2000 - today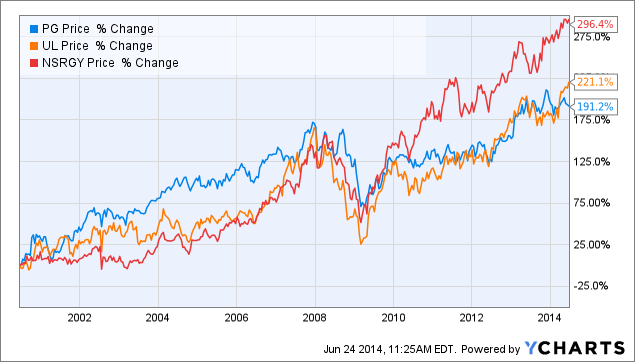 When the 14-year timeframe is split into two periods, the first until mid of 2009 (when A.G. Lafley stepped down as CEO) and the second period from July 2009 until today, two things can be observed: The first is that during A.G. Lafley's tenure as CEO, P&G's stock has indeed been able to outperform its peers.
Stock Performance July 2000 - June 2009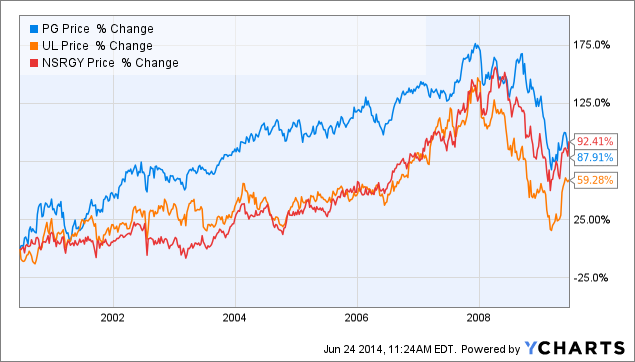 Secondly, during the last five years (including the very recent one-year period since A.G. Lafley took over again), the picture has changed and P&G has been outpaced by both Nestle and Unilever.
Stock Performance July 2009 - today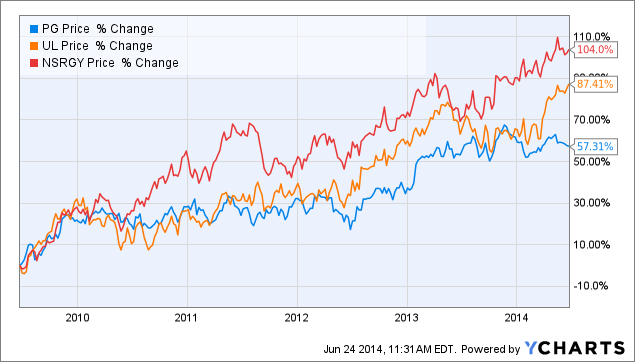 Looking at the share price development in the last 12 months and adding a comparison with the S&P 500, it becomes obvious that the broad market has outperformed all three stocks. Particularly, P&G disappoints with a mere gain of 4%, and also Unilever has been performing poorly until February 2014 when the share started to gain momentum and has narrowed the gap to the index. Only Nestle has been doing quite well, more or less following the S&P 500.
Stock Performance Last 12 Months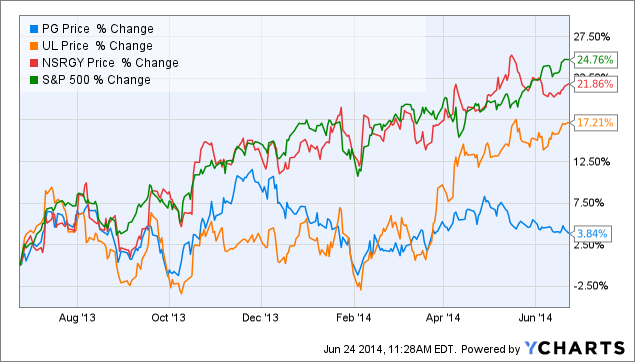 Two possible conclusions from this observation can be drawn for P&G: Either the stock is now undervalued and has a short-term upside potential or the share is currently stuck and needs a new catalyst to convince investors to buy P&G again.
Current Valuation
Traditionally, P&G is not cheap and it has not been famous for its dividend yield in the past. However, today, P&G's PE (ttm) of 21.2 (which is almost unchanged from one year ago) compares to 19.34 for the S&P 500 which is up from 17.99 one year ago. There have been times when P&G was valued considerably higher, but in average, the stock has moved during most of the past ten years in a corridor between 17 and 25.
PE Ratio for P&G July 2000 - today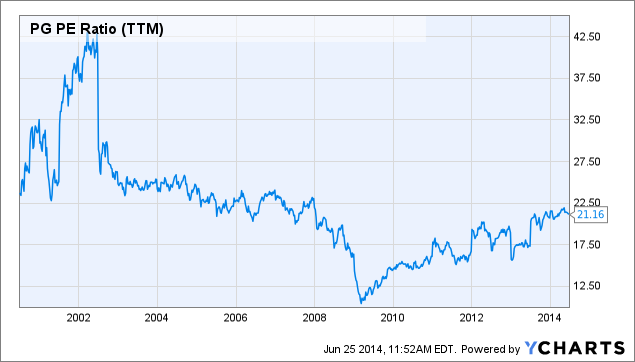 PG PE Ratio (TTM) data by YCharts
All in all, the PEs (ttm) of P&G, Nestle, and Unilever do not differ much and stand at 21.2, 23.0, and 20.6. For the years 2014-2016, the expected EPS growth for P&G is the highest among the three and consequently the forward PE for 2015 and 2016 would be the lowest.
Expected EPS and PE for 2014-2016
EPS

PE

P&G

Nestle

Unilever

P&G

Nestle

Unilever

2014

4.05

3.65

1.60

19.6

19.1

20.3

2015

4.50

3.64

1.72

17.7

19.1

18.9

2016

4.94

3.92

1.82

16.1

17.8

17.6
Source: 4-traders.com.
Dividend Yield and Payout Ratio
One reason for an investment in the three stocks today is the attractive dividend yield and the dividend growth perspective. The companies have raised their dividends in the past years nicely with Nestle and P&G showing the steepest rise. Accumulated, Nestle's dividend has grown by 106% in the past seven years vs. 86% for P&G, and only 56% for Unilever.
Dividend History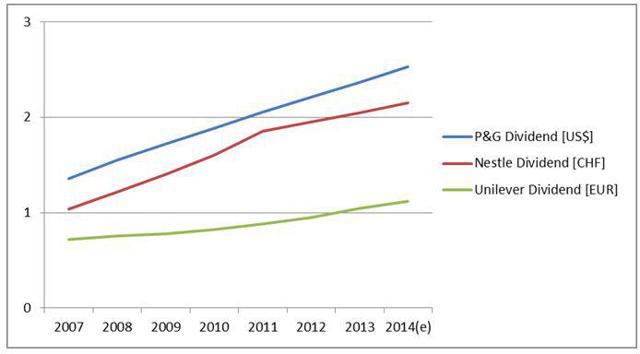 Source: Company websites.
In 2012, Nestle's dividend growth has slowed down after the company has increased the payment by more than 15% annually during the five years before. With the highest payout ratio of 69%, it seems likely that the future raises will remain more in this range. As it is quite common for European stocks, Nestle pays one annual dividend whereas Unilever has quarterly dividends like P&G. Both of them have raised their dividends with the second payment in 2014 by 7%.
Annual Dividend Growth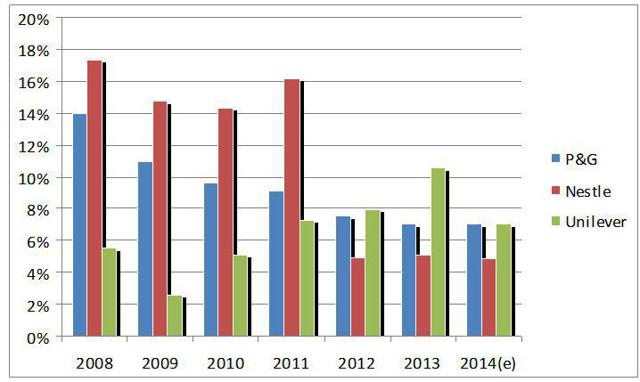 Source: Company websites.
Today and particularly compared to the times before 2009, P&G pays an attractive dividend. For the past five years, the dividend yield has been quite stable and fluctuated in a relatively narrow corridor between 2.75% and 3.5%.
Nestle's as well as Unilever's dividend yields have become lower after the recent gains in share price. Especially, Unilever, which used to have the highest dividend yield for years, is now in reach of the other two. Based on the 2014(e) dividends, Unilever yields 3.46%, followed by P&G (3.16%), and finally Nestle with 3.09%.
P&G Dividend Yield July 2000 - today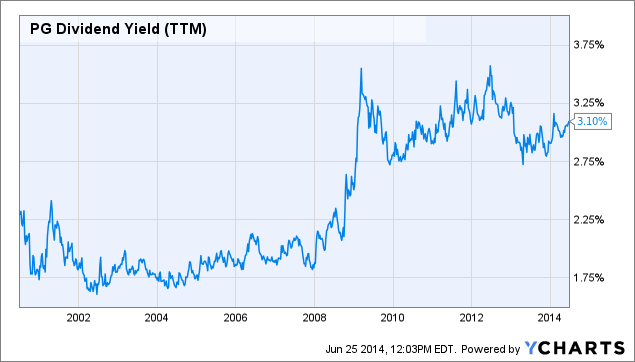 PG Dividend Yield (TTM) data by YCharts
Some final thoughts on the three companies:
Procter & Gamble
The years 2000 to 2009 under A.G. Lafley are being considered as a successful period for P&G by many investors. His successor, Bob McDonlad turned out to be less lucky which caused the former CEO to return from retirement in May 2013 to navigate the company through stormy waters for a second time. Undoubtedly, A.G. Lafley knows P&G very well, but at the age of 67 he will likely remain an interim solution. Ultimately, a worthy successor has to be found in the future, and this leads to the question why P&G has not been able to identify one in the first place when Bob McDonald was forced to step down. When companies have brought back old CEO from retirement, it turned out well in a few instances (Steve Jobs is more the exception to the rule), but in many other cases it did not. So far, A.G. Lafley's return has not helped to regain the confidence of investors and to stimulate P&G's share.
Nevertheless, the current situation might be a good starting point for investors who are considering to add P&G to their portfolios. Several signs indicate that the company is undervalued compared to Nestle and Unilever: The EPS growth is expected to be higher in the next years, the dividend yield is attractive compared to most other stocks, and the payout ratio remains the lowest among its peers. P&G's share buyback will also continue to increase EPS and the dividend. Finally, if the bull market continues, there is a good chance that sooner or later investors will identify P&G as a latecomer which has not participated in the rally so far and the stock could catch up.
Nestle
Nestle has been very successful in creating shareholder value over a long period of time. The company has proven to be innovative and has managed its portfolio wisely, focusing on its core competencies. It also holds 29.7% of the French l'Oreal, the globally largest cosmetic company; however, on 11 February 2014, the group announced that it will sell 8.1% of the shares to l'Oreal for EUR 6.0B. The shares will be cancelled afterwards, so that the future stake of Nestle stands at 23.3%.
Part of the proceeds will be used to acquire the 50% remaining shares of Galderma (a dermatology pharmaceutical company and a joint venture between Nestle and l'Oreal) and the remaining EUR 3.4B ($4.6B) will be used to launch a share buy-back program. Details on the program will become available after the closing of the deal which was actually expected in June 2014. In 2011 and 2012 Nestle has already bought back 6.9% of its shares, however none were repurchased last year. Galderma will operate as an independent unit under the name of Nestle Skin Care in the future, which can be seen as a strategic move to expand the company's portfolio into the area of medical skin care.
Unilever
Outstanding is Unilever's strong exposure to emerging markets - the regions which will contribute most to the future growth of consumer goods companies. Additionally, it offers the highest dividend yield among the three stocks, and in my opinion it also has the highest margin growth potential. For more details on Unilever and a more thorough discussion, see my previous article on the company.
Conclusion
Large consumer goods companies belong to the blue chips which are still reasonably priced in the current market environment. It is difficult to pick only one of the stocks discussed, each of them has certain advantages, therefore it is up to personal preferences which one to choose. My favorite is Unilever because of the appealing dividend yield and the largest exposure to emerging markets. A closer look at P&G might also be worth the effort: The shares have been trading sideways for the past year and there is the chance that the stock might be rediscovered and become a latecomer in the current bull market. Additionally, investors could be attracted by its dividend yield. Stockholders who have bought Nestle in the past have made a wise decision, and there no particular reason why the positive outlook for the company should change in the near future.
Disclaimer: Opinions expressed herein by the author are not an investment recommendation, any material in this article should be considered general information, and not relied on as a formal investment recommendation. Before making any investment decisions, investors should also use other sources of information, draw their own conclusions, and consider seeking advice from a broker or financial advisor.
Disclosure: The author is long UN. The author wrote this article themselves, and it expresses their own opinions. The author is not receiving compensation for it (other than from Seeking Alpha). The author has no business relationship with any company whose stock is mentioned in this article.
Editor's Note: This article discusses one or more securities that do not trade on a major U.S. exchange. Please be aware of the risks associated with these stocks.