By Sumit Roy
Natural gas was last trading down by close to 2 percent to $4.46/mmbtu after the Energy Information Administration reported that operators injected 110 billion cubic feet into storage last week, above the 102 to 108 bcf most analysts were expecting.
The latest injection was above last year's build of 95 bcf and above the five-year average build of 85 bcf.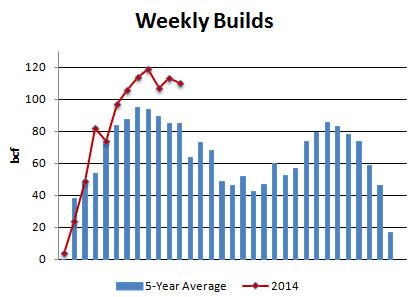 In turn, inventories now stand at 1,829 bcf, which is 704 bcf below the year-ago level and 816 bcf below the five-year average (calculated using a slightly different methodology than the EIA).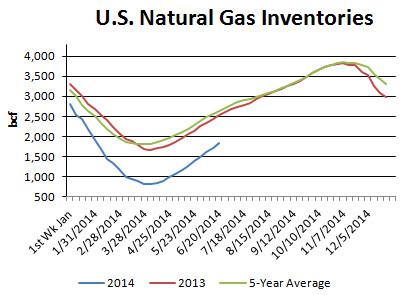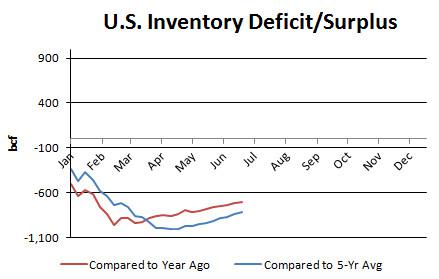 The weather last week was close to seasonal norms.
According to the Edison Electric Institute, utilities generated 83,790 GWh in the week ending June 21, up 2.6 percent from a year ago.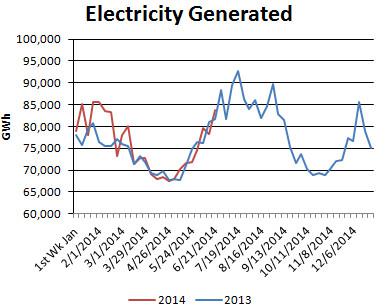 Looking forward, the NOAA's 6-day to 10-day outlook calls for warmer-than-normal temperatures across the West and East and cooler-than-normal temperatures for Texas.
NOAA 6- TO 10-DAY OUTLOOK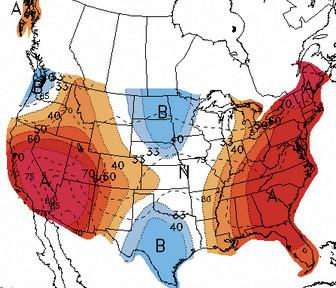 Meanwhile, Baker Hughes reported that the number of rigs drilling for natural gas in the U.S. rose by one to 311 last week.
Natural Gas Rig Count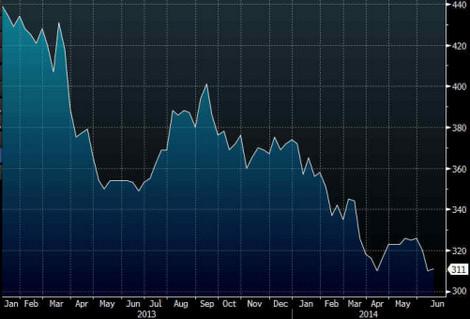 Natural Gas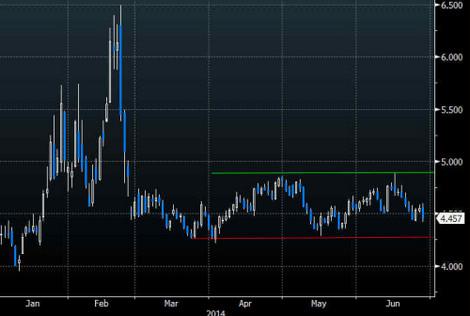 Bottom Line: The latest inventory data from the EIA were neutral, as the inventory deficit against the five-year average fell from 841 to 816 bcf and the deficit against last year fell from 719 to 704 bcf.
Since the end of winter, natural gas has been range-bound, with support near $4.25/mmbtu and resistance near $4.80. Prices look poised to challenge the bottom end of that range in the short term. Whether that level holds will depend on whether the rate of injections slows materially from here as summer temperatures heat up in July and August.
We've seen triple-digit injections in each of the past seven weeks. Yet injections have only averaged 15 bcf (~2 bcf/d) above last year during that period.
Going forward, the year-over-year comparisons will become much more difficult. For example, the inventory builds from last year for the end of June through the end of July were 72, 82, 58, 41 and 59.Thus, this year's injections must decline significantly from current triple-digit levels to prevent a big decrease in the year-over-year inventory surplus.
If injections do indeed decline notably, prices may bounce off the $4.25 support level. Otherwise, an eventual decline to $4 may be in the cards.