Income investors looking to round out a high-yielding dividend portfolio might want to consider a small power generation company named Atlantic Power Corporation (AT). Atlantic Power Corporation is the owner of a diversified portfolio of power generation assets within the United States and Canada. The company operates out of 28 power generation projects across 11 states in the United States and two provinces in Canada. Combined, these projects have a total annual capacity of approximately 2,945 megawatts. Of this amount, the company has an ownership interest in approximately 2,024 megawatts.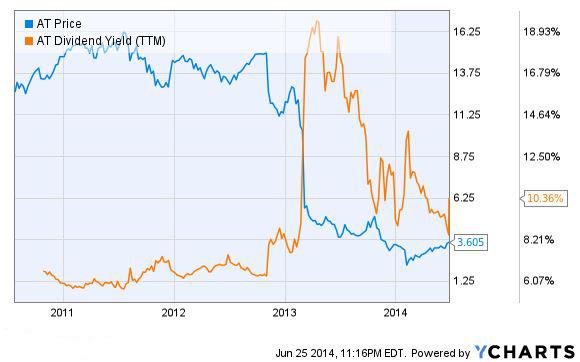 What makes Atlantic Power Corporation an interesting play in the present is the fact that the company is now in recovery mode. Previously, shares of Atlantic Power fell from over $12 at the beginning of 2013 to less than $3 at the start of 2014. This was a result of poorer than expected performance, a dramatic dividend cut in early 2013, and the looming debt maturities. However, since this time period the company has begun to significantly improve its financial position. Atlantic Power Corporation now distributes a stable monthly dividend with a rather high annual yield of 10.3% based on the closing price of $3.60 as of June 25.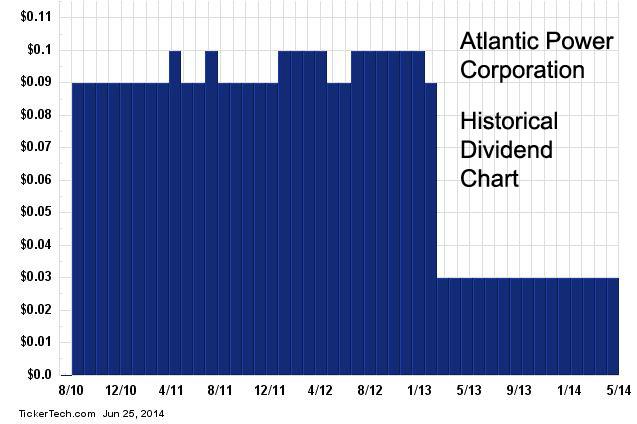 The following are three things to like about the company now:
Improved Debt Situation. Over the last quarter, Atlantic Power significantly reduced its near-term debt maturities, increased its financial flexibility, and reduced its interest expense. Through a refinancing arrangement, the company redeemed $415 million of debt maturing in 2014, 2015, and 2017. It also redeemed $140 million of its 9% senior notes due in 2018. Additionally, it increased and extended its revolver credit facility to $210 million maturing in 2018 up from $150 million maturing in 2015. A look at the graphic below shows that the company has no large debt maturities due until 2017.
Strong Clean Energy Power Generation Portfolio. Atlantic Power maintains a diversified portfolio that is highly focused on natural gas, wind, hydro, and biomass. Unlike many of its competitors, the company only has one project related to fossil fuels. Both coal- and nuclear-type assets have struggled in light of the current political climate. With the growing regulation over the emissions of power generating assets, Atlantic Power's portfolio may even make an attractive takeover target for a utility company looking to make their holdings more environmentally friendly.
Long-term Contracts. Atlantic Power largely operates under the protection of long-term power purchase agreements which help to protect the company from volatile changes in commodity prices. The company also has long-term fuel supply agreements that coincide with these arrangements. This helps to provide the company with a more predictable revenue ramp and assist in its long-term planning. For 2014, only two of the company's agreements are up for renewal. Out of its current assets, the next renewals will not be until 2017. The farthest contract expiration occurs in 2037.
A Look At The Company Now
Atlantic Power Corporation now trades with a market capitalization of $434 million based on the closing price of $3.60 on June 25. The company supports a low price-to-sales ratio of 0.79 and price-to-book ratio of 0.79. Atlantic Power carries total assets of $3.30 billion, of which total liabilities account for $2.52 billion. As of March 2014, current liabilities were a mere $173.6 million in contrast to the company's $315.2 million in current assets. Altogether, the company now reports shareholder equity of $781.6 million.
Annual revenue has sequentially increased year-over-year. The company reported revenue of $93.9 million, $440.4 million, and $551.7 million for the years 2011, 2012, and 2013 respectively. However, the company has also maintained a net loss of $38.4 million, $112.8 million, and $33 million for the same corresponding time periods. However, Atlantic Power has largely relied upon its cash flows. For the years 2011, 2012, and 2013, the company reported cash flow from operating activities of $55.9 million, $167.1 million, and $152.4 million respectively.
Final Thoughts
Atlantic Power Corporation remains an undervalued company with an enviable portfolio of clean energy assets. Yet it is not without its flaws. The company's perception was largely tarnished when Wall Street swiftly punished the energy producer for being too aggressive in 2013. Nevertheless, the company's financial situation has since shown signs of improvement.
The company has successfully refinanced its most immediate threat found in its debt maturities and has proven itself capable of sustaining its current dividend yield. In addition to this, the company's stock now trades below its book value and currently has the majority of its projects under long term contracts. For investors looking to diversify their dividend portfolios, Atlantic Power appears to offer a rather high dividend yield for a rather low near-term risk.
Disclosure: The author is long AT. The author wrote this article themselves, and it expresses their own opinions. The author is not receiving compensation for it (other than from Seeking Alpha). The author has no business relationship with any company whose stock is mentioned in this article.