Christopher Tsai has the kind of romantic, multi-faceted biography that is the very stuff of a good profile.
His family's financial tradition goes back to World War II, when his grandmother was one of the first women to trade securities on the Shanghai stock exchange. His father is often cited as one of the main people responsible for building Fidelity to its current mighty stature.
Tsai didn't waste time getting into the family business. He began managing money for local businesses at 16 and, successful in those endeavors, started his own hedge fund at 22.
Though still youthful at 39, Tsai has already built up a reputation for his circumspect, long-term approach. He focuses heavily on multinationals with lots of exposure to Asian markets, which he sees as one of the most attractive long-term opportunities. We sat down with him to elaborate.
Kapitall: Your company's philosophy is one wherein you try to maintain your holdings as long as possible, if not indefinitely. How have you applied this in China?
CT: The trend we're monitoring closely is the growth of China's middle class. It's expected to grow from 1.3 billion to about 3.3 billion by 2030. We're trying to make a portfolio with exposure to all that new purchasing power.
K: Could you give an example?
CT: One of the companies we're doing that with is Jardine Matheson (JMHLY). They own Dairy Farms, which is a very popular chain of stores, and also the Mandarin Oriental, which was the first luxury hotel in Hong Kong. People, as they get more wealthy, want a higher quality of life. To most people, where that starts is by eating better, eating more protein and more meat, or traveling and having a nice place to stay.
Another might be Platform Specialty Products (PAH), which makes pesticides and coatings for manufactured products. It was founded in 1922, and we like companies with long operating histories. Specialty chemicals aren't that "sexy" an industry, but we see it as having exposure to the long-term trend of global warming, which we also follow very closely. Going forward, farmers are going to have to find new ways to preserve their yield-per-acre, and this is an uncompromising situation. People need to eat, and bugs tend to like the heat.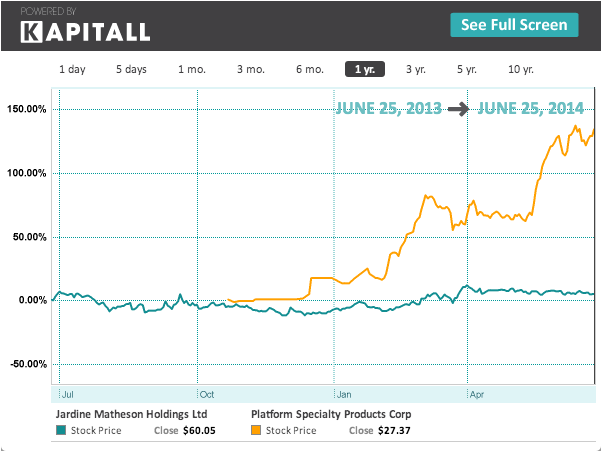 Click here for the full, interactive chart.
K: Certain practices in China have been in the news lately that could pose risks to these investments, like the shadow banking sector. Are you worried about these?
CT: We are concerned about the large shadow banking system in China right now, where you're starting to get companies that are lending to each other. Interest rates on high-yield bonds have soared, and that the spread between those and benchmark bonds keeps widening suggests some distress among Chinese lenders and Chinese borrowers. And we hedge against that by taking some short positions in ETFs.
K: Speaking of short positions, your company has taken rather few for a long/short fund. What is your thinking behind this?
CT: There's this thinking that if you're a long/short fund you should always have a relatively consistent mix of short and long positions. I don't think that's true if the Fed is buying assets ... A rising tide lifts all boats. … If you're fortunate, you come across a name which you want, but which also has some long-term potential. The longer you stay with it, the longer it compounds. … There have been a couple times when we bought an investment, sold it, and then bought it back again at a higher price. That taught me that usually, when you buy something and you bought it for the right reasons, it doesn't make sense to sell it.
K: Could you give an example of a time you bought a company back after selling?
CT: One such stock is Colgate Palmolive (CL). It's a large company with distribution and the business savvy, but it also has leverage in Asia. We sold it for a nice profit, but ended up buying the shares back. That's really what we prefer to do is find multinationals with large exposure to Asia and other emerging markets. Those companies are easier to learn about. Their accounting is more robust and transparent. The management is well-defined. So in that case, our fund is global from multiple standpoints. We hold several American companies, but about two-thirds of our revenues come from overseas.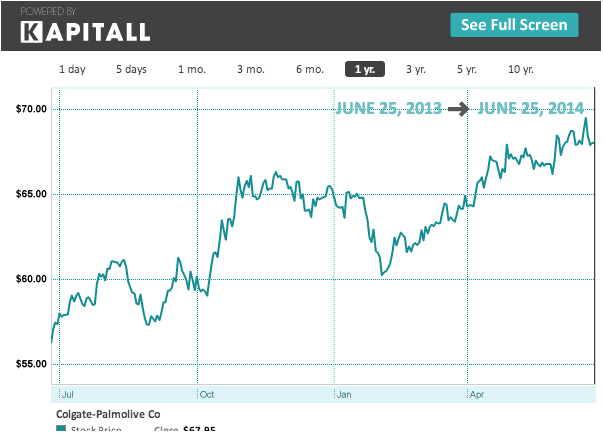 Click here for the full, interactive chart.
K: Do you think the economy is in a good place for finding these companies?
CT: The recovery is slow, but it definitely has legs, and we think the Fed has done a remarkable job of balancing a lot of needs. … We actually think the market is fairly valued. Right now, it trades about at 16 times forward earnings, which is about in line with the historical average. So from that standpoint, equities look quite reasonable. It's just a little harder to find great opportunities than it was a couple years ago.
K: Thank you for your time, Mr. Tsai.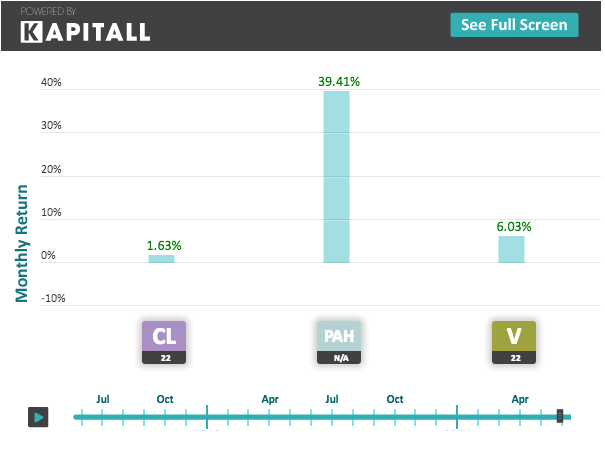 Click here for the full, interactive chart.
Disclosure: The author has no positions in any stocks mentioned, and no plans to initiate any positions within the next 72 hours.
Business relationship disclosure: Kapitall is a team of analysts. This article was written by James Dennin, one of our writers. We did not receive compensation for this article, and we have no business relationship with any company whose stock is mentioned in this article.
Editor's Note: This article discusses one or more securities that do not trade on a major U.S. exchange. Please be aware of the risks associated with these stocks.