Among the more well known projects under development by Google (GOOG) (NASDAQ:GOOGL), like autonomous vehicles, Android Wear and Glass, two more obscure initiatives stand out as particularly advanced and intriguing. The following gives a rundown on the information currently available regarding Project Ara and Project Tango, and offers some potential implications of their arrival on the mobile scene.
Project Ara
Project Ara was first developed within the Advanced Technologies and Projects department of Motorola Mobility under Google in 2013, and allows users to connect independent modules to a prefabricated frame to create a customized smartphone with interchangeable components like cameras, speakers and screens. In September, a Dutch designer released his concept for Phonebloks, an idea strikingly similar to efforts being undertaken in Mountain View. A month later in October, Motorola announced the Ara project as the successor and true purpose behind MAKEwithMOTO (aka Project Stickey), which had toured with a trailer truck full of hackable Motorola hardware and 3D printing equipment to gauge developer interest in the months leading up to the announcement. At the first annual Project Ara developers conference in April 2014, commercial release of the initial hardware was slated for Q1 2015.
Essentially, Project Ara involves adding modules to a frame provided by Google (expected to retail at about $50) that will determine its variable functionality and power. The frame will ship with basic modules for a battery, screen, WiFi connection and low end processor, with a number of available module slots in 1X1, 2X1 and 2X2 configurations.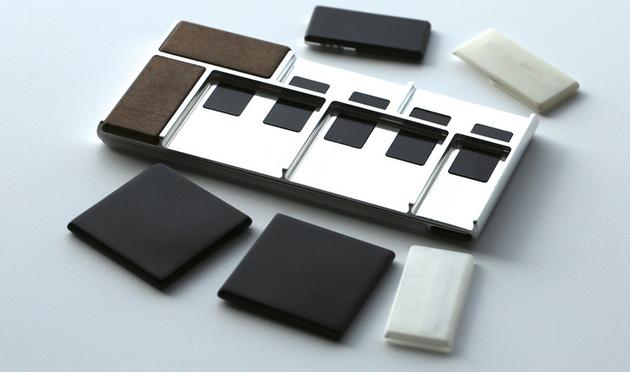 (The rear face of an early frame model)
The frame will initially be available in mini, regular and phablet sizes, with more configurations to come after the initial launch. Toshiba has been selected as a preferred supplier and is expected to be the sole provider of processor chips for the first year of Ara's commercial availability.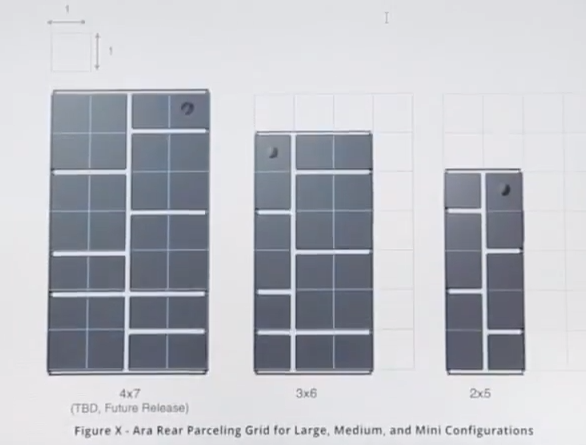 (Three different frame sizes will be available at launch)
Users will be able to purchase additional modules from Google (through the Google Play Store) to add or improve functionality. The frame will also contain a small power supply that will allow modules - including the battery - to be hot swapped while the phone is running. After the initial deployment, Google is hoping various third party modules will appear to address the specialized needs of consumers, and will encourage third party retailers to offer modules on their own.
Aside from the conventional modules a user might want to purchase to address more typical smartphone concerns like battery life, processor speed or display quality, Google is encouraging developers to design as many unique and varied modules as they can dream up. Applications like night vision cameras, pico projectors, medical sensors (including blood sugar and heart rate monitors), gaming input controls, security devices and sound output or modification components all provide fertile ground for innovation. Large software developers like Adobe or Microsoft could develop dedicated SoC hardware within a design to enable module specific heavy-duty software applications that otherwise would not be accessible on smartphone hardware. The possibilities are limitless, and Google's decision to make module purchases similar to buying apps in the Play Store will mean a consistent and potentially material source of revenue once the platform begins to take hold. As with Android, Google is looking to underpin a massive open source development community and reap profits on the margin for facilitating the user experience and ecosystem subsequently produced.
One notable downside to the modular platform is that features standard on most smartphones today like GPS, NFC and Bluetooth would all likely be separate modules a user would need to purchase. Nevertheless, with such a low cost of entry and depending on module pricing, it is entirely possible that the standard of a fully "tricked out" smartphone like the ones we enjoy today could be reached with significant cost savings. A particularly enterprising module OEM might find a way to combine many features and offer them at a low price in a single package, further reducing costs and freeing more slots on the frame for additional modules. Finally, for the first time users will be in control of which cell radio receivers are integrated into their device. Since many different cell bands are used around the world, the expense of international service could be greatly reduced. What's more, there are massive implications for domestic US carriers like AT&T (NYSE:T) and Verizon (NYSE:VZ), which rely on different radio integration to prevent the easy switching from one service provider to another using the same device. Time will tell, but customer churn could see a significant spike if all it takes to shift from using the Ma Bell network to Big Red is the hot swapping of a single module.
Finally, members of the Ara team spoke briefly at Google I/O on the 26th about their work "with partners" to develop a 3D printer with the capability to print hard, soft and electrical components at 50X the speed of currently available solutions. Simply put, such a machine would allow module producers to literally buy one machine and complete their entire manufacturing process in house. More importantly, if Google is a major player in the development of such a device they could receive a royalty payment for each printer sold, putting the firm in the familiar position of profiting by facilitating a developer network.
Project Tango
Project Tango was also developed in the Advanced Technologies and Developments offices at Google, and has equally far reaching potential implications for the future of mobile technology. First released on board a prototype smartphone in February 2014, the software uses two cameras on the back of the device to create highly accurate 3D maps and renders of an indoor or outdoor environment. In addition, the system can detect distinct items in an environment, like boxes in a warehouse or a missing household item. Another small taste of the technology in action can be found here. Project Tango is enabled thanks to the development of the Myriad 1 processor by Movidius, which provides the chips to Google. Previously, the power usage of vision-processing platforms prevented their integration into mobile devices. Movidius solved the problem by developing its own custom architecture for the processor that reduces power consumption by several orders of magnitude. Google produced 200 Project Tango smartphones, and intends to offer a limited developers release of a Tango enabled tablet following Google I/O 2014 on June 25-26.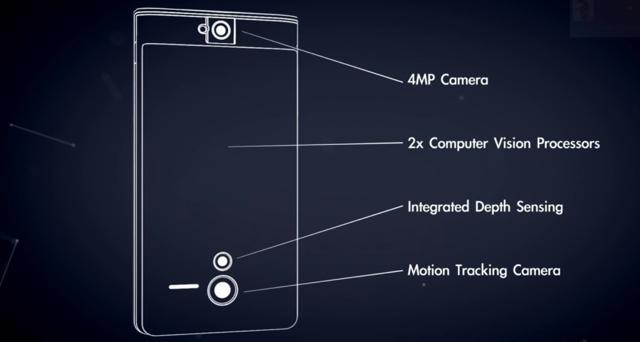 Click to enlarge
The theoretical applications for accurate, real time 3D maps accessible by mobile platforms like smartphones, tablets, laptops and wearables like Google Glass and the Moto 360 are enormous. Using information from Tango, users could receive step by step directions to products within retail stores, even before they enter the actual establishment, presumably driven by Google's local advertising engine. Combined with other Google tech, Customer Y could do a Google search for Sperry boat shoes using an Android powered smartphone, be navigated to the nearest mall by Google Maps, then (for a small fee paid by the retailer) be led, step by step, to the shoebox on the shelf - entirely guided by Google service with multiple advertisement opportunities, not to mention the hardware required for retailers to accurately map their stores and keep them up to date. To that end, Google announced on June 26th that a commercial release of the Tango technology, through a collaboration with LG, will be available sometime next year. Improvements to Google Maps made possible by this technology offer a compelling case for the continued dominance of that platform in the face of increasing challenges by the likes of Apple (NASDAQ:AAPL) and Nokia (NYSE:NOK).
As discussed, retailers could use employee movements around the store to map which shelves need to be restocked, and could even employ small autonomous drones (guided by previous Tango maps) to scan the aisles at night to provide specific stocking information to employees on the morning shift. On the subject of drones, warehouses that have already begun to integrate floor-bound robots to help speed order retrieval and shipping could be further supplemented by drones that can fly across the facility, locate a small or medium sized item, and return with it to be packaged and shipped faster than ever before. Mines or other geological formations inaccessible to humans could be mapped with significantly higher accuracy, and rescue operations could be enhanced with drones that can more ably identify potential survivors or high risk structures.
Some of these ideas are a long way off from a bulky smartphone prototype with two rear cameras, but could be adopted far more rapidly than many might expect and would be necessarily supplemented along the way by Google engineers and hardware. Real time 3D renders like the ones being created by Project Tango were once only possible through the use of thousand-dollar equipment and extensive post processing. The 3D Mapping and Modeling market is expected to grow from $1.1 billion today to over $7.7 billion by 2018 - if Project Tango is able to capture just a fraction of this segment, investors could see another boost to income outside advertising revenues.
Ara in 2015
Google generated more revenue from sources outside advertising in the first quarter of 2014 than it did in all of 2011, and as a percentage of revenues these peripheral sales and activities have grown from just 4% in 2011 to over 10% so far in 2014. This increase can be attributed to both the high rate of growth in availability of apps and other content in the Play Store, as well as Google's policy of taking a 30% fee from every transaction made using the platform. If Project Ara takes off as anticipated, Google could facilitate the sale of modules in a scheme similar to apps, and accordingly reap a similar reward. Let's try to develop a rough model for the potential revenues from this activity.
First, the individual and average price of components in a modern day smartphone (in this case the Galaxy S4) can be estimated at around $26. Accounting for Google's 30% transaction fee and leaving some margin for the OEMs, we could predict an average retail price of around $40 per module, delivering revenues of $12 to Google for each module sold on the Play Store.
| | |
| --- | --- |
| Galaxy S4 Component | Price |
| Screen | $75.00 |
| Memory | $28.00 |
| Processor | $20.00 |
| Camera | $20.00 |
| Wireless Radio | $25.00 |
| Sensors | $16.00 |
| WiFi/GPS | $16.00 |
| Battery | $6.00 |
| Avg. Cost | $25.75 |
| Projected Retail Price | $40.00 |
| Transaction Fee | $12.00 |
The previously mentioned frames will come with a low-end display, processor, WiFi chip and battery. The number of modules purchased will obviously vary greatly by user, but we can reasonably predict a novice user might purchase a camera, cell radio and a larger battery, while a power user might want to upgrade their screen and processor as well. Using the same averages, and assuming Google can sell 5 million frames in the first year of Ara's commercial release, revenues of up to $300 million could be generated in 2015 alone - a figure that could raise non-advertising revenues by as much as 40 basis points for the year to 10.5% (excluding all other growth in this segment), and move Google ever closer to diversifying its revenue streams.
| | | |
| --- | --- | --- |
| Avg. Module Price | Play Store Transaction Fee | Frames Sold |
| $40 | 30% | 5,000,000 |
| Modules per User | | |
| 3 | 4 | 5 |
| $180,000,000 | $240,000,000 | $300,000,000 |
I believe these estimates to be quite conservative. For $50, selling 5 million frames should be no problem, and the nature of the technology invites users to purchase far more than just five modules over the life of the device. As for OEMs distributing through the Play Store, I believe this is likely for the same reasons Samsung, HTC, LG and others have all made Google Play Editions of their flagship handsets available on the platform - there is simply no better avenue for reaching mass numbers of Google enthusiasts. Additionally, the Play Store, including its hardware section, continues to be promoted by Google through its various consumer facing products like Search, YouTube and within the Android OS itself. Although third-party distribution channels will develop over time, few will be as successful or well known as the Play Store. Through a combination of creating powerful open frameworks for hardware and software innovation and providing a world class distribution platform, Google could be on the road to becoming a major smartphone distributor, all without incurring the typical costs for design or production of the devices.
Advanced Technologies and Projects and Open Platforms
Formerly a division of Motorola Mobility, the Advanced Technologies and Projects (ATAP for short) team will remain under Google's control after the sale to Lenovo is completed in the fall, and a good thing too. In the two years since its inception in May 2012, the division has started 11 different projects and collaborated with over 60 different partners including universities, hardware and software developers, and corporations in many different industries. Rapid development is at the heart of what is effectively a hyper-powered startup inside Google with the resources to imagine and then implement highly audacious projects that aim to fundamentally change the way we interact with technology.
To me what is most impressive is Google's success at creating a team of engineers and designers who are reverently devoted to the idea that "open beats closed" - that creating a platform and development tools, then leaving the specialized and widespread innovation to thousands of independent developers around the world, is genuinely the best way to improve the end product. What excites me as an investor is Google's increasing proficiency in profiting from the facilitation of these open platforms. The combination creates a scenario where the company makes a 30% gross margin on the retail price of products they neither have to design nor manufacture, calling back to the advertising partners who also pay a proportion of their revenues to Google for their service. This is a new industry and new technology, but an old trick for Google - first with its advertising network, then with apps and content on the Play Store, and soon Ara and projects like it.
(ATAP has no website, and their web presence consists mainly of their Google+ and YouTube pages.)
Wrap Up
Google may be just an advertising company for the time being, but consistent revenues and high margins have allowed the search giant incredible leeway to try new and interesting projects in the search for the next big thing. Project Ara and Tango have the potential to radically alter the way we interact with our smartphones, carriers, retailers and the world around us while adding valuable new revenue streams for investors. More information on these initiatives should be announced soon, and I'll be keeping a close eye out for further developments. Stay tuned for more analysis of the various technological initiatives being taken up by Google and their impact on investment decisions and our everyday lives.
Disclosure: The author has no positions in any stocks mentioned, and no plans to initiate any positions within the next 72 hours. The author wrote this article themselves, and it expresses their own opinions. The author is not receiving compensation for it (other than from Seeking Alpha). The author has no business relationship with any company whose stock is mentioned in this article.