Abbott (NYSE:ABT) announced earlier this week that it has received CE Marking for its implantable Tecnis lenses in Europe. The company developed Tecnis Symfony IOLs (intraocular lenses) for providing cataract patients a continuous range of vision including far, intermediate and near distances. While standard IOLs are used only to improve distance vision, Abbott's Tecnis range of IOLs can also be used to help aging cataract patients focus on near objects.
Often cataract patients suffer from a diminished ability to focus on near objects as a result of aging, which is known as presbyopia. No FDA-approved implantable device is available in the market to treat presbyopia. However, a few startups are working to develop presbyopia implants. I believe that Abbott will enjoy the first mover advantage with its implantable Tecnis lenses in the growing vision care market.
Abbott's Opportunity in Vision Care Devices Market
The global vision care devices market, a segment of the consumer healthcare market, is expected to grow at a CAGR of 4.4% from 2010 - 2017, according to a research report. The report further says:
The global vision care devices market had revenues of $34 billion in 2010, which will rise to $46 billion by 2017. The increasing target population due to high prevalence of eye disorders such as presbyopia, myopia and hyperopia will drive market growth. Incidences of presbyopia will increase due to the population aging. According to United Nations ("UN") estimates, 90 countries will have a median age above 40 years by 2050, which is the age when presbyopia begins to affect people.
At the recent William Blair conference, CFO and EVP of Abbott, Thomas Freyman said, "In the $4 billion cataract surgery market, we hold the number two position in cataract lenses where we have been gaining share with recent new product launches which has resulted in double-digit sales growth."
In 2013, Abbott's revenue in vision care was $1.1 billion, with overall medical devices revenue totaling $5.5 billion. Since cataract lenses account for more than 65% of vision care sales for Abbott, I believe that the company's upcoming Tecnis lenses in Europe will drive its vision care revenue significantly. There were 3.5 million cataract surgeries in Europe last year and by the year 2020, the global annual target for cataract surgeries should be 32 million, according to World Health Organization.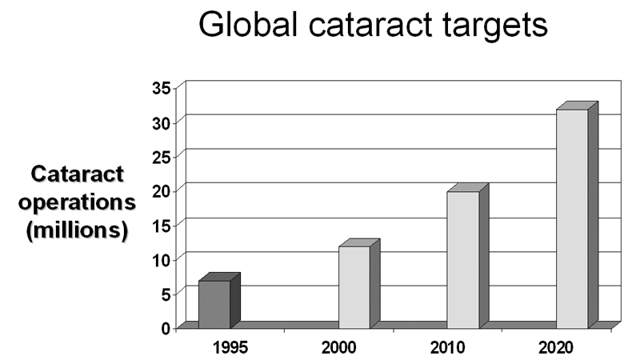 Click to enlarge
Source: WHO
Competition
Abbott's number one competitor in the implantable cataract lens market is Novartis (NYSE:NVS). Its Alcon division holds the number one position in the market. Moreover, two notable vision care startups, PowerVision and AcuFocus, which are actively working to develop presbyopia implants, will be among Abbott's future competitors. Apart from these startups, ReVision Optics, backed by Johnson & Johnson (NYSE:JNJ), will also compete with Abbott.
Conclusion
Abbott is trading at an attractive valuation compared to its peers and the stock might have meaningful medium-term upside.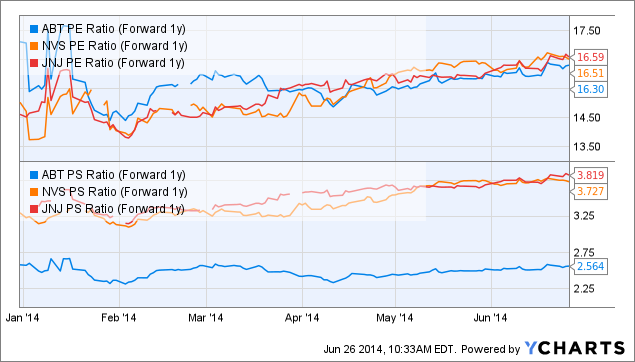 ABT PE Ratio (Forward 1y) data by YCharts
In terms of one-year forward P/E ratio, Abbott is trading at par with Novartis and Johnson & Johnson, its primary competitors in vision care. However, in terms of one year forward Price to Sales ratio, Abbott is trading at a significant discount. I would recommend buying the stock at the current price.
Disclosure: The author has no positions in any stocks mentioned, and no plans to initiate any positions within the next 72 hours. The author wrote this article themselves, and it expresses their own opinions. The author is not receiving compensation for it (other than from Seeking Alpha). The author has no business relationship with any company whose stock is mentioned in this article.