Novo Nordisk (NYSE:NVO) is generally recognized as one of the world's leaders in diabetes drug development and sales, with over $2B in R&D spending in 2013, and a 27% market share in diabetes care - higher than any other company. It continues to push the envelope with its drug development programs, and particularly its diabetes pill research. In this article, I bring attention to results released earlier this year and ongoing oral clinical efforts by Novo that should complete by the end of the year.
Novo's oral diabetes drug development comprises two arms: insulin and glucagon-like peptide-1 (GLP-1). Both drugs regulate blood glucose, with GLP-1 stimulating insulin production by the pancreas. As pharmaceuticals, insulin can be used to treat early- and late-stages of either Type-1 or Type-2 diabetes, whereas GLP-1 can be used only in early-stage Type 2 diabetes. The current market for insulin is about eight times that of the GLP-1 market. However, the market for early-stage Type 2 treatments, including GLP-1, is expected to grow significantly with aging populations, improved diagnostics and earlier treatment regimens, and the eventual availability of alternatives to injections that increase patient compliance. Novo currently has about 65% of the GLP-1 value market, but faces significant injectable competition in the near future.
Oral diabetes treatments must overcome two stomach/gastrointestinal (NYSE:GI) tract obstacles: early breakdown of the drug in the gut, and difficult passage across the gut barrier to get into circulation. Once in circulation, it is also necessary to ensure the drug doesn't degrade too fast in the bloodstream for uptake within crucial organs.
Novo has found that insulin and GLP-1 in their traditional forms have properties that make such oral delivery difficult in reasonable quantities. To aid the delivery process, Novo has pursued the use of pharmaceutical analogues, engineered versions of insulin and GLP-1 that mimic the natural behavior of the original substances but also possess additional beneficial qualities. With GLP-1, for example, appropriate amino acid substitutions can lead to reduced enzymatic degradation and prolonged circulation half-life. These characteristics benefit absorption. So, to be more precise, Novo is pursuing the development of insulin and GLP-1 analogues for tablet formulations.
Oral GLP-1
Novo's oral GLP-1 is being advanced first, simply because it's easier to do safely than oral insulin: a patient's tolerability to GLP-1 dose excursions is much greater than it is to insulin dose excursions. With a GLP-1 pill, there is significantly less risk of hypoglycemia than with an insulin pill. Consequently, there is less concern about dosage absorption variability owing to what foods have been eaten or how much liquid was swallowed with the pill, or inter-patient variability such as may occur owing to differences in gut bacteria.
Novo's most advanced oral GLP-1 analogue is based on its current Phase III injectable drug under development, semaglutide. Semaglutide is expected to be the heir to Novo's current blockbuster GLP-1 analogue drug, Victoza, which had 2013 sales of $2B and has patent expiration in 2020. While Victoza is a once-daily injection, semaglutide is expected to be initially a once-weekly injection, and eventually also to be a once-daily tablet. In its trials, injectable semaglutide is appearing as effective as Victoza, and potentially superior by some measures.
To help overcome the GI degradation and absorption obstacles for GLP-1, Novo developed its semaglutide tablet (drug NN9924) in partnership with Emisphere Technologies, Inc. (OTCPK:EMIS) and Merrion Pharmaceuticals (MERR). These companies provide coatings and carriers that protect peptides against digestive degradation, and gut-absorption enhancers that aid in the delivery across the gut-circulatory system barrier. Merrion's enhancers target absorption in the duodenum, which is early in the GI tract, immediately following the stomach. Emisphere's enhancers target absorption throughout the GI tract, especially through the large surface area of the small intestine. These enhancers, along with Novo's amino acid design, impart strong absorption, maximizing uptake and reducing the quantity of GLP-1 analogue required for treatment.
Phase I Results
Most importantly, this combination has shown efficacy and safety in early trials. NN9924 was recently tested in a 10-week Phase I trial of 400 people to test for safety, and 17 with Type-2 diabetes to provide an initial test of efficacy. Of the 17, 11 received the semaglutide pill and 6 received the placebo.
Novo showed and discussed some of the Phase I results at its December 3, 2013 Capital Markets Day presentation and in its January 30, 2014 2013 Full-Year presentation and conference call. This included data demonstrating the efficacy of NN9924 averaged over the 11 diabetes patients, as compared to the placebo arm (shown in this chart from its Full-Year presentation). Novo notes that the HbA1c and body mass reductions with oral administration are similar in performance to subcutaneously administered semaglutide treatment at similar exposure.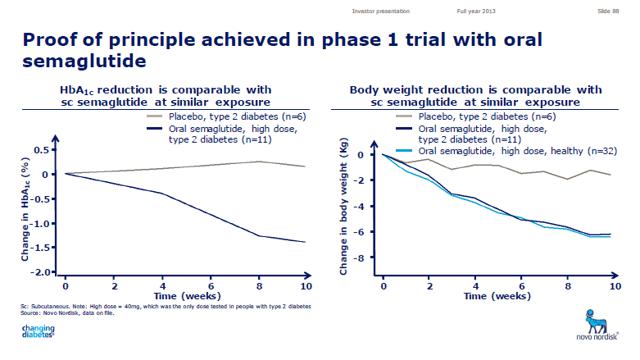 The safety of NN9924 was discussed by Emisphere's CEO in its 2013Q2 conference call. Regarding these results, he said,
"In the trials, oral semaglutide treatment appeared to be safe and was well tolerated. The most frequent reported adverse events were mild or moderate in severity and in line with observations from other GLP-1 class treatments." He also mentioned that the HbA1c reduction and weight loss were statistically significant.
Phase II Trial
Novo recently announced the start of its Phase II oral GLP-1 trial, which is being performed with NN9924. Phase II is actively assessing Type-2 diabetes subjects, and is expected to complete primary endpoint testing in December 2014. Multiple dosing schedules between 2.5 mg and 40 mg are planned with 603 people in 14 countries. Optimized dose titration is expected to alleviate the moderate side effects observed in the Phase I trial. The once-daily oral semaglutide results will be compared to those from subjects receiving once-weekly subcutaneous semaglutide and placebo.
Related Phase I Trials
Novo's confidence in its oral semaglutide development is further evidenced by its moving forward with five new NN9924 Phase I studies. Two of the studies involve subjects with impaired hepatic (liver) and renal (kidney) function. These studies compare oral and injected semaglutide safety and tolerability between impaired and normal subjects, neither of which have diabetes. Both studies are expected to be completed in October 2014. Another study is looking at the influence of oral semaglutide on healthy subjects taking warfarin, an anti-coagulant used to prevent blood clots, and lisinopril, an ACE inhibitor used to treat hypertension, congestive heart failure and complications of diabetes. This study is expected to be completed in August 2014. A study is being done to assess the effect of food in the stomach on the pharmacokinetics of oral semaglutide, to be completed in October 2014. Finally, a trial is being done to investigate the pharmacokinetics, pharmacodynamics, safety and tolerability of oral semaglutide in healthy male Japanese and Caucasian subjects, expected to be completed in December 2014.
Pricing and Availability
Novo's pricing strategy for oral semaglutide tablets is obviously preliminary at this early stage, but was nevertheless discussed in the January 30, 2014 conference call. Novo expects to price the tablet treatments at the same price as the weekly injected semaglutide dosing. Note that the maximum active ingredient size of the tablets tested in the Phase I trial was 40 mg, and this appears to have had comparable efficacy to 0.8 mg subcutaneous treatment, so much more active ingredient is required. While the minimum dosage hasn't been determined yet, this amounts to about 2% GLP-1 worst-case absorption with the 40 mg pill. Also, the tablet has daily versus weekly dosing, so production costs will surely be a consideration on the pricing.
When might this diabetes pill become available? Assume Phase II suffices for the regulatory agencies (no Phase IIa) and all goes smoothly with great results in the trials. Also, assume 1 year each for both Phase II and Phase III trials, 1 year for achieving FDA approval, and 1 year to get production and marketing in place. The Novo/Emisphere/Merrion team could have an oral GLP-1 pill available for patients as early as 2018.
Some Cautionary Notes on Emisphere and Merrion
Whereas Novo Nordisk is a stable, profitable large-cap pharmaceutical company with a diverse product line centered on diabetes care, Emisphere and Merrion are nano-caps with little or no commercial sales and weak balance sheets.
Emisphere trades over-the-counter after falling from Nasdaq listing in 2009. It currently has no material sales, and is not yet profitable. It established a partnership with Novo in 2008 to develop oral GLP-1 products, and in 2010 to develop oral insulin products. The GLP-1 development license allows for more than $87 million in contingent product development and sales milestone payments, including a $10 million non-refundable license fee which was received during June 2008 and a $10 million payment which was paid in 2013 in advance of Phase II and Phase III milestones. Emisphere will also be entitled to receive royalties in the event Novo Nordisk commercializes these GLP-1 products. The royalty rate has not been released.
Emisphere is in need of financing to continue operations past the second quarter of 2014. It is working to overcome its financing obstacles by commercializing products and building its pipeline through partnerships. In 2012, Emisphere brought in a new management team focused on commercialization and sales, in the hopes of monetizing its carrier technology and generating a revenue stream. A combination of capital market stock sales and up-front royalty payments by commercial partners is expected sometime soon in an effort to commercialize prescription high-dosage oral B-12. Emisphere recently doubled its authorized share count, so some dilution will likely occur in the near future.
Merrion trades on the Irish Stock Exchange. Like Emisphere, Merrion has no commercially available products, is not yet profitable, and is in need of financing to continue its operations. Merrion signed development licenses with Novo for oral GLP-1 in 2009 and oral insulin in 2008. The GLP-1 product development license allows for up to $58M in milestones and royalties on commercial sales. In addition, Novo has supported Merrion by making capital investments in the company through stock purchases. Merrion also has several other products under development in its pipeline.
Emisphere and Merrion are both extremely risky investments with market-cap valuations less than $20M and low liquidity. They trade infrequently, sometimes going a day or more without any trades. Daily price swings near 25% sometimes occur. Investment in nano-cap companies should be done with extreme caution and with the consultation of an investment advisor after you do your own due diligence.
Conclusion
The Novo/Emisphere/Merrion team has diligently designed a GLP-1 pill that has produced very encouraging Phase I efficacy data and safety results. Novo was confident enough to release and discuss some of the top line outcomes at its end-of-year conferences. Strong data like these are not often achieved and disseminated after a Phase I trial, and Novo provided an early positive assessment from which to gauge the promise of the Phase II trials.
From an investor's perspective, there are multiple plays here. Successful development of the GLP-1 pill would further solidify Novo's GLP-1 market leadership and likely help it grow its future market share in the GLP-1 category. This strengthens the position of long-term Novo investors. It would also provide a windfall and revenue stream to Novo's partners, Emisphere and Merrion, owing to their milestone and royalty agreements. Consequently, there is potential for high investment returns from these small companies, though there remains substantial risk at this mid-Phase II point as well.
Disclosure: The author is long EMIS. The author wrote this article themselves, and it expresses their own opinions. The author is not receiving compensation for it (other than from Seeking Alpha). The author has no business relationship with any company whose stock is mentioned in this article.