In my continuing search for "off the beaten track" small cap biotechs with impending catalysts, I came across Raptor Pharmaceuticals (Ticker: RPTP). Despite its checkered past (1), RTPT possesses an interesting pipeline with numerous near-to-medium term catalysts. According to the Company,
Raptor currently has product candidates in clinical development designed to potentially treat nephropathic cystinosis, non-alcoholic steatohepatitis ("NASH"), Huntington's Disease, aldehyde dehydrogenase deficiency and a non-opioid solution designed to potentially treat chronic pain.
The Company also has a small roster of pre-clinical products.
Here are the catalysts and associated estimated market values: (2)
DR Cysteamine (Cystinosis): Phase 3 started June 2010; data expected to be reported 4Q'10/1Q'11; est. market value: $100 million
DR Cysteamine (NASH):

Phase 2a data released 5/2010; IND filing for Phase 2b 1H'11; est. market value: $1.8 billion
DR Cysteamine (Huntington's Disease): Phase 2 planned initiation Q3'10; est. market value: $2.1 billion
Convivia: Out-licensing discussions; est. market value: $1.8 billion
Tezampanel/NGX-426: Phase 2/3 ready, out-licensing discussions; est. market value: $700 million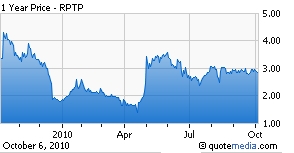 The core medium term value drivers of the business going forward are clearly the candidates targeting NASH and Huntington's. For the NASH indication alone, the Company claims there are currently 7.5 million adults (25 million by 2025) (2) suffering from the disease with no current approved treatments. Investors are obviously cognizant of this market potential as positive results from Phase 2a data released in May 2010 caused the shares to rocket from around $1.50 to over $3.85. In addition, the stock regained all of its losses in just three days following a highly dilutive stock offering back in August; there appears to be a floor to the share price – quite rare. The near term Phase 3 data (Cystinosis) expected in 4Q'10/1Q'11, although targeting a smaller market, should at the very least (if positive) provide some price stability given the expectations that the Company should eventually be positioned to generate organic cash flows in the near to medium term with an approved product – i.e. to survive long enough to get the other "big ticket" products approved.
On the financial side, RPTP maintains a cash balance of around $17.2 million with no debt. Raptor management believes existing cash levels, at current monthly cash burn, will last into December 2011 – this is a decent amount of leeway. (3) The Company currently has around 30.1 million shares (41.9 million fully diluted) outstanding – if the shares begin to run, look out for additional equity raisings and associated dilution.
I am approaching this trade as more of a 1 year + horizon investment. I attempted to build a position with options for about 4 weeks but to no avail; far too illiquid with ridiculous spreads (4) – I would expect spreads to tighten up as word gets out about this Company and its potential. As such, I will be slowly building a common stock position. On that front, I don't like the technical/chart for the stock. After the May 2010 price spike, the shares have flat lined into a tight range between $2.70 and $3.00 – also, this range has tighten significantly over the past several weeks. Usually, this tells me that the stock is about to make a big move in either direction (i.e. up or down). Thus, I intend to slowly build this position and not put on the entire trade in one lot. As options become more liquid, I may either trade out of the shares into a long synthetic, sell Calls against the position or sell Puts.
Looking forward, I don't expect the stock to make a huge move on the near term Phase 3 data (if positive). That said, the Company's other products and associated potential upside appear quite substantial. If these products begin to rack up decent data in the trials, not only will the market take notice (and hence the shares rise) but Raptor could become a decent takeover target.
Notes:
(1) Includes several name changes, reverse-mergers, reverse stock splits, PIPE transactions, etc. – normally red flags / causes for concern.
(2) Source: Company presentation at JMP Securities Healthcare Conference, September 27, 2010.
(3) Source: August 24, 2010 Press Release.
(4) For five Series (Oct '10, Nov '10, Feb '11, May'11), there are only 500 Calls and zero Puts total open interest.
Disclosure: Long RPTP