Last week, I was goofing around with thinkorswim's scan tool and came across a tiny biotech company named Ruthigen (RTGN). The name alone made me curious enough to do some digging.
I assumed the name was an allusion to the Old Testament book which describes the life of Ruth, a woman known as a model of loving-kindness. The German suffix "igen" means "to become possessing the quality of the noun." Not sure if the name was intended to have meaning, but when you put the pieces together, it implies the company has a clear mission to serve patients.
The problem Ruthigen is attempting to address is the cost associated with hospital-acquired infections in the US. According to this recent meta-analysis, surgical site infections cost the US, on average, about $3.3 billion annually (see the first line in table below).

This is a significant unmet need, which is likely to become a more dire need as antibiotic resistance becomes more prevalent.
Ruthigen's parent company, Oculus (NASDAQ:OCLS), already has a topical anti-microbial product on the market called MicrocynRx in the United States, which you can buy on Amazon.com for only $665.50. It's a ready-to-use hypochlorous acid (HOCl) solution used for cleaning chronic wounds. As far as I can tell, the product is marketed as Dermacyn in most of the world. While Oculus revenue was only $2.9M last quarter, there is an abundance of clinical evidence indicating that Dermacyn is effective.
A 2010 Italian study showed that Dermacyn significantly improved healing rates and reduced the rate of reinfection in patients with post-operative lesions. Another more recent study showed that 14/14 patients with diabetic foot osteomyelitis were able to salvage their limb by using Dermacyn, although there was no control group. In addition, this study is highlighted in a video posted on the Ruthigen website: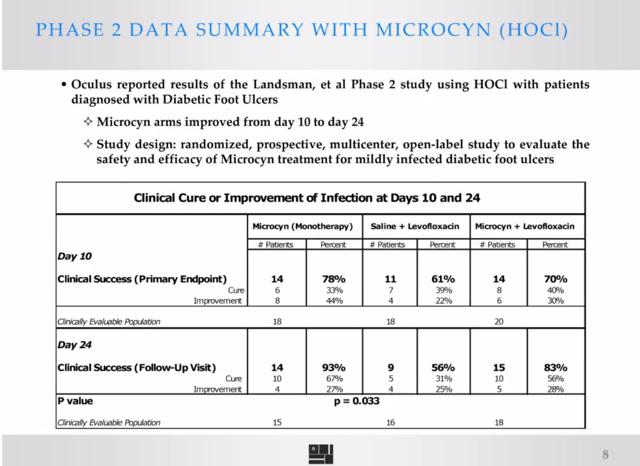 It's worth noting that levofloxacin had no impact when used with Microcyn, and the numbers for Microcyn monotherapy are better than levofloxacin alone or the combination. For a complete list of papers and abstracts illustrating the efficacy of Microcyn/Dermacyn, see the Oculus annual report.
The weakness of Microcyn is that it's regulated as a device and restricted to topical use. What Oculus has done is create a version of Microcyn with enhanced stability that is also biocompatible with internal organs and can be used to perfuse the abdominal cavity after surgery. This compound was named RUT58-60, and Ruthigen was born via IPO on March 26th, 2014.
So why invest in a spin-off that hasn't started even one clinical study? There are a few reasons:
1) The mechanism of action of hypochlorous acid is well-known and well-described. It kills all bacteria it comes in contact with. In nature, HOCl is made constantly by activated neutrophils to ward off bugs, so in a sense, HOCl is a very natural, organic medicine. It's also the active disinfecting agent in chlorine used to keep pools and other water sources clean. There have been no safety issues associated with topical HOCl products currently on the market. Overall, it seems likely that RUT58-60 will be effective, given the simplicity of the approach and the extensive data on topical use.
2) The potential market is enormous relative to the current market capitalization, and clinical development will be rapid.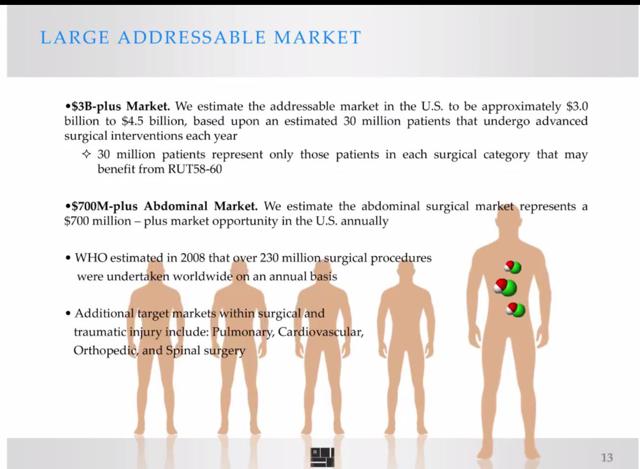 The company estimates that the abdominal surgery market alone is $700 million, and an expanded label could grow the opportunity up to $3 billion. This is a robust opportunity. Given that in less than 18 months, it could be poised for a pivotal study, with a robust Phase II program already completed, the current market cap of $30-40M seems reasonably cheap. The first study is very simple and straightforward, with little room for error, no subjective assessments of responses, and not much extra effort from surgeons. I suspect follow on studies will be quite similar, just larger, with more refined endpoints.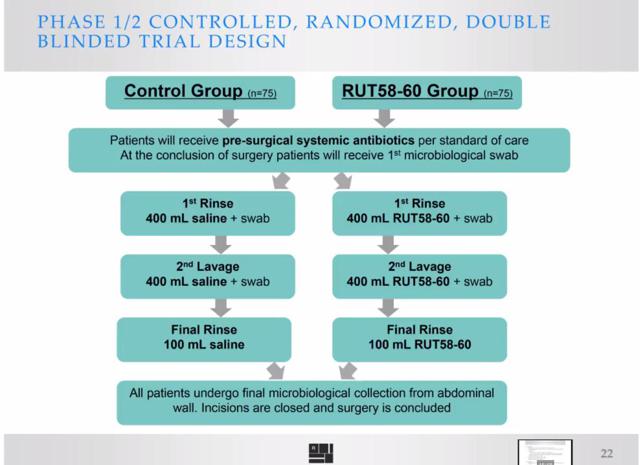 Standard of care for this indication is rinse/lavage with saline or antibiotics. Obviously, neither is that desirable, since saline is inert and antibiotics are becoming less and less effective. Ruthigen's official guidance is that Phase I/II results will be available Q1 2015, with a Phase IIb study starting Q2 2015.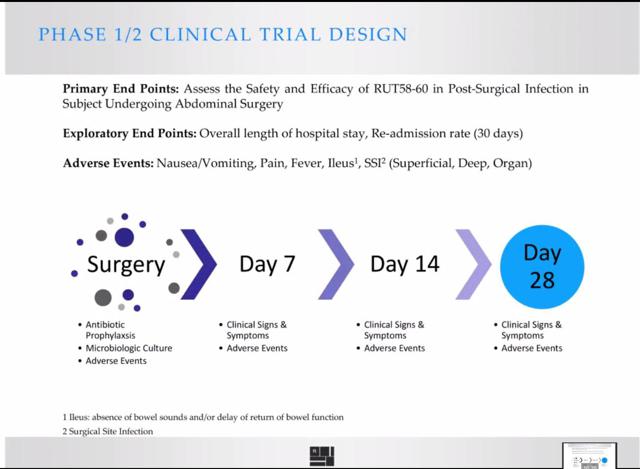 Note that these studies can be completed with great speed, because unlike an oncology study, which requires an assessment of overall survival that could take 3-4 years, Ruthigen's study takes 28 days. The re-admission rate endpoint at 30 days more than doubles the length of the study! CEO Hoji Alimi has stated that the entire clinical program, from IND filing to NDA filing, will cost $45-50M and take only 4 years. Ruthigen was cleared to begin clinical studies just a few weeks ago.
3) Finally, hospitals, regulators, and payers are focused on reducing cost and preventing hospital re-admissions. RUT58-60 seems to be a common sense way to accomplish this. RUT58-60 may be eligible for GAIN act incentives, which could give RUT58-60 a more streamlined regulatory pathway and potentially an extra 5 years of market exclusivity. This article on the GAIN act actually calls out abdominal infections, specifically stating, "The agency has started down this path, crafting guidance that will make it easier to develop drugs for intra-abdominal infections, and telling companies that it has reconsidered bans on prior treatment with antibiotics in lung infection trials." Given the environment in the biotechnology sector right now, where there is a lot of talk about price controls and outrage over drugs that cost $1,000 per pill, it seems like a good time to own a company like Ruthigen. Henry Waxman may even take a break from writing letters to Gilead if RU58-60 can save Medicare some cash.
The company currently has around $16M from the IPO, which will bring it roughly 1/3rd of the way through its clinical program, based on its $45-50M guidance.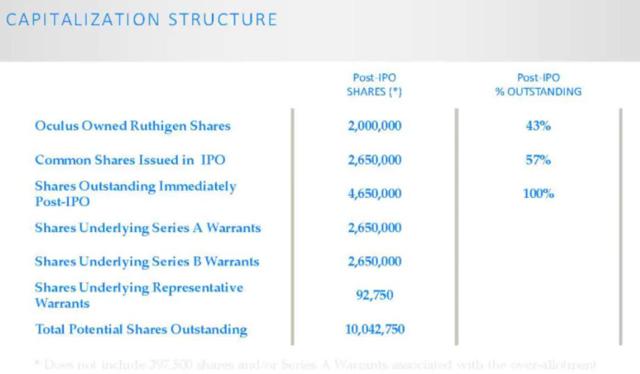 The company is looking at partnering outside the US, but it seems unlikely this will bring in significant upfront cash. However, positive Phase I/II data could easily justify a market cap of $100M or more, based on a quick look at competitors (see Ruthigen's fact sheet for a list). This kind of move would also lead to a nice cash infusion as investors exercise the warrants, and extend the cash runway another year or two. The float is fairly low, with more than half the outstanding shares tied up between Barry Honig, owning 8.25%, and Oculus, holding 43%.
As detailed above, the likelihood of failure appears to be low. However, owning Ruthigen is still more like owning a warrant than stock. If Phase I/II fails to show clear efficacy, the company has no back-up plan and nothing else to create value. I'd imagine the company would distribute remaining cash to shareholders and fold. Investors need to exercise caution, since at this point, Ruthigen is an "all or nothing" type of endeavor.
In summary, while Ruthigen is not developing CAR T cells or exotic rheoswitches, it is attempting to address a real problem in hospitals across the US with a practical and intelligent solution. A clear-cut $45-50M investment could open up a $700M-$3B market. Perhaps the company is not named for the Biblical Ruth after all, but another Ruth, who liked to swing for the fences.
Disclosure: The author is long RTGN. The author wrote this article themselves, and it expresses their own opinions. The author is not receiving compensation for it (other than from Seeking Alpha). The author has no business relationship with any company whose stock is mentioned in this article.
Disclosure: The author is long RTGN.
The author wrote this article themselves, and it expresses their own opinions. The author is not receiving compensation for it (other than from Seeking Alpha). The author has no business relationship with any company whose stock is mentioned in this article.
Additional disclosure: I am an employee of Amgen, but the views and opinions expressed in this article are mine alone and not the views and opinions of Amgen.
Editor's Note: This article covers one or more stocks trading at less than $1 per share and/or with less than a $100 million market cap. Please be aware of the risks associated with these stocks.