Patient, long-term shareholders of Netflix (NASDAQ:NFLX) have been immensely rewarded this year as the company's share price has truly gone crazy. Here's a 10-year view from Google Finance, which reveals a mostly flattish trend prior to 2009-10: (Click to enlarge)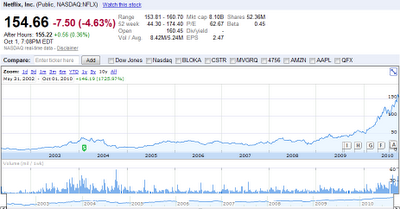 In addition to momentum-oriented investment funds, long-time investors who still own the stock are no doubt jumping up and down.

One of our astute friends has been recommending Netflix since 2003 or even 2002, when the stock was between $5 and $10 per share. While his ownership position has shifted around somewhat during the years, he still holds a position in the company and strongly believes in CEO Reed Hastings, the business model, and growth prospects.

We, too, have long been a fan of Netflix's subscription-based business model, yet have never owned shares. Here on CS$, we first mentioned the company in our May 2009 post, Some Cash Rich Franchise Businesses Still Growing - Not Kidding. But, it turns out that our stance late last fall was too conservative, stating that shares were arguably fairly valued back in the $50s in an October 2009 post and again at $100 in April of this year.

While earnings results have been better-than-expected and forward earnings estimates subsequently moved higher, a primary driver of the monster stock move is incredible P/E multiple expansion: On a trailing basis, the 2009A P/E moved from maybe 25 times to a whopping 78 times. We're not sure where 2011E earnings were last fall (e.g. how much lower than today's estimate), with the stock at $50, but using the current Wall Street consensus estimate of $3.72 from Yahoo Finance, the out-year P/E multiple increased from a-now-clearly-attractive 13 times to a current 42 times. Key NFLX "valuation measures" from Yahoo Finance: (Click to enlarge)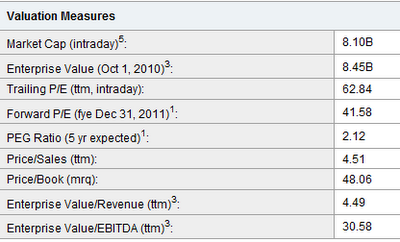 Our friend is understandably ebullient about the recent run, but also realistic that valuation is now getting crazy. We emailed him on Sunday 9/26 with congratulations and included the following comment:
"Amazing run. Solid fundamentals and business model, combined with Blockbuster's possible bankruptcy* and short squeeze are working magic. While the valuation is now on the high side, a manic market may keep pushing higher.... that said, it may be prudent to maintain discipline and trim at current levels...." *we weren't aware that this became a reality on 9/23/10.
His response:
"Yeah, NFLX is giving me nosebleeds."
We like how he put it and can't help but draw a parallel between Netflix's recent run and that of another small float, heavily shorted, episodic market darling, Blue Nile (NASDAQ:NILE). We wrote about the latter last October in our post, Things That Don't Make Sense: NILE's Valuation. At least some gravity has returned to shares of Blue Nile, although shares continue to trade at 42 times the 2011 consensus earnings estimate - chart from Yahoo: (Click to enlarge)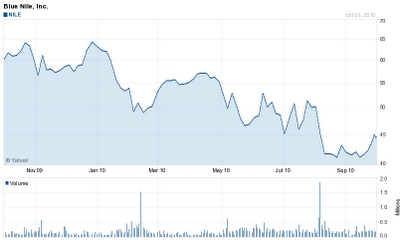 Alas, Netflix's share price turned south late last week -- please revisit the chart at the top of this post to see Friday's 5% decline. Silicon Alley Insider aptly chimed in with this: CHART OF THE DAY: Is The Netflix Stock Bubble Finally Bursting?
While there's a natural, human tendency to think things will continue in the same direction (in this case, up - ignoring the down move last Thursday/Friday), we would be sellers into recent strength (and would have been reducing exposure on the elevator ride up). Now, we would take these winnings and actively reallocate capital into out-of-favor, low multiple merchandise such as:
Admittedly, the trend can be your friend. Yet, in the case of extremely favorable nosebleeds, history tells us it's always best to take the money and run... Seek out and investing in companies that offer tangible margins of safety.

Disclosure: Long YHOO, SSW, SOFO, WTW