US Bancorp (NYSE:USB), America's biggest regional lender, recently made it to the highlights on the account of its increasing penetration in Chicago. According to the data released by Federal Deposit Insurance Corporation (FDIC), the lead subsidiary under US Bancorp's umbrella, US Bank, was able to increase its deposit share twofold, which has now reached 3.7%. The agreement with Charter One added more than 160 branches to the US Bank's existing branch network. Following this acquisition, US Bank will now be ranked as the eighth largest bank in terms of deposit market share, up from its twelfth position previously.
Effectively, this strategic move by the bank is expected to strengthen its base in Chicago and seems to be the correct way to utilize the surplus capital it holds. Such steps represent the bank's seriousness in working towards achieving and sustaining its market lead in the nation by facilitating clients in terms of accessibility.
Diversification Comes To US Bancorp's Rescue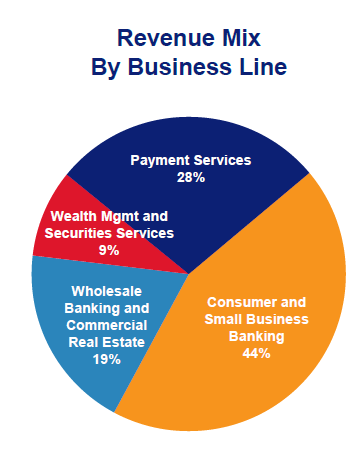 Source: Barclay's Conference Presentation
The bank has been actively striving to maintain its top line or minimize the dip experienced on the back of declining mortgage lending activity. Overall, revenues had plummeted by 1.2% in the first quarter of 2014 compared to same period last year. On the positive front, credit and debit card revenue and trust and investment management fee had elevated by 12% to $239 million and 9.4% to $304 million, respectively. On the contrary, mortgage banking fee had dropped by a staggering 41% to arrive at $236 million in the period under discussion. The bank's credit card and wealth management business segments have enabled it to withstand the industry-wide plunge in mortgage lending.
According to the Mortgage Bankers Association, the dip in lending activity across the industry has bottomed this year in the midst of soaring interest rates which continued to discourage borrowers. The average interest rate for a 30-year mortgage has recently shot up to 4.34% from 3.54% in the previous year.
Disciplined Expense Management
Source: Barclay's Conference Presentation
A lower efficiency ratio exhibits disciplined expense management. It can be interpreted in two ways: either increasing revenues or decreasing costs, which are both positive for the bank's future. The bank is persistently working on running its operations more efficiently and effectively. It is leveraging on its single processing platforms, operating scale in all significant businesses, full consolidation of acquisitions and monthly review of business lines.
Ameliorating Credit Quality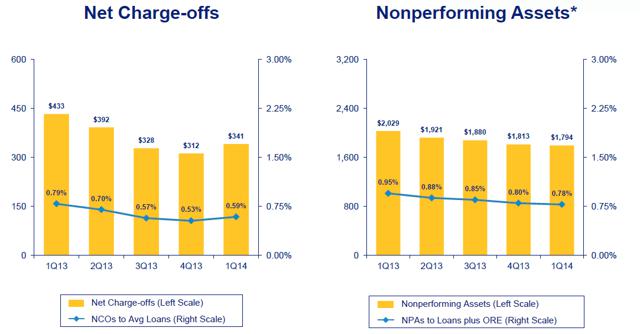 Source: Barclay's Conference Presentation
Overall, an improvement in the credit quality of revenue generating assets is a positive signal. A descending trend in the net charge offs indicates more space for net income to increase. Also, non-performing assets as a percentage of the loan portfolio have been falling which ultimately means that more assets are producing income for the bank as compared to the same period last year.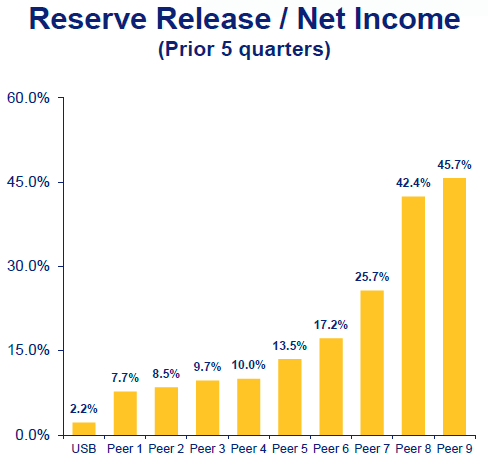 Source: Barclay's Conference Presentation
Reserve release is calculated as the net charge offs less provision for credit losses over the five quarter period. Amongst its peers, US Bancorp experiences the lowest need to allocate additional funds for its charge offs above the already created provision. This reiterates the bank's ameliorating credit quality of assets reported on the balance sheet.
Funding Advantage
The three main rating agencies in the US, Moody's, Standard & Poor's and Fitch Ratings, have assigned investment grade ratings to the bank. This has enabled US Bancorp to raise funds at a lower cost compared to its rivals. Recently, the bank issued $1.25 billion of 5-year fixed rate medium term notes with a 2.20% coupon at a 50 basis points "BPS" spread over Treasuries, $250 million of 5-year floating rate medium term notes at a 40 bps spread over 3-month LIBOR, and $1.25 billion of 2-year floating rate senior bank notes at a 12 bps spread over 3-month LIBOR. The low credit spread is a major source of competitive edge.
Dodd-Frank Act Stress Test
Federal Reserve announced that US Bancorp had the highest pre-provision net revenue and net income before taxes as a percentage of average assets as measured under the rigorous testing rules set forth by Federal Reserve's supervisory body. The Federal Reserve has maintained a no objection stance for the bank's capital plan where it has commenced a new share repurchase plan of $2.3 billion from April 1, 2014. Also, the entity has given a 6.5% raise in the cash dividend for the first quarter of 2014. In total, the bank had returned 67% of its earnings in the most recent quarter in the form of common stock dividend and share repurchases.
Final Verdict
US Bancorp aims to return 60-80% of its earnings to investors, while maintaining a strong capital position which makes it a highly recommended stock for regular income seeking investors.
Disclosure: The author has no positions in any stocks mentioned, and no plans to initiate any positions within the next 72 hours. The author wrote this article themselves, and it expresses their own opinions. The author is not receiving compensation for it (other than from Seeking Alpha). The author has no business relationship with any company whose stock is mentioned in this article.