One of the biggest investing themes, one that spans from supermarkets to restaurants, is the "healthful eating" sector, even though a sector with such a name does not exist. In this article I will focus my attention on, and compare, the two biggest grocers of natural and organic food: Whole Foods Market (NASDAQ:WFM) and Sprouts Farmers Market (NASDAQ:SFM). I will compare these two companies based on three points/questions:
What is the situation in the U.S.?
Can they expand internationally?
Financials and metrics
The Situation in the U.S.
Since only 17 out of WFM's 365 stores are located in Canada or in the U.K. and SFM has not expanded internationally yet, the main (or only) source of revenues for both companies is the U.S., where the trend of organic food has seen incredible growth in the last decade. Production is up 240% and market revenues are expected to grow by 14% during 2013-18. Therefore, both companies are in a sector where steady growth will be almost sure and, accordingly, whichever company is able to get the most out of the U.S. market will be in an extremely advantageous position.
From this perspective, WFM has a strong brand awareness advantage, something that SFM does not have, but the latter can count on the fact that they are challenging WFM's higher prices policy. As this report shows, SFM charges on average 31% less than WFM for the same items. This of course has an effect on gross margins, with WFM achieving a 36% gross margin compared to the 30% of SFM. Whole Foods will continue to benefit from its strong brand and will certainly continue to be, at least in the next 5 years, the biggest company in its sector. Yet the growth rate of Sprouts, its price-related advantage and the unexpected increase of the company's guidance for the full year given in the Q1 report should start to be a concern for WFM.
International Expansion
In the case of SFM, the company is probably too small to invest in other markets other than the U.S., where they are growing at a faster pace than WFM. With respect to WFM, however, the story is totally different. Whole Foods has already started to expand internationally, in Canada and in the U.K., but in the last 3 years the percentage of sales coming from outside the U.S. has increased just by 0.1% each year. In my opinion, Whole Foods has to expand their business more and more overseas in order to keep growing and the best market to do so is one that they have not touched yet: Continental Europe (Germany, France, Italy, etc.).
The total market for organic food in Europe has been estimated to be €22.7bn ($30bn) in 2012, growing from €21.5bn in 2011 and € 19.7bn in 2010. Germany is the central market that WFM should (and maybe must) enter because it is indeed the country with the most stable and expanding economy in the EU. As the graph below shows, it is the biggest market for organic food in terms of sales (€6.6bn) with average annual growth of 15% per year.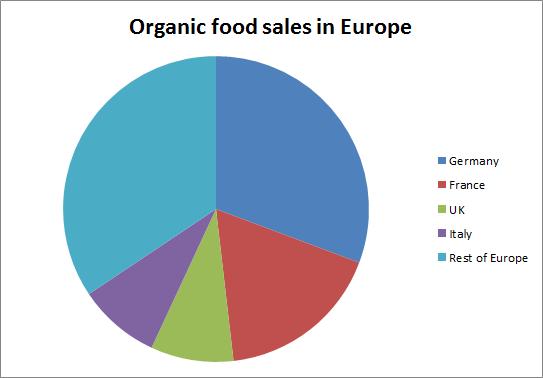 Source: This report.
Moreover there is a 90% consensus among Germans that organic food should be preferred. This brings up another concept, that is not business related, but that could be play a pivotal role in explaining why WFM should enter the European market: The culture of eating naturally and locally is more widespread in Continental Europe than in any other developed region of the world. Think of Italy, which is the birthplace of the Slow Food Movement, or France and Spain where the most popular diets of each country are based on fresh foods. Therefore, it could be easy for WFM to enter Continental Europe for a cultural reason, but also because there's no big competitor in the supermarkets industry and people are willing to pay more for fresh, better-tasting food.
Financials and Metrics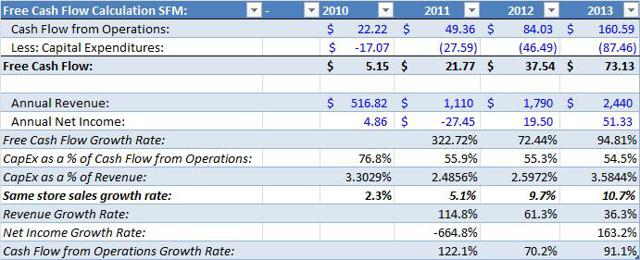 Source: MarketWatch.
As you can see from the tables above, the average of the same-store sales growth rates is almost the same in the last 3 years (7.5% for WFM, 7% for SFM), but what is remarkably different is the average rate at which the two companies are growing both their total revenues and their free cash flow figures. SFM's revenues have skyrocketed in the last 3 years, with an average growth rate of 70.8%, compared to WFM's 12.8%. This growth rate is probably not replicable for 10+ years, and the P/E ratio of SFM (70.74) suggests that you are actually paying for this rate.
However, if you take a look at the 2011 net income figure you can see that the company is no stranger to a bad year. The free cash flow growth rates are excellent for WFM (an average growth rate of 33.34%, even though we have to notice that in 2013 there was an unusual reduction of capex, which increases FCF) and out of this world for SFM, with an average FCF growth rate of 163.32% over the last three years. All these data shows that SFM is a relatively new company that is exploiting its different price position to post outstanding growth figures, while WFM is a more consistent company (no losses) whose stronger brand will keep the company in an advantageous position to grow in the next few years, with a stable and more sustainable growth rate.
Conclusion
SFM is a company that is growing at an incredible rate and has a different price policy compared to WFM. Yet their plans could be hindered by WFM because the Austin-based company can and will exploit economies of scale more and more as they keep growing. Moreover, the most important metric in the supermarket industry -- i.e., the same-store sales growth rate -- is telling us that WFM is performing a little bit better, and SFM's P/E ratio of 70.74 is just too much for a company that is nowhere near being the best of its sector, especially if you compare that to WFM's P/E (26.06) that is more or less one-third of SFM's.
Still, WFM has plenty of opportunities that must exploit in order to keep growing, and, in my opinion, Europe is the biggest unexploited opportunity. All in all, I would suggest to buy WFM if you want a more stable investment with huge growing opportunities overseas. If you want a growth stock, but with more risks and a much bigger competitor in the "healthful eating" sector, you should buy SFM.
Disclosure: The author has no positions in any stocks mentioned, and no plans to initiate any positions within the next 72 hours. The author wrote this article themselves, and it expresses their own opinions. The author is not receiving compensation for it (other than from Seeking Alpha). The author has no business relationship with any company whose stock is mentioned in this article.