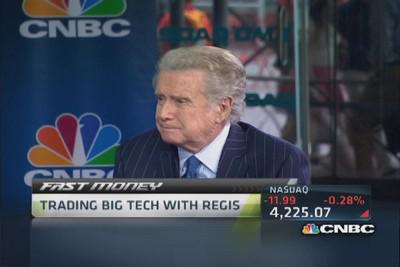 It is feared that the recent wave of mergers is evidence of a pending market crash. Another data point is when novices become overly enthralled with the market and think that they too can pick stocks. That was the thought that entered my mind when listening to Regis Philbin and CNBC's Kelly Evans discuss his investments in Micron Technology Inc. (NASDAQ:MU), Tesla Motors Inc. (NASDAQ:TSLA), Amazon Inc. (NASDAQ:AMZN) and Molycorp Inc. (MCP). I waited to hear the fundamental analysis he did in order to choose these stocks; however, none came. Regis appears to be investing based on emotion than on fundamentals. Hey, we have all fallen too much in love with a stock, blinding us to see its true value.
Cycle of Investor Emotions
Below is a chart of the cycle of investor emotions provided by Northwestern Mutual.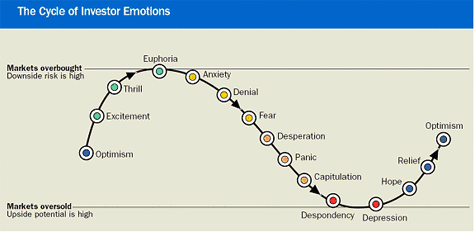 The cycle of investor emotions starts with optimism as investors expect a return on their investment.
At the height of the cycle is "euphoria," which occurs when investors have unrealistic expectations and become blinded to the potential risks from a trade.
After prices drop and a clear downward trend sets, an investor can go from euphoria to panic, to desperation or depression rather quickly.
This all begs the question, "Which stage of the cycle of investor emotions is Regis in?" I decided to use Micron and Molycorp as case studies.
Anxiety
Micron Tech
Micron shot the lights out on its recent 3Q earnings report on June 23rd. The stock closed at $31.36; however, it traded down after-hours. Here is what Regis had to say about the stock, and you can hear the frustration in his voice:
I don't know what all the hysteria is about this Micron Tech. I know it's down a little bit ... net sales are a little down over the second quarter, but look at the advance they made over last year's sales, almost double from May 2013 to May 2014. What do people want from my Micron Tech?
The anxiety continues as Regis looks to the "pros" from CNBC to help him rationalize the pullback in the shares after a blow out quarter:
I want to hear from your guys, Phil and Don and Kevin and Dan. These are the pros. Let me hear what they think is happening today to Micron Tech ... That's exactly what I'm hoping [that a buying opportunity presents itself]. I would love to see it go down a little more ... I'm going to buy some more and I'm not going to be surprised to see the stock hit $40 late this fall.
Below is Micron's historical financial performance: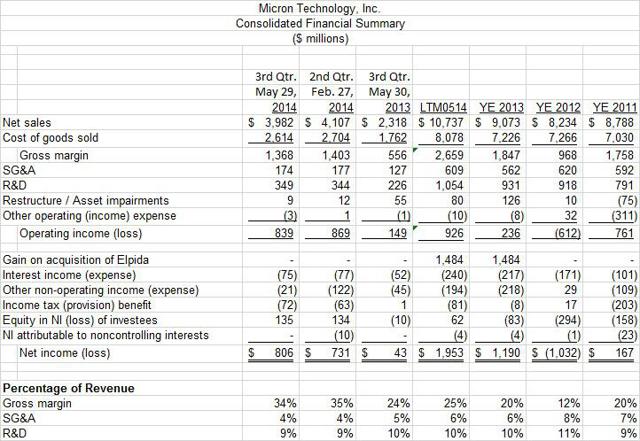 Micron's revenue and operating income for 3Q 2014 were impressive in comparison to the same time last year.
However, 3Q 2014 included the acquisition of Elpida Memory, Inc., while 3Q 2013 results did not.
The following charts shows Micron's growth in comparison to 3Q 2013 and 2Q 2014, which is more of an "apples-to-apples" comparison.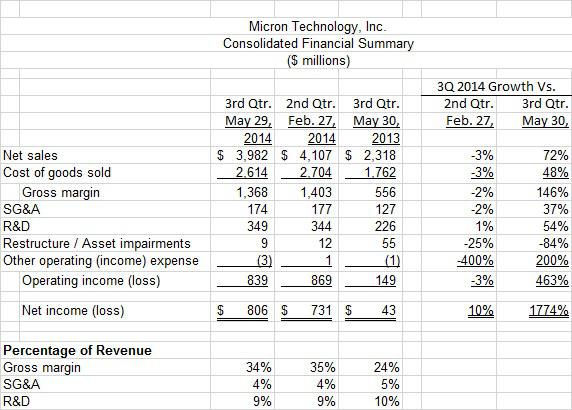 Revenue and operating income for Q3 2014 were up 72% and an eye-popping 463%, respectively, over Q3 2013 results.
Compared to Q2 2014, which includes revenue and income from Elpida, revenue and operating income both declined 3%.
And there in lies the quandary for investors - how to value Micron now that it has more robust earnings with Elpida, yet a potential lower earnings growth rate.
The article, Three Reasons Why Micron Fell In After-Hours Trading, explains the source of Regis' anxiety:
[i] What is Micron's true earnings power? Some investors may focus on last 12 months' earnings or, combine 3Q 2014 and 2Q 2014 financial results and annualize them. [ii] What multiple do you apply to those earnings? [iii] What is the expected earnings growth of the company going forward? ... That said, uncertainty to the answers to these questions may have exacerbated downward pressure on the stock in the after market.
Denial
Molycorp
Molycorp has been reeling from price declines in the rare earth market since the second half of 2012. Losses have accumulated to the point where the company has had to raise capital twice in the past 18 months. Molycorp has experienced operating losses of $362 million for the last 12 months ended March 31, 2014. Regis invested in Molycorp in 2011 when the company generated operating income of approximately $153 million. Molycorp has lost money each year thereafter.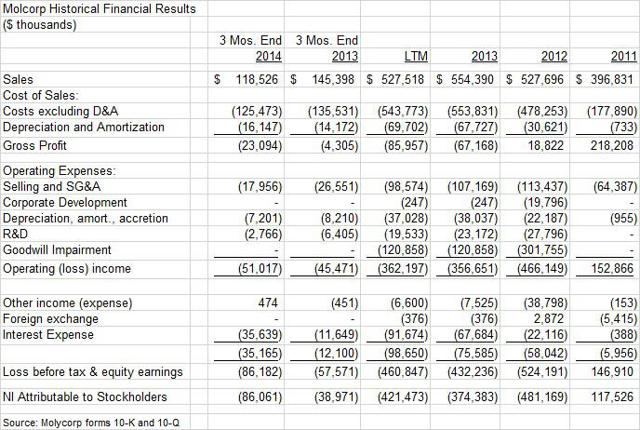 Below is Regis' take on the company:
I want to introduce him [Joe Biden] to Moneycorp ... yes Molycorp. And it's letting me down. I'm beginning to get a little nervous about it, but I'll tell you, the last 30 days the volume has been three times its usual [trading] volume. We'll see what happens ... I just can't let it go. I just can't believe it's going to go down this far and stay down there.
The stock hit a 52-week low of $2.44 per share in early June. As late as last week, Moody's downgraded the company's debt to Caa2 from Caa1, citing the potential for unsustainable debt levels given the company's negative cash flows.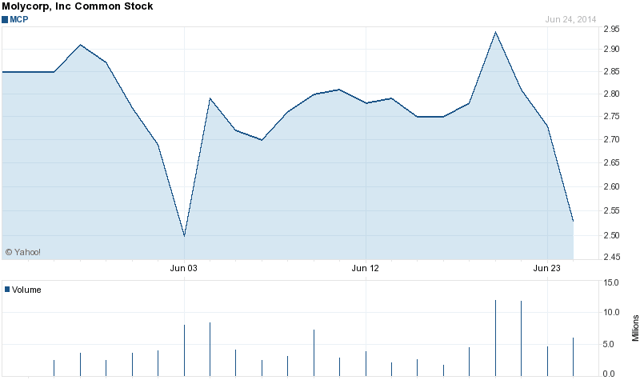 And while Regis thinks Molycorp's financial problems are ethereal, the research says otherwise. The company experienced cash out flows of $78 million in 1Q 2014, leaving cash on hand of about $236 million. Furthermore, sans a capital raise, high level projections indicate that Molycorp could run out of cash by 1Q 2015:
Based on these high level projections, Molycorp will run out of cash in 1Q 2015. The company will not be able to pay interest on its long-term indebtedness, let alone principal.
Molycorp will essentially be bankrupt in 1Q 2015, unless it raises capital beforehand. Sans an equity raise, the bonds will most likely go into default this year.
Conclusion
Regis' overall investment portfolio could outperform the market in the short-term. However, due diligence and fundamental analysis is preferred for long-term results on stocks like Micron and Molycorp whose growth prospects have changed for varying reasons. I currently rate Micron a hold and Molycorp a sell.
Disclosure: The author is short MU. The author wrote this article themselves, and it expresses their own opinions. The author is not receiving compensation for it (other than from Seeking Alpha). The author has no business relationship with any company whose stock is mentioned in this article.
Additional disclosure: I have straddles on Micron and Molycorp