We have been monitoring the Widepoint (NYSEMKT:WYY) story since it was brought to our attention that Michael Steinhardt, one of the best hedge fund managers ever to trade, filed a 5% 13-D ownership statement with the S.E.C. in late May. Here is a link to the filing. At the time, we wondered why such a highly distinguished investor would invest $3 million in a company with a seemingly low margin business which offered mobility services for different government agencies. Well, after extensive research looking into the story over the past two weeks, we have now discovered why Mr. Steinhardt took a stake in this unknown company.
For those who do not know of Mr. Steinhardt, his long-term track record ranks among the very best of all the hedge fund managers to have ever run a fund. During his time managing his fund, he averaged an annualized return of 24.5%, after deducting for his 1% management fee and a performance fee of 15%. Not bad, huh? Mr. Steinhardt was famous for his in-depth research and for often being first to take a position in previously unknown investment ideas. By developing what he called "a variant perception" (otherwise known as a contrarian, differentiated view that had yet to be picked up by the market), Mr. Steinhardt often moved into positions well ahead of other institutional investors. Using this differentiated approach helped to play a big role in his outsized returns over the years.
Truth be told, the Inflection Point methodology owes a lot to Mr. Steinhardt's variant perception principle. In and of themselves, identifying companies at key inflection points ahead of institutional investors essentially is the definition of variant perception investing. So, what does this have to do with Widepoint? Well, after wondering what Mr. Steinhardt's variant perception was on Widepoint for the past few months, we now have seen the light. Let us explain.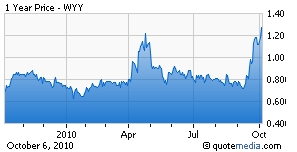 Over the past five years, the management team at Widepoint has done a very good job of quietly developing the necessary infrastructure to take their company to an entirely new level. With its initial focus on providing mobility services for various government agencies, Widepoint's management team has simultaneously been developing a cutting edge cyber-security division. Through three key acquisitions over the past two years, WYY has now established itself as a key player in the burgeoning cyber-security market for government agencies.
It takes years to get credentialed with government agencies and to then get approval to work with various agencies of the DOD. Having proved itself with providing nearly flawless and very cost-effective solutions for these government agencies over the past few years, Widepoint has now begun to reap the benefits of these efforts by securing new contracts for its high-margin, recurring revenue cyber-security division. As these cyber-revenues become an incrementally larger percentage of the company's overall revenue stream, the company stands to see a "hockey-stick" improvement to its bottom-line as both its gross margins and operating margins begin to expand in the coming quarters. This is the inflection point. Identifying this inflection point ahead of others is the variant perception.
Let's delve into the numbers further. In 2009, Widepoint's revenues were up 22.2% year-over-year to $43.3 million. The company achieved its first ever year of operating profitability, posting net income of $1.4 million. Cyber-security revenues were only about 10% or so of the overall revenues last year.
This is where the story becomes interesting. The company has begun to land sizeable contracts for its cyber-security division over the past six months. In particular, the company announced a $3 million deal with the Navy, with a strong likelihood of another $12 million to follow sometime next year. As things stand now, cyber-security revenues will more than double to $10-$12 million in revenues this year.
We will begin to see these revenues and their incrementally positive effect upon the company's profitability when earnings are reported next month. Because gross margins for this side of the company's business are in the low 60s, a huge improvement to the company's overall margins on its other sides of business, operating profitability is about to soar.
Because a chunk of the Navy contract will hit during Q3 and Q4, earnings are set to more than double on a year-over-year basis during these upcoming two quarters. Looking at 2010 on the whole, earnings will double year-over-year, with the company netting about $.05 a share this year.
Here is the variant perception: most of these cyber-revenues are re-occurring and will become an annual, high-margin revenue and cash-flow stream for the company. As new cyber-contracts get added over the coming quarters, such as the additional $12 million that the company expects to land at some point from the Navy, the operating model becomes incrementally more profitable.
As of last week, the company already has about 75% visibility for the $60 million in revenues that analysts are looking for during 2011. During my two conversations with the company's CFO, Jim McCubbin, you could sense the excitement in his voice as he ran through the model with me. As we move into both 2011 and every year thereafter, cyber-revenues will naturally become a bigger percentage of the company's overall revenue structure. With an 80-90% re-occurring nature to these revenues year-over-year and with the company's near 100% renewal rate record on contracts up for renewal, it is easy to understand Mr. McCubbin's enthusiasm.
On an only 20% increase in revenues next year, the company's earnings are set to expand by 142% to $.11 a share. Based upon the stock's current price of $1.15, this means that WYY is trading for only 10X next year's earnings. This is too low for a company set to see its earnings double this year and rate of earnings growth accelerate next year. In 2012, estimates could ultimately ramp to $.20-$.25 a share as margins improve even further as cyber-revenues continue to ramp even more.
After announcing an expanded 5-year, $84 million contract with the TSA Dept. a few weeks ago, our price alert on the stock went off. This often happens to us. We will discover an unknown company, put an alert on it, wait for it to go off and then delve into the story to understand why the stock is moving.
Well, after hours of researching this story we finally understand what drove Mr. Steinhardt's variant perception and 5% stake in the company. Ironically enough, purchasing stock in Widepoint at current levels allows one to buy into WYY at the same prices where Mr. Steinhardt established his position in the stock.
Based upon the stock's technical formation, it is our feeling that much higher prices lie ahead. As new investors warm to the story after the company reports its earnings next month, we expect to see the stock begin a new up-leg in earnest. Based upon the historical moves seen in the stock, a move through $1.30 should result in the stock eventually moving up to the $1.75-$2 range by early next year.
Looking ahead, we will continue to establish a position in the stock in the coming weeks. We are buyers on both pullbacks and also on strength. While it may take some time, we do not feel as though it will be too long before other investors get wind of this emerging growth story and become avid buyers also.
Disclosure: Long WYY