Apple (NASDAQ:AAPL) has a lot of buzz these days, and part of that is the expectation that they will refresh the iPad line, including a new version of the iPad Air. Here I discuss the most important features that are likely to be included.
Background
Apple has had a strong run up since April's FQ2 results, propelled by profits, stabilizing margins and increased share buybacks. However, one of the most talked about events was the 7-1 share split. The idea that this would open the stock to more small investors, as well as some institutions that may have price limitations, appears to have been a powerful price driver. Now that the split has been effected, the rise has ended as the price seeks its new level. Current Thomson/FirstCall average analyst estimate is $95.14 (according to Yahoo Finance).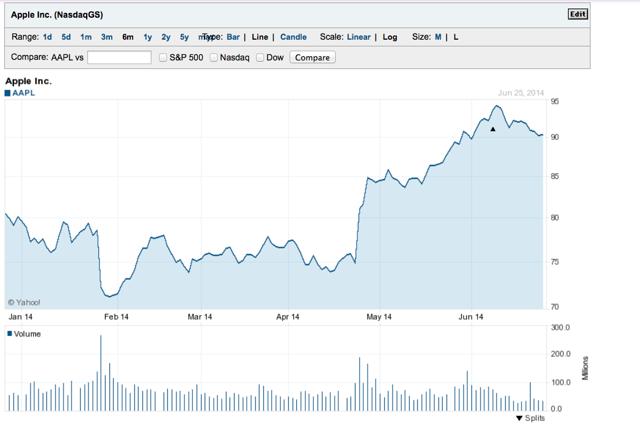 In an earlier post I noted a key price driver:
The major key to price recovery is convincing investors that innovation is still strong.
I think that Apple's recent World Wide Developers Conference went a long way to accomplish this and significantly added to the recent momentum.
These new features are things that will ultimately further the success of the platform, by increasing positive differentiation of the products.
However, all announcements at WWDC were for software that has yet to be released (except betas to developers). Therefore, real results remain to be seen, and more importantly, both analysts and the public are waiting for new hardware -- in particular new categories of hardware, such as the long-rumored iWatch.
iPad waning
One disappointing note in Apple's March 2014 quarterly report was the sales figure for the iPad line, which sank significantly from the previous year's figure (16.35 million vs. 19.48 million units). While a good portion of this was due to very different channel fill situations, still the figure was chilling. In particular, IDC figures have competition eating at iPad's dominance of the tablet market, whittling it down to just under 33%. Additionally, it is thought that the rise of phablets (extra large smartphones) will further erode sales.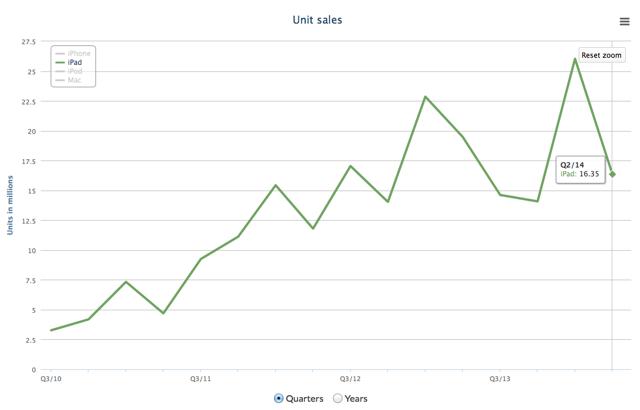 [Source: http://barefigur.es/apple/]
Clearly, Apple would like to see improved iPad sales. To do so, they need to differentiate their product from all others in a commanding way. I believe they will do this in the next release by a combination of factors.
iPad Air II - Features
Apple typically stays with a body form for two years, adding features only in the second year. This is likely with the iPad Air, which has been quite successful. Here are some of the features I see being added. There are many minor features that can be added or upgraded. I will discuss what, to my mind, are the major ones.
- Touch ID
One big differentiating factor will be TouchID, Apple's fingerprint detection technology. Initiated on the iPhone 5s last year, it was missed on the original iPad Air.
- Processor
The processor will definitely be updated to a new A8, which will be made with the new 20 nanometer process, allowing more capacity and lower current draw. It has been suggested that this lower current draw will be the main objective, and we should not expect much greater performance than in the current A7 chip. Still, I think we will see a reasonable performance boost in the CPU and a fairly strong boost in the graphics unit. The A7 has 4 clusters of shaders; I expect 6 or 8 clusters.
It is the shaders that do the actual computations. (See: How a GPU works.)
- Display capacity
One important new feature I believe will be incorporated is support for 4K ultra-high definition TV. At double the resolution of current 1080p (3840 pixels wide by 2160 pixels tall), this utilizes 4 times the number of pixels (8.3 megapixels). This upcoming standard is working its way into both the professional monitor space and beginning to become available as TV sets. The iPad will need more GPU clusters if it is to deal with the upgraded output. A bump to 4K support for external displays would be very positive.
- iOS 8
The introduction of iOS 8 will be huge with the introduction of Home Center and Health Center, and the easy connectivity of Handoff, whereby if you are working on one device, you can easily pick up your job on any other. There is a good post from Bob O'Donnell on this topic.
- Metal = Extraordinary Gaming
Metal will be absolutely huge. It is a differentiator that cannot be overlooked, and which no other system will be able to duplicate. Apple has managed to eke out a 5X to 10X graphics improvement by designing a low level interface for their graphics processor that bypasses the industry standard OpenGL. The response from several leading game developers has been incredible with jaw-dropping demonstrations at the WWDC. (See WWDC - Hidden Implications and Metal Explained.)
It is important to understand that this is an ongoing advantage that Apple will have. It cannot be overcome by upgrading GPU power as it is a software to GPU enhancement.
In one of the WWDC presentations, Apple VP Andres Wendker said that "Apple is pushing on gaming heavily."
This may well be the most exciting and influential feature. It will, of course be available on any iOS device with the A7 chip up (iPhone 5s and later), but the real effect will be seen on the iPad Air II and the new Mini. The developer houses (EA, Crytek, Epic) all said that it matches console performance. To my mind, there will be no serious gamer who will opt for anything else. The competition will be so greatly inferior. (In the articles linked above, I explain why no other OS will be able to duplicate what Apple has done.)
Epic Games Founder Tim Sweeney presented at the WWDC Keynote, where he related a 10-fold increase in rendering efficiency, and said:
"to have this capability is a stunning breakthrough."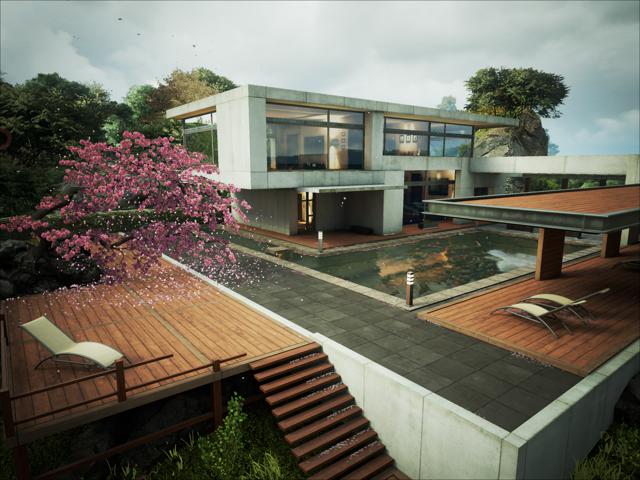 Electronic Arts (NASDAQ:EA) Johan Andersson (in another WWDC session) said regarding an initial port of their Frostbite 3 game engine to Metal on an iPad Air, that they could get the same performance as AAA games on a console. They were rendering up to 1.2 million triangles per frame, and that they were able to do an initial port in just a couple of weeks.
"Metal for us is literally a game changer," Andersson noted.
Summary
Investors should look for a real rise in price, beginning with the iPhone announcement and fortified by the iPad announcement. I expect that both of these -- though especially the latter -- will highlight the all the new features with demos by industry leaders wowing the audience. These will not be limited to gaming. Home control and health companies will give impressive demos of new products.
But the gaming will be the most impressive of all, and this will set the stage for fierce growth in iPhone and iPad sales.
According to a Research and Markets report:
Some 1 billion people play video games worldwide,
Video game consoles generate about $16 billion in global annual sales, according to Gartner,
And most importantly for this discussion:
Demand is driven by personal income and product innovation. [emphasis added]
Therefore, demand will be high for the iPad as it will be the only device with console power yet remain a general purpose tablet. It will be the only tablet with the ability to bring powerful games to a 4K UHD display.
As the holiday quarter roles in, it will be obvious that sales are strong, and the stock price will climb to reflect it. Even if there is no radically new product, there will be strong growth in the iDevice line, and this will further increase growth in the Mac line as well.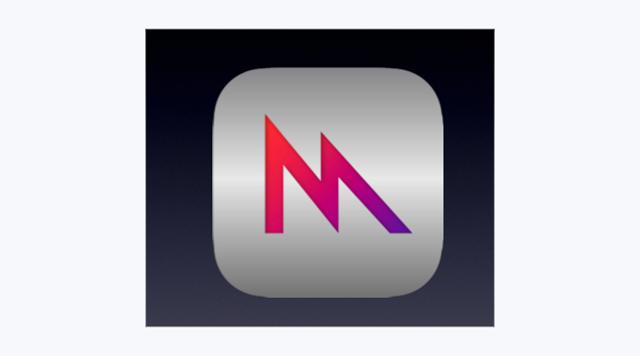 Resources:
http://seekingalpha.com/article/1939661-apples-a8-what-it-will-be-and-why-it-matters
Microsoft Surface Pro 3 vs. Apple iPad/MB Air (Make your own analysis)
Disclosure: The author is long AAPL. The author wrote this article themselves, and it expresses their own opinions. The author is not receiving compensation for it (other than from Seeking Alpha). The author has no business relationship with any company whose stock is mentioned in this article.