After the close on June 26th, Nike (NYSE:NKE) beat estimates on both revenue and earnings per share. The street was expecting $0.75 eps and Nike reported $0.78 per share. On the revenue front, Wall Street consensus was $7.34 billion, while the company reported revenues of $7.43 billion.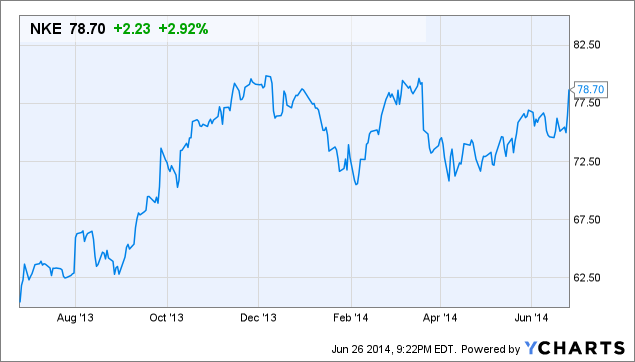 Gross margins expanded 1.7% to 45.6%, despite unfavorable foreign exchange rates. The increase was primarily a function of higher average selling prices and continued growth of their direct to consumer business. Overall, the quarter was negatively impacted by a $30 million pretax income decrease from negative swings in foreign currency profits.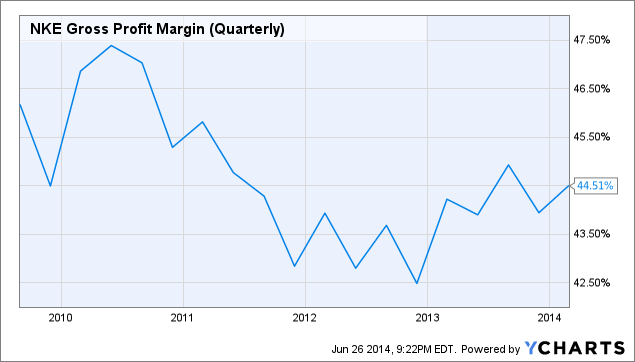 Full Fiscal Year Results
Revenue overall in 2014 rose 10% to $27.8 billion from fiscal 2013. Gross margins expanded 1.2% to 44.8% which resulted in a $2.7 billion in net income. Even with $139 million negative impact due to currency exchange rates, net income was able to rise 10% from fiscal 2013. Further eps grew 11% to $2.97, reflecting a decline in total shares outstanding.
Future Outlook
Share Repurchase Program
During the fourth quarter, NIKE, Inc. repurchased a total of 12.3 million shares for approximately $912 million as part of the four-year, $8 billion program approved by the Board of Directors in September 2012. As of the end of fiscal 2014, a total of 51.9 million shares had been repurchased under this program for approximately $3.4 billion, at an average cost of $65.83 per share. Nike has been creating shareholder value by buying up shares and driving eps growth.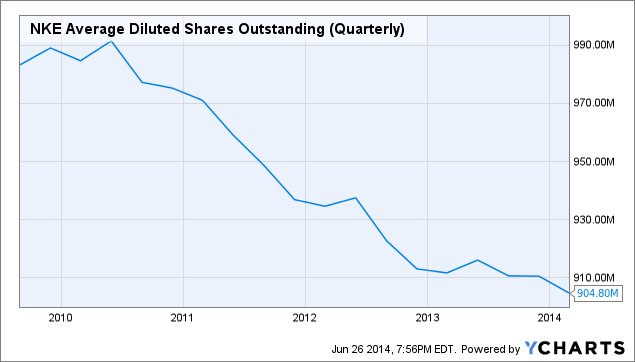 NKE Average Diluted Shares Outstanding (Quarterly) data by YCharts
Future Orders
Worldwide future orders for Nike scheduled for delivery from June through November 2014 is $13.3 billion which is 11% higher than orders for the same period last year. It is extremely positive that the futures growth continues to improve, even beyond the World Cup.
Online Presence Boosting Margins
During the conference call, Nike CEO Mark Parker, gave compelling insight into their online efforts. Online revenue grew 40% in fiscal 2014 with accelerating growth each quarter. With margins being substantially higher through this selling outlet, this growth is tremendous for Nike's future.
World Cup
Nike is battling Adidas for market share in the soccer apparel market. According to Business Week, Nike and Adidas together comprise 70% of the overall market. With this most recent filing, it appears that Nike is beginning to win the battle. In 2014, sales in the soccer segment grew 21% and it introduced proprietary technology into new cleats. This novel technology found in the Magista, and the Mercurial Superfly models represents a competitive advantage for Nike. Nike has done a tremendous job at creating awareness for these innovative products and there are more players in the World Cup wearing Nike cleats than all other brands combined. (A third of them are playing in the revolutionary Magista or Mercurial models).
China
China represents an incredible growth opportunity as the market is largely untapped. Over the last seven years, the market for sportswear has grown at a staggering compounded annual rate of nearly 30%. A booming economy which increases disposable incomes has driven the demand.
Nike has notably struggled to have success in China. Prior to this quarter, it had experienced three consecutive quarters of shrinking revenue. Historically, Nike has led the market with 12.1% market share, but Adidas is growing with 12% revenue growth q/q in China, to increase its market share to 11.2%. Nike management has cited several reasons for their lack of success in that market. Management has made a few changes that seem to have reversed the trend with reported revenue growth of 2% in the quarter.
The lack of growth in the past has been due to a cultural disconnect. However, management has amended its tactic by opening up factory outlets, giving consumers more choices in size and color, and altering its marketing strategy. By having a better understanding of the market, management reported that they hope to gain double-digit growth and have guided for high single-digit growth in fiscal 2015.
Management Guidance
For 2015, management expects a high single digit revenue increase, which will actually be double-digit growth, but currency fluctuations will temper it. Margin expansion is projected at .75% for the full year, as average selling prices increase and sales through its DTC business continue to accelerate.
Final Remarks
Nike, once again, blew away analysts with an outperforming quarter. They are building brand recognition which is leading to higher margins, and double-digit revenue growth. The hefty share buyback program that has plenty of room left under its authorization will drive shareholder value. Nike is in a unique position of tremendous revenue growth, coupled with higher margins, and a hefty repurchase program. These three key factors will continue to drive shareholder value for Nike investors.
Disclosure: The author has no positions in any stocks mentioned, and no plans to initiate any positions within the next 72 hours. The author wrote this article themselves, and it expresses their own opinions. The author is not receiving compensation for it (other than from Seeking Alpha). The author has no business relationship with any company whose stock is mentioned in this article.