Abengoa Yield PLC (NASDAQ:ABY) - Buy recommendation - Price Target $42.50
The SEC-enforced 25-day quiet period on underwriter research reports on Abengoa Yield PLC initiated with the firm's June 12 IPO will come to an end on July 7, allowing the IPO underwriters to release analyses of the dividend firm, formed to acquire and manage revenue-generating energy assets for Abengoa S.A, on July 8.
The underwriters' releases will likely cause at least a temporary rise in the price of ABY shares.
Strong IPO And Performance Since
The upsized ABY IPO beat its expected $25-$27 per share range with a pricing of $29 per share, and saw an excellent first day return of 27.6%. The stock has since continued to make gains, closing at $38.23 per share on June 25.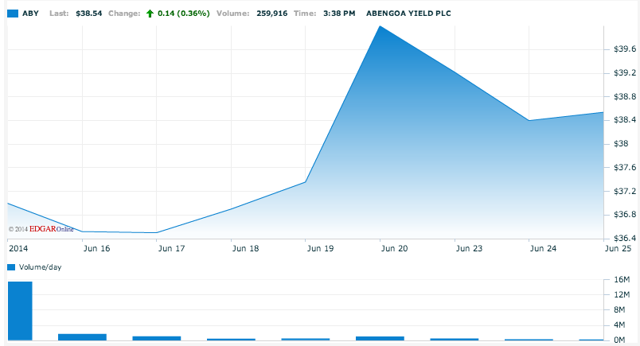 Source: Nasdaq.com
ABY's Many Underwriters Will Likely Attempt To Push ABY Share Prices Higher At Quiet Period Expiration
ABY's IPO underwriters, including Citigroup Global Markets Inc.; BofA Merrill Lynch; Banco Santander, S.A.; HSBC Securities Inc.; Canaccord Genuity Inc.; and RBC Capital Markets, LLC, will seek to capitalize on the stock's exceptional IPO and strong early market performance with the release of positive analyses beginning with the July 7 quiet period expiration.
The Journal of Finance (VOL. LVIII, NO. 1; 2003) elaborates on how increased share prices generally emerge days ahead of the quiet period expiration as investors purchase shares in anticipation of positive analyst reports.
Lead author Dan Bradley, PhD, CFA, affiliated with the University of South Florida, and colleagues explain that analyst coverage is immediately initiated for 76% of firms at the expiration of the quiet period, usually with 'Buy' or 'Strong Buy' ratings. Firms with coverage initiated deliver abnormal positive returns of 4.1% for the two days before and the two days following the date of initiation.
Dr. Bradley's conclusion is supported by research from Carter, Piwowar, and Strader (2001), who find that the mean analyst rating at the conclusion of the quiet period is a "Buy"; higher returns correlate with higher ratings.
Early buys generate a perception of increasing demand and lead to rising share prices before the quiet period has expired, creating a short-term buying opportunity.
Bradley et al also note a significant correlation between the reputation and quantity of IPO underwriters and an increase in share prices at the end of the quiet period. Returns have also been found to increase significantly when coverage is initiated by more than a single analyst - to 6.4%. This aspect could be important, given ABY's solid list of several underwriters.
Our own data from the past three years aligns with the conclusions of the academic publications.
Business Summary
For a detailed overview of ABY's business, see our prior article here.
ABY was formed by Spanish multinational S.A. Abengoa to manage and acquire revenue-generating assets related to Abengoa's renewable energy and conventional power assets located in the Americas and Spain. Abengoa indirectly owns some 71.1% of ABY shares.
With the completion of its IPO, ABY received eleven assets from Abengoa totaling 710 MW of renewable energy generation, 300 MW of conventional power generation, and 1,018 miles of electric transmission. ABY also received an exchangeable preferred equity investment in Abengoa's Brazilian power transmission line subsidiary, Abengoa Concessoes Brasil Holding. ABY will attempt to acquire more facilities, taking particular interest in recently-constructed facilities with expected long-term cash flow and creditworthy counterparties.
Strong Competition For Few Opportunities
ABY competes with other organizations, including transmission and utility companies, independent power producers, and state-owned power monopolies, for opportunities to acquire relevant assets. Some of these competitors may have access to greater financial resources than ABY.
Opportunities to purchase these assets are limited, as contracts on the power resources ABY will pursue are typically decades long.
Management Highlights
Miguel Sanchez Ortega has served as the Chairman of ABY's board since the firm's December 2013 formation and is the current CEO of Abengoa S.A.
He joined the firm as a software engineer in 1989, and ultimately served in executive roles including Executive Vice President in Mexico and Chairman and CEO of Abengoa's Information Technologies business.
Mr. Ortega holds a degree in Industrial Electrical Engineering from the ICAI in Madrid and a Master's degree in Business Administration from the Instituto Panamericano de Alta Direccion de Empresas (IPADE) in Mexico.
He is joined by ABY's CEO Santiago Seage, who previously served as Abengoa's Vice President of Strategy and Corporate Development and Abengoa Solar's CEO.
He holds a degree in Business Management from ICADE University in Madrid.
Conclusion: A Buying Opportunity
ABY has performed well in its market debut, and though its yields are less attractive at its current price than they were at the time of the IPO, they remain solid.
ABY anticipates a payout ratio of 90% of its cash available for distribution; the firm plans to pay quarterly dividends of $0.2592 per share, which translates to $1.04 per share annualized.
At the June 20 closing price of $40 per share, this would be equivalent to a 2.6% annual yield.
The upcoming quiet period expiration may present a buying opportunity for investors interested in yield-producing stocks.
We invite readers interested in IPOs to click the +FOLLOW button above the title of this article-and those wishing to receive the latest developments on IPOs to click +Get real time alerts.
Disclosure: The author has no positions in any stocks mentioned, and no plans to initiate any positions within the next 72 hours. The author wrote this article themselves, and it expresses their own opinions. The author is not receiving compensation for it (other than from Seeking Alpha). The author has no business relationship with any company whose stock is mentioned in this article.