It is tough to argue that Elon Musk has now reached a cult status in the US. Judging by the fanaticism of Mr. Musk's followers and the valuation of his companies, it appears that Mr. Musk's following may have reached levels seen only by Steve Jobs. That is quite remarkable. Whether one agrees or disagrees with the man that is saying a lot.
Tesla Motors (NASDAQ:TSLA) and SolarCity (NASDAQ:SCTY), the two public companies that have a large Musk fan following, have insane valuations. As evident from the charts below, the valuations have been skyrocketing since inception.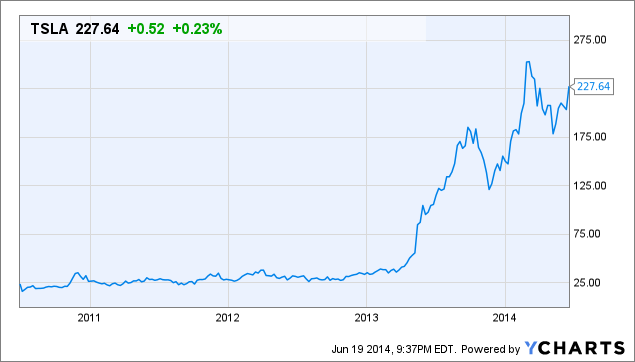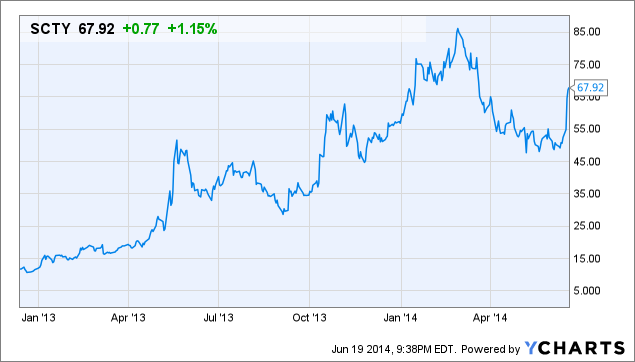 In this article we look at the differences between these two companies with the intent of moving the valuation debate past the Musk factor.
Starting from a customer perspective, it is easy to see that Tesla is an innovative company that has materially changed the automotive world for the better. Tesla genuinely stirs passion and admiration among customers. Here is a representative link on how customer view Tesla.
On the other hand, SolarCity's primary value add is financial engineering. To be charitable, it is selling a solar leases and PPAs to customers and investors on wrong pretenses. And, in the long term there are likely to be many negative consequences. Consequently, the customer satisfaction on these lease products is far worse than what you see for Tesla. Here is a representative link on how customers view SolarCity. We predict that the customer satisfaction is going to get much worse as customers realize the dubious nature of SolarCity leases and PPAs.
Different companies with very different set of customer dynamics.
In terms of product attributes, Tesla vehicles are radically different from other automotive in the market. Tesla cars are market leading and the product is reviewed glowingly by customers and industry observers.
SolarCity, on the other hand, has very little product differentiation. SolarCity's rooftop installations are similar to the ones installed by other competitors. In anything, SolarCity installs low-end panels and inverters to save costs. The financing aspect of the product may look different but the product itself has no relative appeal compared to the competition.
Different companies with very different levels of product differentiation.
Now let's look at the core business models of the companies. At the outset, both TSLA and SolarCity depend on the largesse of Federal and Local governments in terms of subsidies and rebates. But the similarities in the business model pretty much end there.
Tesla is competing in an asset intensive business where very few companies in the world can even compete. Its competition are the names like Toyota, GM, and BMW. The barriers to entry into this business are huge.
On the other hand, SolarCity competes mostly with your neighborhood installers. It has a few major public company competitors but by and large SolarCity is competing with in the extremely low barrier to entry local contractor market.
Different companies with very different competitive dynamics.
While Tesla is likely to be a worldwide phenomenon, SolarCity is primarily US based (and that too mostly in the sunbelt states with California being lion share of the business) and the scope of international expansion is limited.
Different companies with very different geographic scope.
And, with its current and future patents on the EV cars, trucks and the charging infrastructure, it is highly likely that Tesla will become a toll collector in the EV market with substantial long-term recurring revenues. These revenues are likely to rise over time as auto prices go up and as the share of the EV market increases.
SolarCity also has recurring long-term revenues but the scope is limited to the number of SolarCity installs. This is going to be a small niche and these lease are likely to have high default rates. We predict that these leases will become much smaller part of the market due to the ill will the company is accumulating. These leases are also likely to get far less lucrative due to the solar pricing trends and competing financing products.
Different companies with very different long term market dynamics.
When you put this all these dynamics together what you see are two companies where one is highly differentiated with high barriers to entry, favorable customer perception, favorable product attributes, favorable market dynamics which will get better over time, and a scope to expand worldwide. The other company is operating in an industry with cut throat competition, low barriers to entry, unfavorable product attributes, unfavorable customer and market dynamics which will get worse over time, and limited geographic potential.
To an investor making a long-term bet, the choice between these companies is straight forward.
While the valuation of both the companies is inflated, over the long term Telsa is headed for greatness in history and there is a chance that the company can have decent return for shareholders. Regardless of how much market share Tesla ends up getting or how much money it makes investors, history is going to credit the company for transforming the oil economy.
On the other hand, SolarCity is headed into oblivion and will likely be no more than a footnote in history. It is likely to be a massive wealth destroyer over time and is as likely to severely damage the Musk brand. It's most likely epitaph: financial engineering gone wrong.
In summary, we believe there are legitimate reasons for investors to be excited about Tesla but the enthusiasm about SolarCity is completely misguided. We urge the fans who pray at the altar of Elon Musk, as well as other investors, to ignore the Musk brand and objectively consider the differences between these two companies for investment purposes.
Disclosure: The author has no positions in any stocks mentioned, and no plans to initiate any positions within the next 72 hours. The author wrote this article themselves, and it expresses their own opinions. The author is not receiving compensation for it (other than from Seeking Alpha). The author has no business relationship with any company whose stock is mentioned in this article.