The Kinder Morgan group [(NYSE:KMI), (NYSE:KMP), (NYSE:KMR), (NYSE:EPB)] has staged a recovery of sorts, rallying over 10% over the past few weeks. The company has benefited from a shift in market sentiment, despite concerns over its future growth outlook given its IDR burden.
However, I still think that Kinder Morgan remains undervalued, especially if the news regarding the loosening of the crude oil export ban turns out to pan out.
A trial balloon?
Any oil that has been processed through a distillation tower of the kind Pioneer uses to stabilize its condensate is no longer defined as crude, and therefore is eligible for export,

Jim Hock, U.S. Commerce Department spokesman
On June 24, the WSJ reported that the Obama administration was looking for ways to export unrefined American oil for the first time in four decades. According to the report, the Commerce Department gave Pioneer Natural Resources Co (NYSE:PXD) and Enterprise Products Partners (NYSE:EPD) permission to ship condensate out to foreign buyers.
What exactly is condensate?
Basically, condensate is a very light oil often refined into jet fuel, gasoline, and gas oil. Below ground it is often in a gaseous state before condensing when pumped to the surface, hence the name.
While Kinder Morgan was not among the named companies, it is likely that the government is merely seeking a narrow approval in order to test the political waters before adopting industry wide guidelines regarding condensate exports.
Indeed, soon after this report was published, the White House backtracked, with spokesman Josh Earnest stating that "There's been no change to our policy when it comes to crude oil exports,".
Why does the U.S. need to export condensate?
To put it simply, there is too much light oil production currently in the Eagle Ford. Crude oil production in that region has skyrocketed, with much of that crude being sent over to the Gulf Coast for refining. As an example, some estimates call for Eagle Ford production to increase to over 2 million BBLs/D. Yet, demand in the region is expect to cap out at around 1.5 million BBLs/D by 2020. As a result, there is way too much light oil supply in the region, causing bottlenecks to occur all the way to Cushing.
In addition, many of these refineries use a mix of both heavy and light oils and cannot operate effectively when only using Eagle Ford feedstocks. As a result, heavy oil from Western Canada and Venezuela still needs to be imported to the region despite the massive light oil glut.
Why not export the light oil?
Unfortunately, this is not possible under U.S. Law. Back in 1973, Congress enacted legislation which restricted the export of crude oil in response to the an Arab oil embargo.
Oil producers have been trying to resolve this problem. Oil is allowed to be shipped between US ports. As an example, light oil on the East Coast can fetch prices $10 to $20 per BBL higher than in the Gulf Coast.
However, moving oil (or any other product) between U.S. ports requires the use of Jones Act vessels (vessels built in the U.S. manned by U.S. crews). Unsurprisingly due to these restrictions, the supply of Jones Act qualified vessels is limited, sending rates much higher.
Kinder Morgan has already invested heavily into moving American light oil to where it is needed
Thankfully for investors, Kinder Morgan is well ahead of the curve when it comes to the issue of crude oil exports.
Houston splitter project
In March, the company teamed up with BP Plc (NYSE:BP) to export slightly refined crude oil products (condensate), very much like the method used by Pioneer.
According to the plan, Kinder Morgan is to build out a $360 million two unit 100,000 BBLs/D "mini-refinery", referred to as condensate splitters in the industry, located along the Houston Ship Channel. In addition, the company will increase its refined production storage capacity at the Galena Park terminal by over 1.5 million barrels in order to accommodate this project.
For its part, BP will supply at least 80% of the expected capacity, locking in long-term cash flows.
Do note that these are not full-fledged refineries. Instead, these splitters merely convert the ultra light crude into its various components (naphtha, kerosene, diesel and gas oil).
This process is just enough to qualify the product as refined, hence allowing its export. Furthermore, these splitters costs are only 10% compared to a traditional refinery.
This asset is very accretive to DCF as shown by its 5.7x EBITDA multiple. In addition, the company expects demand for these sort of splitters to increase, especially if rules defining condensate exports are relaxed.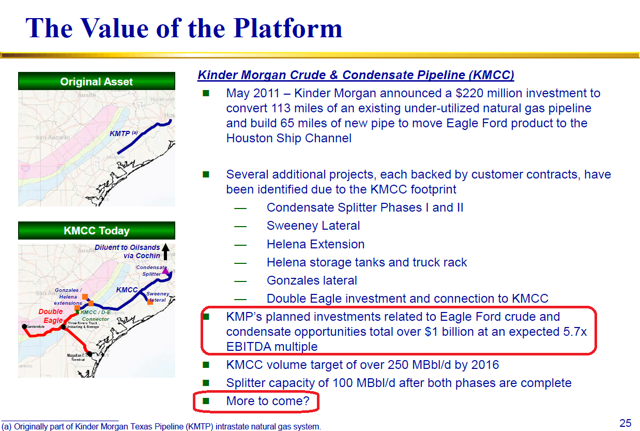 Jones Act Tankers
Besides the splitters, Kinder Morgan is also building out its fleet of Jones Act qualified vessels.
Late last year, the company bought 9 Jones Act tankers from PE firms Blackstone Group and Cerberus Capital for $962 million. The company ordered a 10th vessel on June 16 for roughly $130 million. At the moment, Kinder Morgan has 5 tankers in operation and another 5 in construction.
As I noted in a previous article, these vessels should add about $155 million in annual EBITDA. KMI is waiving some of its IDR payments for this project, allowing for the vessels to be immediately accretive to DCF. In addition, the company has signed multi-year contracts with major oil producers, greatly de-risking the project.
Rob Kurz, vice president of Kinder Morgan Terminals and president of KMP subsidiary American Petroleum Tankers noted that:
"We are delighted to build an additional tanker (supported by a long-term charter with a major shipper), which clearly demonstrates Kinder Morgan's ongoing commitment to marine transportation of crude oil, condensate and refined products in the United States domestic trade, commonly referred to as the Jones Act,"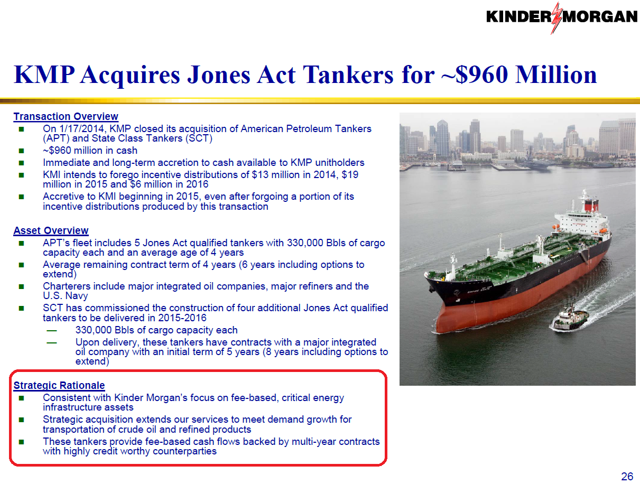 With or without exports, Kinder Morgan should win
Regardless if the U.S. starts allowing condensate exports or not, Kinder Morgan stands to benefit.
If condensate exports are allowed, prices for WTI linked crude should close the gap with Brent, likely resulting in more oil production and demand for Kinder Morgan's midstream services.
If exports remain prohibited, Kinder Morgan will still be able to skirt the ban via its splitters and profit via its Jones Act tankers.
Conclusion
Kinder Morgan clearly knows what it is doing. Transporting energy products to where it is needed is the name of the game. By offering these services, the company benefits from both increased supply and demand for oil and natural gas.
Kinder Morgan remains one of the better choices out there in the midstream segment in terms of risk/reward. With a 4.70% yield for the GP and 7% yield for the LP, you are also getting one of the higher yields.
Disclaimer: The opinions in this article are for informational purposes only and should not be construed as a recommendation to buy or sell the stocks mentioned. Please do your own due diligence before making any investment decision.
Disclosure: The author is long KMI. The author wrote this article themselves, and it expresses their own opinions. The author is not receiving compensation for it (other than from Seeking Alpha). The author has no business relationship with any company whose stock is mentioned in this article.