Usually, my portfolio has something of a wallflower quality to it. I rarely own any of the stocks talked about most widely on television, on the internet, etc. As an enthusiastic practitioner of stock screening (mainly fundamental but with a willingness to spice things up here and there with some technical factors), I more often than not wind up in names many investors never heard of. This week, though, the weekly ETF Pullback modeI introduced on Seeking Alpha has, in a sense, pulled me onto the dance floor.
Here are the current ETFs.
First Trust DJ Internet Index (NYSEARCA:FDN)
iShares S&P US Pref Stock (NYSEARCA:PFF)

Nuveen New York Qty Inc

(NUN)

PowerShares Dynamic Networking (NYSEARCA:PXQ)
PowerShares Nasdaq Internet (NASDAQ:PNQI)
This is last week's list.
As to the current list, NUN and PFF are hardly household names (except, perhaps, for those who prefer income), but the other ETFs specialize in the widely-discussed internet and networking areas and are heavily weighted in the biggest names, like Amazon (NASDAQ:AMZN), Google (NASDAQ:GOOG), Ebay (NASDAQ:EBAY), etc. etc. etc. . . . you know the drill.
The word "valuation" may come to mind, possibly in an uncomfortable way, when one hears of such stocks. I usually care about that, but not at this moment. This is a technical screen that's refreshed and traded once per week so overvaluation is no problem unless it's suddenly corrected within the next five days.
Besides, I believe the days when one can make blanket statements like "internet – overvalued" or "networking – overvalued" are long gone. Undoubtedly, some stocks in these groups are overvalued. Some stocks are undervalued. And others may or may not be reasonably valued depending on who you ask and what their valuation philosophy is (e.g. AMZN which may or may not grow into what is now a PE of 43.5 times the estimate of next year's EPS).
The bottom line, though, is that when you put a bunch of them into a pot, stir, and serve up and ETF, you wind up with just another sector ETF, or in this case, three sector ETFs, that, according to the technical model I'm using, here, have pulled back a bit after decent periods of relative strength and may be ripe for a bit of a bounce. (An explanation of the model, and performance data, are in the Appendix below.)
The only sense in which I think about these equity-oriented ETFs is to consider whether the market in the days ahead is likely to be friendly to what does, clearly seem to be a recession-averse group. For now, I'll answer in the affirmative although the market will be hard pressed to match magnitude of enthusiasm seen earlier this week.
APPENDIX
To create this model, I started with a very broad-based ETF screen I created in StockScreen123.com.
Eliminate ETFs for which volume averaged less than 10,000 shares over the past five trading days

Eliminate HOLDRs (I don't want to be bothered with the need to trade in multiples of 100 shares)

Eliminate leveraged and short ETFs (I think of these as hedging tools rather than standard ETF investments of even trading vehicles)
Then I sorted the results and select the top 5 ETFs based on the StockScreen123 ETF Rotation - Basic ranking system, which is based on the following factors:
120-day share price percent change - higher is better (15%)

1-Year Sharpe Ratio - higher is better (15%)

5-day share price percent change - lower is better (70%)
The idea of using weakness as a bullish indicator is certainly not new. But often, it's an add-on to other factors that, on the whole, emphasize strength. Here, the weakness factor is dominant, with a 70 percent weighting.
This model is designed to be re-run every week with the list being refreshed accordingly. I trade through FolioInvesting.com, where I pay a flat annual fee rather than a per-trade commission, so I don't care about the fact that turnover form week to week is often 80%-100%. If you want to follow an approach like this but do have to worry about commissions, the strategy tests reasonably well with three ETFs, or even with one. (Cutting the number of ETFs is far preferable to extending the holding period.)
Figure 1 shows the result of a StockScreen123 backtest of the strategy from 3/31/01 through 10/7/10.

Figure 1
(Click to enlarge)
Figure 2 covers the past five years, a very challenging market environment that witnessed the fizzling of many strategies that had succeeded for a long time.
Figure 2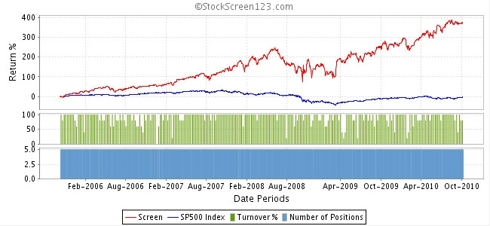 (Click to enlarge)
Disclosure: Author long FDN, PFF, NUN, PXQ and PNQI