When investors think of ways to play a strengthening market in commodities, many tend to think of shipping stocks as a way to generate big gains from high-beta stocks. Right now, that might not be a bad idea.
The PowerShares DB Commodity Index (NYSE: DBC) tracks a wide range of commodity prices and as the chart below shows, it's up 14 percent since June 1st.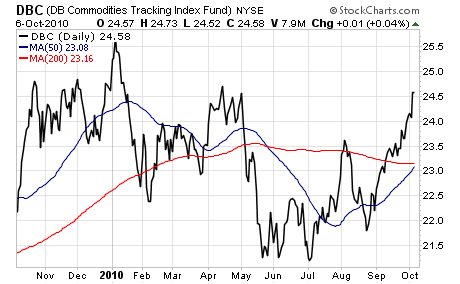 In its biannual report World Economic Outlook, the IMF appeared bullish on all commodities stating, "A balance of price risks tilted toward the upside may continue for some time". Could it be that the global crisis was a mere pause in the "commodities super-cycle", rather than an end in the trend of rising prices?
But there is another often overlooked way to play a bull market in commodities - invest in supply chain logistics companies. These firms help organize the flow of goods, including commodities - and by finding the path of least resistance keep their clients' costs down, and help them expand into new markets.
Companies are considering all options to keep their costs down. Since they can only limit risk of commodity price fluctuations through hedging strategies to a certain extent, they will most likely strive to make their supply channels more efficient.
Armstrong & Associates, a leader in supply chain market research, says global logistics costs in 2009 totaled $6.6 trillion, or 11 percent of global GDP. The market opportunity for logistics technology providers will only become more appealing if the economy strengthens throughout 2010 and 2011.
I'm not alone in this thinking - Capgemini's 2010 Global Chief Procurement Officer Survey states that 65 percent of supply chain leaders believe the economy is showing visible signs of recovery.
SciQuest, Inc. (Nasdaq: SQI) is a small-cap supply-chain company that went public in late September. The company makes efficiency software that lowers the purchasing costs between buyers and sellers. SciQuest's stock has posted a big gain in recent months, closing yesterday at $12.12, up 28 percent from its initial public offering price of $9.50.
In the first half of the year the company's net income and revenue increased 84 and 19 percent, respectively. The company has customers in 16 countries and offers its software in five different languages. The company's international exposure has allowed it to take advantage of emerging markets, which are growing at faster rates than developed countries.
Soon another supply chain logistics company will hit the exchanges. LINC Logistics Company (LLGX) sells packaging and transportation monitoring software and is expected to go public this month. The Michigan-based company expects to raise $138 million by offering 9.2 million shares priced between $14 and $16 a share.
In the 13 weeks ended April 3, LINC Logistics' revenue grew 33 percent year-over-year. What's more, over the same time period the company's net income grew a whopping 361 percent.
In the 26 weeks ended July 3, 68 percent of LINC Logistics' revenue came from Ford Motor Co. (NYSE: F), General Motors (NYSE: GM), and Chrysler - so clearly the company has a strong clientele base in the automotive industry. With this high concentration of revenue, it's good to know that the auto industry is faring well, and the firm expects net income to grow at faster rates as the economy recovers.
As we've learned from previous IPOs, companies tend to go public when there is a strong outlook for their industry. Is it a coincidence that SciQuest and LINC Logistics will go public within 20 days of each other? I think not. The need for companies to find more efficient business solutions in order to keep costs down is leading to greater demand for supply chain solutions like those offered by SciQuest and LINC Logistics.
Rising commodity prices tend to signal a recovering economy, and we're seeing that now. But look beyond the traditional shipping companies as a way to play this recovery and check out supply chain logistics stocks. Those mentioned here might not have a particular focus in the raw commodity supply chain, but as a group they will likely be a good place to invest as the pace of trade picks up.