If you are looking for leverage to a rising gold price (NYSEARCA:GLD) then I would stick to the junior miners (NYSEARCA:GDXJ) over the majors. Many of the large miners (NYSEARCA:GDX) have had to take huge write downs on some poor decisions in questionable jurisdictions. However, there are a few junior producers and explorers in North America in mining friendly jurisdictions with improving balance sheets and better growth profiles. I believe they are superior bets.
The investment community is beginning to realize gold and silver (NYSEARCA:SLV) may be on the verge of a huge move higher. Recently we witnessed the biggest daily gain in more than six months. These sorts of moves after a three year base may be indicating short covering combined with major accumulation. The big money value investors may be adding miners to their portfolio.
Why is capital finally entering the junior miners? Investors are growing increasingly concerned with geopolitical tensions in the Middle East and Eastern Europe.
Investors need to pick stocks carefully in the junior mining space and research the asset, share structure, balance sheet, jurisdiction, growth profile and investigate to see if management is ethical with proven track records.
It's not easy finding the winners which can increase possibly 500% or more. Investing in junior miners is like Babe Ruth hitting. He was the home run king but also had a lot of strikeouts.
There are great rewards but also huge risks in the mining sector. In the junior mining space, the more homework you do the better odds of hitting a home run and not striking out.
I have always focused on Nevada which is safe and mining friendly. According to the Fraser Institute, Nevada is the second best state to mine in the United States following Wyoming.
The two biggest gold producers Newmont (NYSE:NEM) and Barrick (NYSE:ABX) make a ton of profit there and are looking for new resources in Nevada rather than Africa or South America. Remember Nevada produces 6% of the world's gold. That could climb higher as new discoveries are made and as the gold price dropped.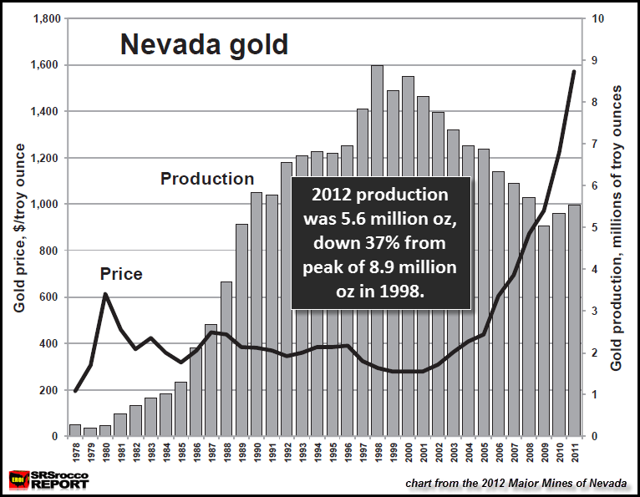 Click to enlarge
During this gold correction over the past three years, miners had to focus on lower cost targets. For Barrick and Newmont, their Nevada gold production has some of the lowest cash costs in the world and are much less risky politically than mines in other locations.
Newmont paid a high price for Fronteer Gold back in 2011, which I owned and recommended to my subscribers back in 2010 for its Long Canyon deposit. Discoveries in Nevada fetch a high premium compared to assets in more hostile places. Maybe it's time to pay attention to junior miners making new discoveries in Nevada or are emerging low cost gold producers. Avoid the large bulk tonnage producers or underground developers as this is more costly with longer payback periods. I am focusing on near surface, open pit, heap leach amenable and high grade oxide discoveries in Nevada.
Disclosure: The author has no positions in any stocks mentioned, and no plans to initiate any positions within the next 72 hours. The author wrote this article themselves, and it expresses their own opinions. The author is not receiving compensation for it. The author has no business relationship with any company whose stock is mentioned in this article.