Royal Dutch Shell (RDS.A, RDS.B) announced the divestment of 18.6% of its stake in Woodside Petroleum (OTCPK:WOPEY, OTCPK:WOPEF) for $5.7 billion (source: Reuters). After the divestment, Shell holds only a 4.5% stake in Woodside Petroleum. Unlike SA contributor The Value Investor argued in this article, I believe that Royal Dutch Shell is a very appealing stock, especially after the divestment of Woodside Petroleum. In this article, I will argue that the divestment of Woodside Petroleum is another confirmation that Royal Dutch Shell's new CEO, Mr. Ben van Beurden, is determined to execute Shell's new strategy. Therefore, investors should expect Shell's underlying profit to recover faster than expected.
Shell's new strategy
Shell adopted a new strategy in January of this year. According to this press release, Shell will become more disciplined in its capital expenditure and the company will divest around $15 billion of its assets in the period 2014-2015. For more information regarding Shell's strategy, compared to another oil major Chevron (NYSE:CVX), see my previous article: "Shell Vs. Chevron: An Analysis Of 2 Completely Different Strategies." In this article, I describe the difference between Shell's strategy and Chevron's strategy.
Shell managed to complete almost 75% of its $15 billion divestment program within five months after the announcement of the new strategy in January. Next to the $5.7 billion divestment of Woodside Petroleum, Shell sold their Eagle Ford acreage assets to Sanchez Energy (NYSE:SN), the Australian downstream business to Vitol, the Italian downstream business to Kuwait Petroleum, a 23% stake in Brazilian offshore assets to Qatar Petroleum and a Wheatstone LNG stake to Kuwait Foreign Petroleum for $11.08 billion total (see graph below).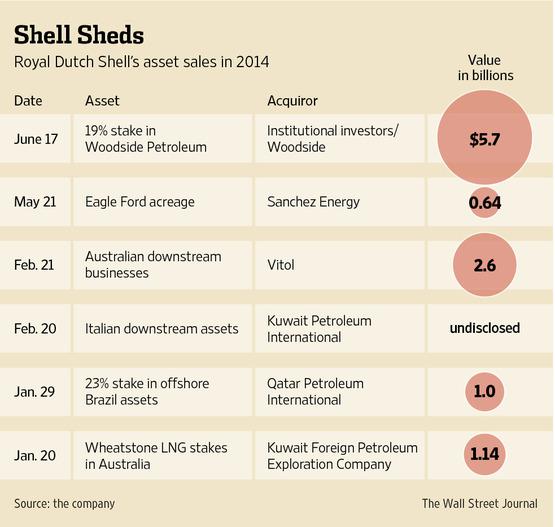 Source: Wall Street Journal
By selling its non-core assets, Shell achieves a better capital efficiency and strengthens its operation performance. Low-yielding assets are being sold in order to invest in assets that provide a better return for the company and its investors. Like I concluded in my previous article, I am confident that this is the right strategy for Shell going forward.
Investors seem happy about the recent developments as well. Shell's shares surged 15% this year and the shares reached a 52-week high this week. Obviously, the faster than expected execution of the company's strategy is one of the important factors behind this recovery.
Conclusion
The divestment of 18.6% of Shell's stake in Woodside Petroleum is very positive for investors, because the deal shows investors once again that the new CEO is more than capable of executing the new strategy. Shell executes its new strategy faster than expected. As a result, the company's earnings should recover faster than expected as well. Therefore, I conclude that Shell is even more appealing after the Woodside divestment.
Disclosure: The author is long RDS.A. The author wrote this article themselves, and it expresses their own opinions. The author is not receiving compensation for it (other than from Seeking Alpha). The author has no business relationship with any company whose stock is mentioned in this article.
Editor's Note: This article discusses one or more securities that do not trade on a major U.S. exchange. Please be aware of the risks associated with these stocks.