I don't really want to harangue Amarin (NASDAQ:AMRN) too much. The company and its shareholders have gone through enough since the company's FDA approval of Vascepa years ago. The company, after failing in its appeal for approval of its ANCHOR indication to increase its patient population, was derailed in a big way. The company's CEO resigned, there were shareholder questions that needed answering, and there was seemingly little-to-no sense of which direction the company was going to be heading in next.
Although in my last article, I did spend a fair amount of time commending the company for their partnership with Japan's Kowa Pharmaceuticals - a much needed mutually beneficial relationship that could help cut costs while helping Amarin monetize Vascepa:
The deal is going to require Amarin to increase the number of its sales of Vascepa, but is also going to leverage Kowa's sales force, almost tripling the number of sales people on the ground to promote Vascepa without costing Amarin an arm and a leg. And, of course, Kowa will be getting a cut of the sales of the product. It's your basic "mutually beneficial" business partnership, right out of your entry level "Business 101" class. Nothing wrong with that.
Since then, Big Alpha Research has done well to point out that the partnership with Kowa has been off to a slow start. I read this outstanding piece and couldn't help but wonder how anyone could be anything but skeptical about Amarin's serious future prospects - assuming they continue to go the "one drug" route and stick with Vascepa.
Management reported quarter-on-quarter scripts of 47,500 in Q2 to 74,500 in Q3 and then 91,000 in Q4. The growth has tapered from 58% to 22%, and now on a weekly average basis, this growth is only 3%.

Amarin announced that the company had entered into a Co-Promotion Agreement with Kowa Pharmaceuticals on March 31, 2014, and Kowa Pharmaceuticals' sales force started promotional efforts in May. I had initially expected a lot from Amarin's initiative and felt this was a good attempt at driving sales.

However, as of June 6, the TRx for the week was 7,000 and NRx was 2,900. A week ago, the figures were 7,600 TRx and 3,500 NRx. Both weeks' figures are still falling short of the growth needed to spur the company on.
This is what the chart looks like if you've been an Amarin investor for the last two years. Needless to say, those that are still hanging onto a thread of hope didn't deserve the hilarious press release that the company put out a couple of days ago.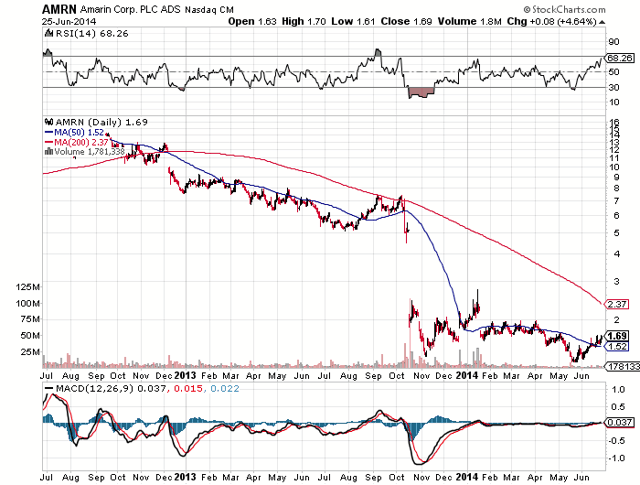 Many Amarin executives sold plenty of shares around $15/share. Now, the company is onto a different era, with a different CEO, while it still tries to monetize sales of its EPA pill, Vascepa.
What shareholders want now is stability, credibility, and a common sense based plan to handle expenses and make it possible for the company to somehow remain stable on its own; without having to further dilute shareholders by doing an offering.
What shareholders got was Rick Harrison, the lovable outspoken pawn broker from the B-List TV show Pawn Stars:
Now, don't get me wrong - I like Rick Harrison. He's done some tremendously nice things since achieving his B-list celebrity status.
But, what Amarin needs is real world solutions to their very real cash flow and balance sheet problems. Imagine my surprise when I read the following press release in bed a couple of days ago and laughed so hard that I woke my wife:
Amarin Corporation, plc, today announced a national partnership with Rick Harrison, star of the hit television show "Pawn Stars®," in launching Lower My Trigs™, a national awareness campaign about seeking treatment for very high triglycerides (VHTG) (> 500 mg/dL), a problem faced by up to four million Americans. Amarin has engaged Harrison as a spokesperson for the campaign to inform patients and family members, their physicians and other health care professionals about the health risks of very high triglycerides and the importance of patients discussing available treatment options with their physician.

Rick Harrison, known for his keen assessment of the value of rare and unique items - from 16th century manuscripts to Elvis memorabilia - shares his journey from diagnosis to treatment, including his road to learning more about treatment myths and physician-supervised options. Rick provides his story in a video at www.lowermytrigs.com .

"A pawn store's success is based on finding out the real story about any item before making a decision - to lower my risk. When it comes to my own health, I apply that same wisdom. So, I did my research, and was surprised to learn that there are hundreds of dietary fish oil supplements and most of these products contain DHA which can actually raise bad cholesterol in patients like me," shared Rick Harrison. "I realized that I needed to work with a doctor who understood the differences."

Rick's physician recommended that he exercise, diet and take Vascepa® (icosapent ethyl) capsules. Vascepa is available by prescription only and there is no other product available that contains only the omega-3 fatty acid, EPA. EPA-only Vascepa is also the only omega-3 prescription product approved for use by the FDA in adult patients with triglyceride levels of at least 500 mg/dL that is not associated with increases in bad cholesterol.
I recently wrote a piece about how Dr. Oz was in hot water for selling "miracle" diet pills. Additionally, I alluded to the fact that daytime television watchers/radio listeners were likely the target group of Herbalife "work at home" advertisements, as well. In this case, it looks like Amarin is targeting the same group of individuals to appeal to - I guess.
Could this be somehow linked to the fact that stay-at-home moms and dads are more likely to be obese? Mr. Harrison's program is often on during the daytime now that it is being re-run. Is this Amarin's idea of targeted advertising?
Those of you that have watched the show like I have: imagine you're in Rick's shop, and you come to the counter offering to sell him a share in Amarin for $1.60. What would Rick's offer likely be? Whatever you came up with, that's likely closer to the realistic value of what Amarin is worth at these levels.
Unfortunately, this press push is just smoke and mirrors, and shouldn't give anyone speculative hope about Amarin's future. The company's future is going to be based on tangible sales of Vascepa while maintaining a business model that allows them to try and get to 2017's REDUCE-IT study end - where they can then look again to getting ANCHOR approval. Long story short, there's nothing to get excited about going on at Amarin until at least 2017, it would seem.
Not even Rick Harrison. Sorry, Rick. We still love you.
Disclosure: The author has no positions in any stocks mentioned, and no plans to initiate any positions within the next 72 hours. The author wrote this article themselves, and it expresses their own opinions. The author is not receiving compensation for it (other than from Seeking Alpha). The author has no business relationship with any company whose stock is mentioned in this article.