Last year Citron Research wrote about Apollo Group (NASDAQ:APOL), predicting the inevitability of forthcoming regulation to curb their extremely aggressive sales practices. The shareholders didn't listen, and analysts raised their targets. But in one year the largest private educator in the country saw its stock cut in half.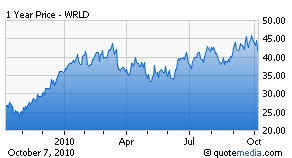 Also last year Citron warned about holding Amedisys (NASDAQ:AMED) in light of forthcoming regulation of their overly aggressive Medicare billing practices. The shareholders didn't want to listen and analysts raised their targets. But the government stepped in and the stock price of the largest provider of home healthcare in the county is down 50% from its highs.
Citron has written numerous stories about government regulation over the years and ALL of them have come to fruition except one — whose time has now come. Recently the U.S. Government established the Consumer Financial Protection Agency. Picked to head it is none other but outspoken consumer advocate Elizabeth Warren.
The issue for World Acceptance (NASDAQ:WRLD) is eerily similar to the fate of subprime mortgage originator New Century, whose model depended on home prices rising every year for the company to stay in business. World needs to be able to refinance its portfolio several times per year to roll over borrowers who can't pay. When that becomes a regulated activity, the house of cards collapses.
This is a major concern to World Acceptance: They've said so!
For those of you who are new to the story, World Acceptance is the most sub-prime of all sub-prime lenders — it lends small dollar amounts to the U.S.'s most non-creditworthy under the umbrella of "installment" lending, as contrasted to "payday lending," thereby skirting many regulations now curbing excesses in the latter industry. Still, its business model is only legal in the eleven (mostly southeastern) states where they currently operate. A staggering 84.7% of WRLD loans are made to existing or former customers – reflecting a practice of relentlessly "flipping" loans. Unlike many payday loans, these loans do not get repaid and then a new loan is created. Instead…they just get rolled over... and over... and over.
With a $563 million dollar book of receivables, WRLD is one piece of regulation from being a company of the past… Don't listen to us, just read it from the company's own 10-K filings:
"Federal legislative or regulatory proposals, initiatives, actions or changes that are adverse to our operations or result in adverse regulatory proceedings, or our failure to comply with existing or future federal laws and regulations, could force us to modify, suspend or cease part or all of our nationwide operations."

"It is impossible to predict the effect that the creation of such an unprecedented federal regulator will have on the Company's operations and on access to consumer credit in general; however, there can be no assurance that any such regulatory entity would not exercise its powers in a manner that will, either directly or indirectly, have a material and adverse effect on, or eliminate altogether, the Company's ability to operate its business profitably"
And if you think that is "just SEC disclosure talk" …go the website of WRLD's trade association where the CEO sits on the board. As they rallied against the CFPA, they expressed their concern, noting:
"The creation of a new federal agency, in addition to the state agencies we currently comply with, will restrict what installment lenders can charge for our services and could well force us out of business altogether. (www.nilaonline.org)
Let's keep this simple and describe the cleaning up of an industry through government intervention. Citron will compare the stated policy positions of Mrs. Warren to the business practices of World Acceptance. You decide for yourself.
In Her Own Words
Last year, Mrs. Warren expressed her outrage for the problems caused by companies like WRLD in the following piece:
" But there is an even bigger change in the wind: regulating the non-banks… Non-bank institutions were active participants in the race to the bottom among lenders. From subprime mortgage loans to small dollar loans, they showed how to wring high fees and staggering interest rates out of consumer lending. Their fine-print contracts, and new tricks and traps, transformed the market."
In her first order of business this month, Elizabeth Warren vowed to end financial "tricks and traps." Uh oh - you mean the same traps that keep 80% of their customers in the cycle of debt? And the same tricks that allow WRLD to operate in many states that outlaw payday lending.
Elizabeth Warren has also vowed to keeping credit simple.
This does not fare well for a company that issues high interest rate subprime loans based on the rule of 78s. Try explaining WRLD's interest formula to its customers.
u = f * k(k+1)/n(n+1)

u = unearned interest; f = total agreed finance charges; k = number of months paying off early; n = total term of loan in months
So who is this law really protecting? Here is a sample loan prepared by WRLD that will hopefully become a thing of the past. This was pulled from bankruptcy court filings.
In this loan, the customer thought he was just paying 150% interest - but let's look at what really happened. A guy walks into a World Finance, owing them $138. He gets rolled over into a new loan and walks out of the office with $60 in his pocket while he pays $80 in fees alone on that same day.
A recent White House press release states:

The new law creates a chance to put a tough cop on the beat and provide real accountability and oversight of the consumer credit market. The time for hiding tricks and traps in the fine print is over.
Would that refer to something resembling the trick and the trap of this loan? Beyond all of the extra insurance that was bought (just an add on fee), what is most interesting about this loan is that the borrower filed for bankruptcy just weeks later. Notice how on this loan, the borrower paid $279 of just add on fees (non APR) on that date — all to walk out the door with $532.
In the opinion of Citron, it is noteworthy that the analysts covering this stock have not said one word about the regulatory environment and its anticipated impact on the sustainability of WRLD's business.
Military Lending
As mentioned in an earlier report, there is one aspect of WRLD's business that Citron believes is in most peril. While the government has made it illegal for any payday lender to lend money to members of the military with more than 36% APR, WRLD has exploited the loophole by hiding under "installment loans" and not payday loans, meanwhile operating offices surrounding military bases that focus exclusively on military lending. Citron believes that these loans are of their "highest quality" due to the direct accountability of the customer.
Elizabeth Warren has previously stated her disdain for this practice by stating:
"Lenders ring military bases because military families are vulnerable. And as their vulnerability increases, the payday lenders and other predators close in tighter."

The Big Picture
Due to the leverage inherent in World's financial structure, apparently small tweaks to the regulatory environment which seek to curb business practices such as :
Military lending
Junk fees such as credit insurance
Interest calculations
Curbs on "loan flipping"
Curbs on sham collateralizations
… could have dramatic effects on its credit quality and earnings simultaneously.
The cumulative effects of these provisions will curb World's ability to flip loans, both in terms of maximum loan size, and number of loans outstanding to a borrower. It is Citron's opinion that these impacts are already threatening the profitability of World's operations in Illinois, to the point where its continued presence in the state is at the very least an open question.
Conclusion
This current Citron report explores changes in the federal regulatory climate. There are MANY more issues that are not being discussed, including but not limited to:
The change in the many state laws including changes just enacted in Illinois.
The elimination of the Income Tax Refund Anticipation Loan Business of WRLD.
The future of installment lending in Mexico
How many loans actually have to default to bring the company in violation of their new credit agreement, which in the opinion of Citron is only as good as the legislative status quo
It is impossible to state when and what regulation will be enacted in the near future, but what is now clear is that by establishing the CFPA and appointing Mrs.Warren to head it, the Obama Administration has exercised its mandate to change the current laws of predatory consumer lending. Similarly, while they may move slowly, the few states that WRLD is allowed to operate in are beginning to understand the lending practices fostered by the loopholes in their own lending laws.