Ford Motor (NYSE:F) Business Overview (Source: S&P Capital IQ)
Ford Motor Company develops, manufactures, distributes, and services vehicles, parts, and accessories worldwide. The company operates through two sectors, Automotive and Financial Services. The Automotive sector offers vehicles primarily under the Ford and Lincoln brand names. It markets cars, utilities, trucks, service parts, and accessories through distributors and dealers in North America, South America, Europe, Turkey, Russia, and the Asia Pacific region. This sector also sells vehicles to dealers for sale to fleet customers, including commercial fleet customers, daily rental car companies, and governments, as well as provides maintenance and repair services. Ford Motor Company was founded in 1903 and is based in Dearborn, Michigan.
Parsimony Rating
The core of our investment philosophy is to buy great stocks at reasonable prices and we use a combination of fundamental and technical analysis to determine which stocks to buy and when to buy them.
We created our ranking system, which ranks over 750 U.S. dividend stocks on a monthly basis, to help us find the best dividend stocks. In our experience, if you rank all of the stocks in a universe against their peers on a consistent basis, it becomes clear which companies are the strongest and which offer the best investment opportunities going forward. Our composite rating is derived by ranking each stock based on 28 key fundamental and technical data points in five sub-rating categories.
The table below for Ford highlights some of the key data points that we look at when determining our rating.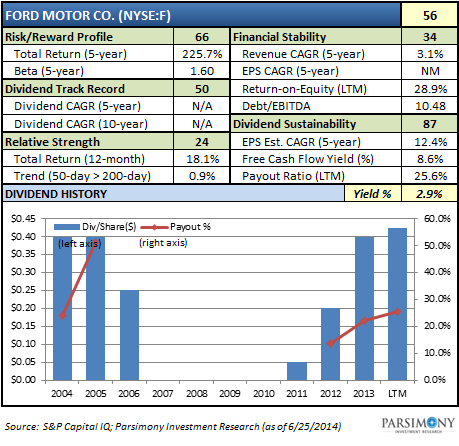 It's no secret that the recent recession took a toll on the auto industry. General Motors (NYSE:GM) was forced into bankruptcy and Ford cut its dividend completely to preserve cash (see chart above).
That said, Ford has aggressively restructured to operate profitably again at the current demand and changing model mix. In fact, Q1 2014 marked Ford's 19th consecutive profitable quarter since restructuring.
Ford is what we like to call a "Dividend in the Rough." The company clearly does not have the track record or stability of a stock on our All-Aristocrat Team, but the recent trends are good and it's probably safe for dividend investors to consider the stock for their portfolio again.
As shown in the table above, Ford currently has an average Parsimony rating of 56 as the stock rates poorly for Financial Stability and Dividend Track Record (for obvious reasons).
However, Ford has a very high rating for Dividend Sustainability (87), which gives us comfort that the recent dividend trend will continue. The company reinstated its dividend in Q1 2012 and it has raised its dividend twice since then (see chart below).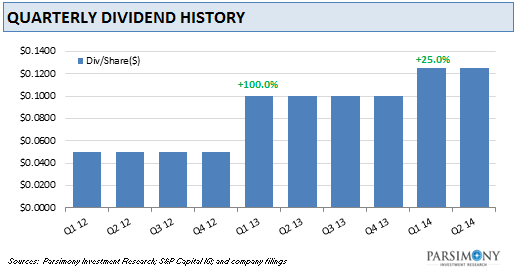 Consensus estimates show that Ford is expected to grow earnings at a compound annual rate of 12% over the next 5 years, and future dividend hikes are likely. In addition, the company has a very low payout ratio (25.6%), so there is plenty of room for increased payouts.
Is Ford In The "Buy Zone"?
We use our rating system to determine WHICH stocks to buy and we use our "Buy Zone" reports to determine WHEN to buy them. We focus on four key levels of support when determining a "Buy Zone":
Valuation - Support levels based on historical valuation multiples.
Technical - Support from short and long-term trend lines (i.e., 10-week and 40-week moving average).
Volatility - Target correction levels based on historical volatility and maximum draw down.
Yield - Support levels based on forward dividend yield.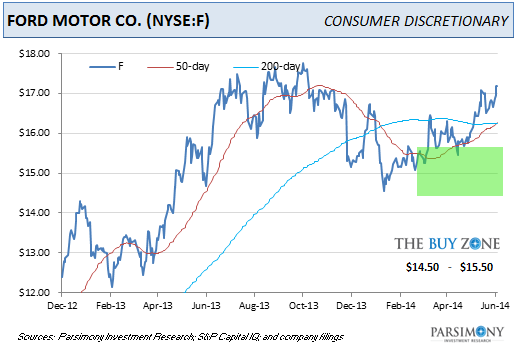 Ford is up about 20% in 2014 and it is currently trading for 10.7x trailing earnings.
Ford currently trades 11.0% above the top range of its Buy Zone. Ideally, we would like to purchase Ford under $15.50 (which would equate to a forward P/E ratio around 8.0x and a forward yield around 3.25%).
Disclosure: The author has no positions in any stocks mentioned, and no plans to initiate any positions within the next 72 hours. The author wrote this article themselves, and it expresses their own opinions. The author is not receiving compensation for it (other than from Seeking Alpha). The author has no business relationship with any company whose stock is mentioned in this article.