Analysts here at SeekingAlpha seem to be on the upswing about DryShips (NASDAQ:DRYS) and I tend to agree at these levels. The company's new contract for Ocean Rig (NASDAQ:ORIG) that goes into effect in 2015 is the first in what will hopefully be a long line of promising headlines that come forward for DryShips this year. For those unfamiliar with dry shipping, revenues for many of the major companies are directly predicated on how the Baltic Dry Index prices shipping rates. Today, Friday, rates continue to look gloomy, as they have since the 07-08 crisis nearly wiped out the dry shipping sector: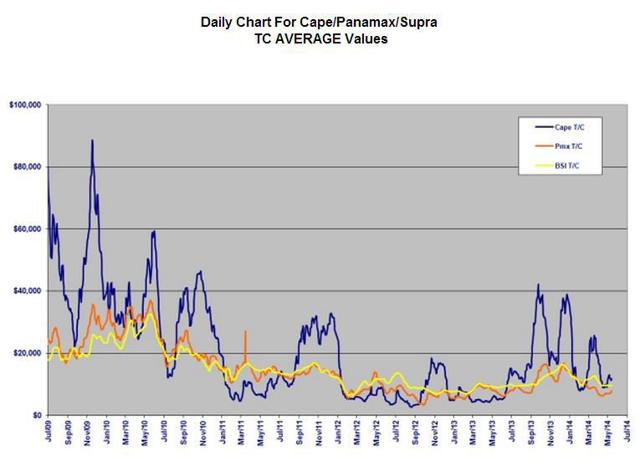 In fact, Genco Shipping and Trading (GNKOQ) recently had to file for bankruptcy (again) because of its failure to be able to operate with the depressed rates. DryShips, through suring up their balance sheet through some (dilutive) offerings over the last couple of years, have managed to somewhat "right their ship". In addition, often scrutinized CEO George Economou has been flying under the radar and staying out of the headlines as the company pushes forward through another tough year of poor spot rates.
But, this piece is about some coming hope for dry shipping spot rates.
My last piece on dry shipping, out just a couple of days ago, makes the case for why you must own Baltic Trading (NYSE:BALT) if you're also going to own DryShips . The reasoning behind the article, put succinctly, is that capesize rates seem to have the biggest chance of recovery. DryShips capesize vessels are already contracted out at fixed rates, but Baltic has exposure to capesize spot rates with its four vessels. You can read the full piece using the link above.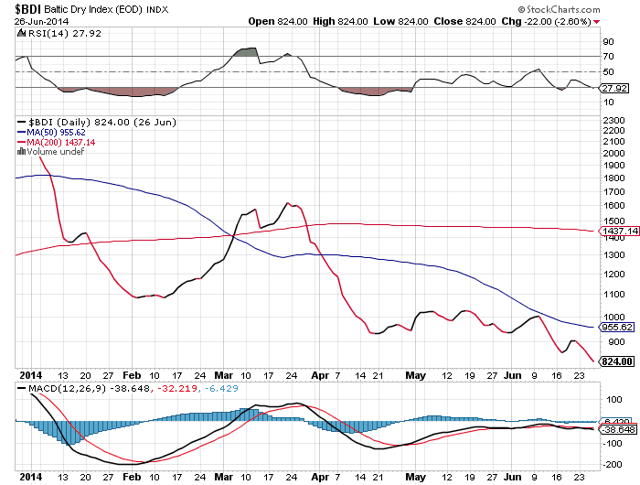 So, for DryShips, it's going to take all shipping spot rates to climb for the company to realize the benefits in its financials. And, that's exactly what could be on its way.
This article, passed along to me by one of my investing partners, in the Hellenic Shipping News seems to allude that a shipping rate spike could be on its way:
It may be long overdue, but the rebound of the dry bulk market could be just a few months away. In its latest weekly report, shipbroker Intermodal, said that the depressed demand for coal and iron ore, coupled with a lower than usual grain season, are the main factors behind today's subdued dry bulk market level, with Panamaxes experiencing their lowest rates of the past 20 months.

The shipbroker also noted that the news regarding China's economy could be supportive of such a development. According to Intermodal, "during his recent visit in London, China's Premier, Li Keqiang, announced that China's economy, the world's second largest after the US, will not face a hard landing and will maintain a medium/high growth for the long run! Beijing has set a minimum 7.5% annual growth. Mr Li, refrained from rolling out any strong stimulus package to support his government's target, and instead said that policy will focus more on "targeted measures" to secure and ensure a sustained rate in the future. The Chinese economy expanded 7.4% in the first quarter of the year, down from an increase of 7.7% in the fourth quarter of last year. IMF's forecast for 2015 is around 7% which is lower than the government's long run target of 7.5%, so it will be interesting to see what Beijing will do to contradict the "Cassandras".

According to SnP broker, Yannis Olziersky, "during the first half of the year, iron ore imports by China fell largely due to seasonality. Additionally to this, stockpiles at Chinese terminals, which have provided a safety valve in an oversupplied market by restocking the commodity, are currently very close to cover their physical storage capacity, hence further restocking can only be done to a limited extent. These facts, together with the "colossal" supply of tonnage, have put pressure on rates for capes and panamaxes".

Olziersky added that "on the other hand, iron ore trade in the second half of the year and especially fourth quarter is expected to pick up due to the seasonality of the trade. This together with the fact that shipments out of Brazil have yet to break out of their previous highs and have only recently shown signs of strength, can provide a great support for rates. This is also important because shipments from Brazil take much longer to deliver than shipments from Australia, therefore adding more tonne-miles to the mix. So if iron ore exports out of Brazil do rise out of their sideways trend for 2014, a much larger number of Capesize and Panamax vessels should be demanded over the long term, something which should eventually lead to a spike".
The fact that this prediction asserts that the spike is going to hit panamax, as well as capesize, means that DryShips could stand to benefit substantially from it. DryShips currently has 28 panamax vessels - that accounts for more than half of the company's entire fleet.
While DryShips is my preferred play for dry shipping, exposure to other dry shippers like Diana Shipping (NYSE:DSX) and Baltic Trading can help diversify a portfolio that wants exposure to dry shipping.
As the summer begins, I remain bullish on DryShips prospects and argue that we could be potentially setting up for another end of the year run akin to the one that we saw at the end of 2013.
Stay thirsty, DryShips bulls. Stay thirsty.
Disclosure: The author has no positions in any stocks mentioned, and no plans to initiate any positions within the next 72 hours. The author wrote this article themselves, and it expresses their own opinions. The author is not receiving compensation for it (other than from Seeking Alpha). The author has no business relationship with any company whose stock is mentioned in this article.