The purpose of this article is to take a look at the future of Apple's (NASDAQ:AAPL) Mac product line, and come up with a range estimate of its potential revenue and incremental earnings contribution from such additional revenue in 5 years. To do this, I first briefly review Apple's competitive strategy. Second, I summarize industry data and Mac product line data to quantify Mac's success in recent years. Finally, I estimate Mac' s incremental revenue and EPS contribution potential in 2018 based on observed trends.
Apple's Business Model and Strategy
Simply put, Apple business model is built on several key pillars, including:
Make best products generating highest quality user experience;
Build an ecosystem around the products that also translates into highest user productivity, stickiness, and enjoyment;
Increasingly integrate ecosystems of its various product lines such as iPhone, iPad, Mac, and Apple TV;
Maintain control on hardware, OS, and the direction of the ecosystem, which in turn enables crafting of better user experiences faster;
Focus on brand, reliability and elegance;
Build out retail store network that not only promotes sales but also acts as service and education centers (which further help sales);
Charge prices somewhat higher than competition but provide a better overall experience and user value;
Increasingly focus on enterprise customers;
Develop new product categories.
This is a virtuous cycle, self-reinforcing type business model, and the company's strategy has been to consistently strengthen and improve the elements of this business model so that this virtuous cycle gets even stronger, as the company is under attack by multiple global competitors.
The Effect of Apple's Competitive Strategy on Mac
As Apple has been strengthening the components of its business model, as described above, the market share of Mac in the U.S. and globally has been going up. Specifically according to Gartner, Mac market share increased from 5.1% in 4Q 2006 to 12.7% in 2013, whereas its global ex-U.S. market share went from 1.15% to 3.68% over the same period (see Exhibits 1 and 2).
This has been an exceptional performance by the Mac division despite well publicized in the press challenging overall PC market. A more qualitative sign of the strategy working with respect to Mac division, is the so called Halo effect, to which the management has referred to multiple times. Halo affect means consumers purchasing multiple different Apple devices after they have purchased one. For example, once a consumer gets introduced to iPhone, she may then decide to also purchase Mac, or vice versa.
Exhibit 1 - Estimated Mac Market Share Growth in the U.S.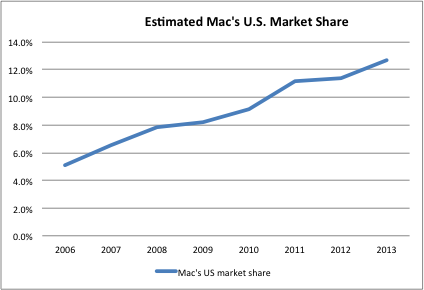 Source: Gartner, Apple 10Qs and 10Ks, image created by the author.
Exhibit 2 - Estimated Mac Market Share Growth Globally Ex-U.S.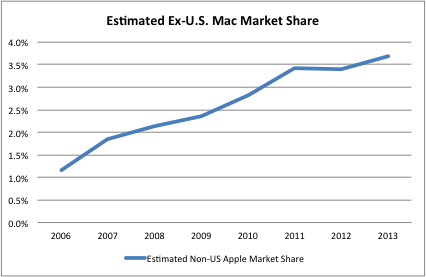 Source: Gartner, Apple 10Qs and 10Ks, image created by the author.
The market share gains led to meaningful increases in Mac unit volume. The volume growth slowdown over the past two years was likely driven by overall PC market weakness (see Exhibits 3, 4, 5 and 6), as well as other factors such as onslaught of competition and product shortages at the end of 2012. That said, situation such as this happened before for a two-year period between 2007 and 2008, after which growth took off again.
Exhibit 3 - Total Mac Unit Sales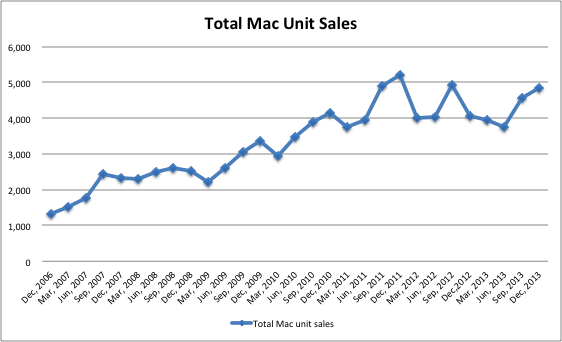 Source: Apple 10Qs and 10Ks; image created by the author.
Exhibit 4 - Mac Average Selling Prices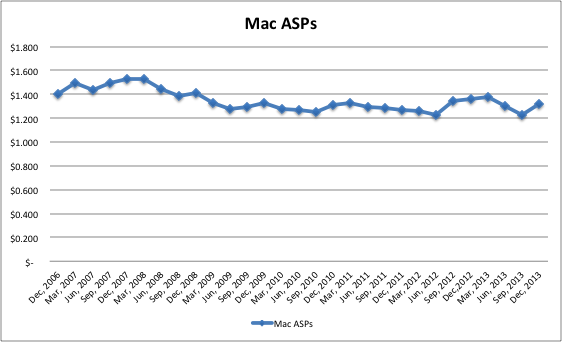 Source: Apple's 10Qs and 10Ks; image created by the author.
Exhibit 5 - Estimated Global Ex-U.S. PC Shipments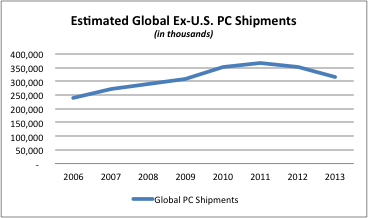 Source: Gartner; image created by the author.
Exhibit 6 - Estimated U.S. PC Shipments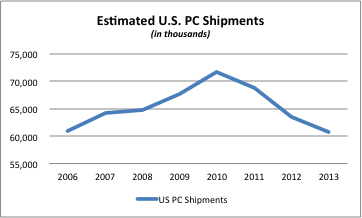 Source: Gartner; image created by the author.
Despite rather difficult PC environment, Mac has done quite well due to its market share gains, while also stemming ASP decline since 2009. Therefore, key question here is, how will Mac market share dynamic develop say over the next 5 years? Will it continue to gain market share, and if so, by how much?
Mac Incremental Revenue and EPS Potential in 2018
The factors that drove Mac market share gains in the past 7 years will likely continue to drive market share gains in the future. In fact, given the new Mac operating system Yosemite, which focuses on better integrating iPhone, iPad and Mac experience, it is possible that Mac market share gains may actually accelerate. Furthermore, computer operating systems have a tendency of gaining momentum, as their adoption spreads. That said, I only explore two scenarios: Scenario A, Mac continues to take U.S. and global ex-U.S. PC shipment market share at a historical average annual gain of 1.09% and 0.36% of the market, respectively; and Scenario B, Mac's gain of the U.S. and global ex-U.S. PC market share will be at a similar rate over the next 5-year period as it was in the past 5-year period, whereby U.S. market share increased 62% and global ex-US increased 72% from 2008 to 2013 (see Exhibit 7).
Next step to estimating incremental Mac revenue is to estimate global ex-U.S. and U.S. PC shipments in 2018. I do not have any particular view as to PC unit volume sales in 2018. I heard arguments that there will be a replacement cycle getting started and help unit volume. On the other hand, tablets are displacing PCs to a certain degree, and will likely continue to displace a portion of the PC demand. Finally, as more people are lifted from poverty globally, global volumes could be helped. All in all, for simplicity reasons, I will assume that the unit volume of PC sales globally ex-U.S. and in the U.S. will be the same as it was in 2013, or 255.3MM and 60.6MM, respectively (see Exhibit 7).
Exhibit 7 - Derivation of Mac Incremental Revenue in 2018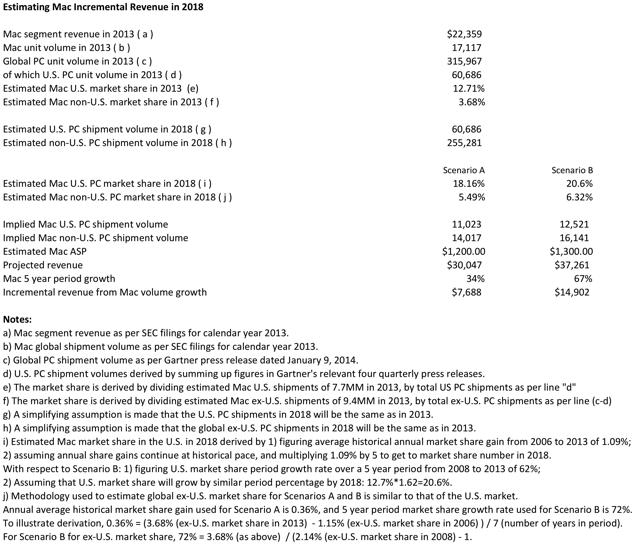 Source: Analysis by the author.
Having estimated market shares in 2018 as per Exhibit 7 above, the next step in estimating Mac incremental revenue in 2018 is to estimate average selling price (NYSE:ASP) of Mac devices. Based on the historical ASP graph shown on Exhibit 4, ASPs ranged from $1,200 to $1,400 since 2009. Therefore, using the lower end of the range, $1,200 appears to be reasonable, if not conservative. In more optimistic Scenario B, I also explore using ASP of $1,300, which is the middle of the range.
To sum it all up, Mac could generate incremental revenue run rate of $7.7BN to $14.9BN according to Scenario A and B, respectively. These figures would mean a 34% to 67% growth of Mac revenue in 5 years, to an annual total Mac revenue run rate of $30BN to $37BN, respectively.
Potential EPS Impact in 2018
I do not believe the company breaks out separately Mac's gross margin, therefore I am using an estimate developed by Horace Dediu of Asymco, which is 26%. The figure appears to be reasonable, particularly in light of the fact that it is significantly below Apple's overall gross margin range of 38% to 39%, which is skewed higher by higher gross margin iPhones.
Exhibit 8 - Estimated Incremental EPS Driven By Incremental Mac Revenue in 2018

Source: Analysis by the author.
Based on Exhibit 8, Mac revenue may grow by over 34% to $30BN over the next 5-year period. According to a more optimistic Scenario B, revenue could grow by as much as 67% from 2013 to over $37BN in 2018. Incremental Mac revenues in 2018 could generate an incremental EPS of $0.22 on a run rate basis according to Scenario A, and EPS of $0.43 according to Scenario B.
Risks
There are clearly a multitude of risks that may prevent the Mac from getting to the numbers discussed in this article. These include competition becoming more successful, potential missteps in execution, larger than anticipated pressure on the ASPs and margins, macroeconomic environment, and more.
Conclusion
In conclusion, I believe Apple's business model and competitive strategy have played a key role in superior performance of the Mac business, as shown by its consistent market share increases both in the U.S. and globally. As Apple continues to further reinforce the key components of its competitive strategy, the market share gains should continue going forward, in my opinion. According to the two scenarios discussed in this article, Mac revenues may increase in 5 years by 34% to $30BN based on Scenario A, or increase by 67% to over $37BN in a more optimistic Scenario B. According to the above scenarios, incremental run-rate EPS driven by Mac's incremental revenue could be $0.22 in 5 years, and under a more optimistic Scenario B could be as high as $0.43. Assuming a P/E multiple of 15x, incremental per share value driven by incremental Mac revenue creation could range from $3.3 to $6.4 per share in 2018.
Disclosure: The author is long AAPL. The author wrote this article themselves, and it expresses their own opinions. The author is not receiving compensation for it (other than from Seeking Alpha). The author has no business relationship with any company whose stock is mentioned in this article.
Additional disclosure: For full disclaimer, please see my profile page.